Adding to the ways that you can explore the Mortal Realms and run afoul of Nagash, Sigmar, or some other powerful eldritch being: Warhammer Champions, a TCG with eyes on CCG-dom. Find an overview within.
The Mortal Realms are ripe for adventuring, what with eight different Realms full of fire, shadow, light, life, death, metal, beasts, and heaven and a few other gribbly bits in between where Slaanesh is held, secreted away from the rest of reality while the Aelven gods siphon their stolen and devoured souls from it. And, right now you can explore them in a variety of ways–there are board games, skirmish games, the actual Age of Sigmar game–and launching next month, a card game. Come check out Warhammer Champions.
So one of the interesting things about Warhammer Champions is that they're billing it as a 'next generation' game, which doesn't–as you'd think–mean that you can play it on the Holodeck and things go awry and next thing you know Data and Worf, probably, have to rescue Picard, Riker, Troi, and both Crushers from their roles as commanders in the Mortal Realms. It does however mean there's a digital component to the game, you'll be able to scan your cards in and play them in the digital world as well, available on your choice of mobile OS, as long as you like iOS or Android.
Warhammer Age of Sigmar: Champions features 2 players commanding their group of Champions and their armies as they quest for favour from their gods. Players take it in turns playing units and spells controlled by their 4 Champions, to beat down their opponent, and protect themselves until only 1 person is left standing. Every turn your units and spells in play rotate, and as they do their effects might grow stronger or weaker, or completely change.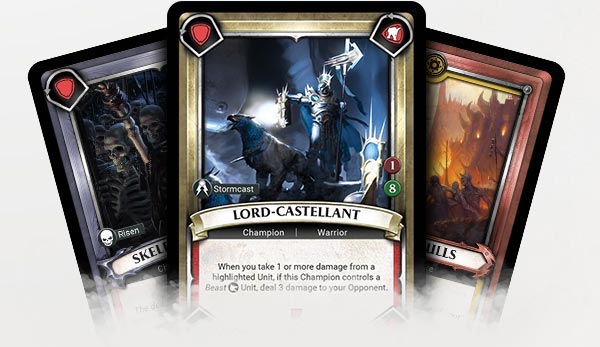 The game begins with players positioning the Champions from their chosen alliance upon the battlefield, each Champion is accompanied by an unknown blessing which may come into play during the match. Once all Champions are deployed the game can begin. Players take turns to perform up to 2 actions, this may include playing a card or using 1 of their cards' heroic acts. For every action 'passed' the player will draw a card.

As the battle continues Champions will progress through their own personal 'quests' by completing a set of objectives, which may include damaging the enemy, deploying units or activating spells. Once a Champions quest has been completed their blessing is revealed. Blessings are powerful abilities bestowed on Champions by the gods, that can quickly change the flow of a battle.

Combat continues until a player reduces their opponent's health to 0, and seizes victory.
Founders Pack Pre-Order (Only 1,000 Available) – $200.00
Four Campaign Decks (38 cards) – one each of the Grand Alliances
Ten Booster Packs (13 cards)
Four Champion Cards
Two Playmats
Four Health Counters
Founders Collectable Pin
Numbered Commemorative Card Plaque
Art Print of the Grand Alliances in Battle
Clash of Champions Short Story by Black Library Author Joshua Reynolds