You see because Age of Sigmar Champions is a Card Game, so like, the whole thing is in the cards. We have a preview of the new game, is what I'm trying to say here folks.
Age of Sigmar: Champions is the new card game coming out from PlayFusion and GW, where you'll be able to pit your favorite champions against one another in a frenzied battle to the death. Or, at least to whatever the win condition is. Read on for a sample of what gameplay is like in Age of Sigmar: Champions–but before you do, this game comes out both in real life and digitally. From the outset, it's prepared to be played on mobile devices, enabling you to take your cards from RL to the cyber realms. On with the gameplay preview!
via Warhammer Community
First things first, this is a card game, so you'll want to build a deck. You pick four Champions (hey that's the name of the game–so characters like Vandus Hammerhand or Astreia Solbright or probably the Nighthaunt Triumvirate. Each Champion gets their own Blessing which can be a magical item or spell or the like that your Champion can use in the game, and then you build a deck that supports your Champions in their efforts to take out your opponent's Champions.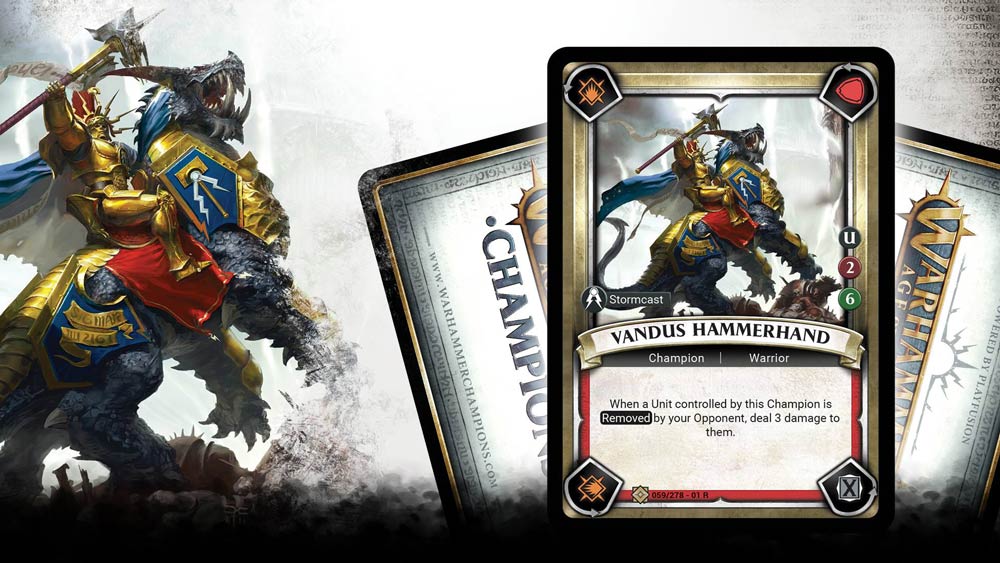 Gameplay takes place over four lanes, with each Champion paired up against the other: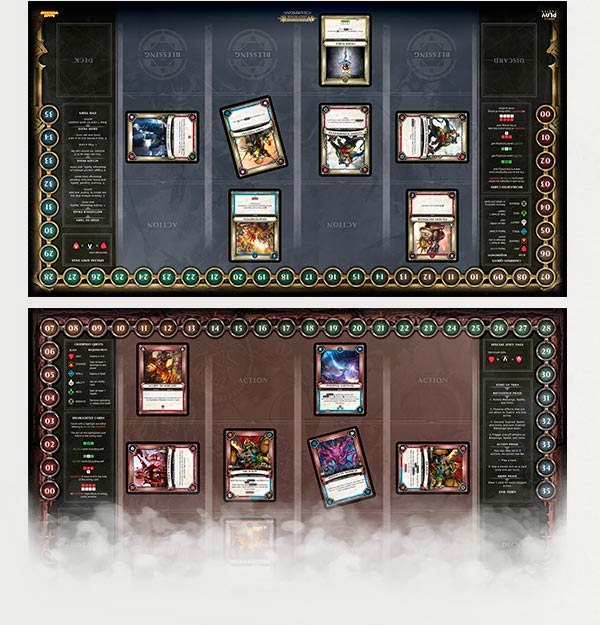 The game is split into four lanes, each containing two opposing Champions and hidden Blessings for them to unlock. Every turn, you can take two actions – from summoning cards from your hand to performing Heroic Actions and drawing new cards.

This is where things get interesting. Warhammer Age of Sigmar: Champions features an innovative new mechanic where your cards rotate each turn – each time they do so, they'll use new stats found on the corners of their cards.

Every turn, you'll rotate each of your cards 90 degrees, triggering a different effect before the card rotates out. A mystical barrier might get stronger and stronger before dissipating, while a Khornate warrior could attack in a frenzied, brutal charge before disappearing. Gameplay is highly dynamic, as you balance each of your lanes on the board while trying to empower your Champions by completing quests – specific actions that allow them to unlock their Blessings.
So basically as the game goes on, your cards take on new wrinkles, meaning you'll have to plan a few turns ahead if you want to try and secure victory. And of course, you'll want to try and get your Blessing before your opponent does, presumably these are powerful enough to give you the boost you need to take out your enemy's Champions. The game comes out with four different starter decks, one for each Grand Alliance, and you'll also be able to grab Booster packs, because it's a CCG, and the whole point is cracking open those packs.
Age of Sigmar: Champions is on store shelves this weekend, or if you're at Gen Con, you can check it out on the convention floor before anyone else.
Age of Sigmar: Chompions, of course, is a ccg that features just the magical beasts of the Mortal Realms trying to outchomp one another.