Spiel des Jahres is the biggest awards in board gaming. 'Die Quacksalber von Quedlinburg' is the winner of this year's 'Kennerspiel des Jahres'.
The Weekly Board Games Top 10
"The Hotness" on BoardGameGeek is a list of the currently most popular games, as based on views. This week brings us these winners:
With the results of Spiel des Jehres 2018 finally in our hands, it's not unusual to see some of the nominees jumping onto the Hotness this week. Somewhat surprisingly, but maybe not, only the winners of the Spiel des Jehres and the Kennerspiel des Jahres have made it onto the list. Sorry, every other nominee.
So today, we'll be taking a look at Die Quacksalber von Quedlinburg, which is not only this week's top spot game, but also the winner of the Kennerspiel des Jahres. For some background, Spiel des Jahres is a German based award and is often more focused towards family-friendly titles. Kennerspiel des Jahres is more often geared towards more complex games and ones that are more involved, but often not by a whole lot, as we'll see today. Seems those Euro-gamers don't like overly complicated games after all. Who'da thunk it?
Die Quacksalber von Quedlinburg
Roughly translating to "The Quack of Quedlinburg", Quacksalber is a pool-building and press-your-luck game. Players take the role of "quacks", fake doctors, snake oil salesmen, charlatans or whatever similar title you'd prefer. Each player is attempting to sell the most elixirs to the town of Quedlinburg over the course of 9 rounds.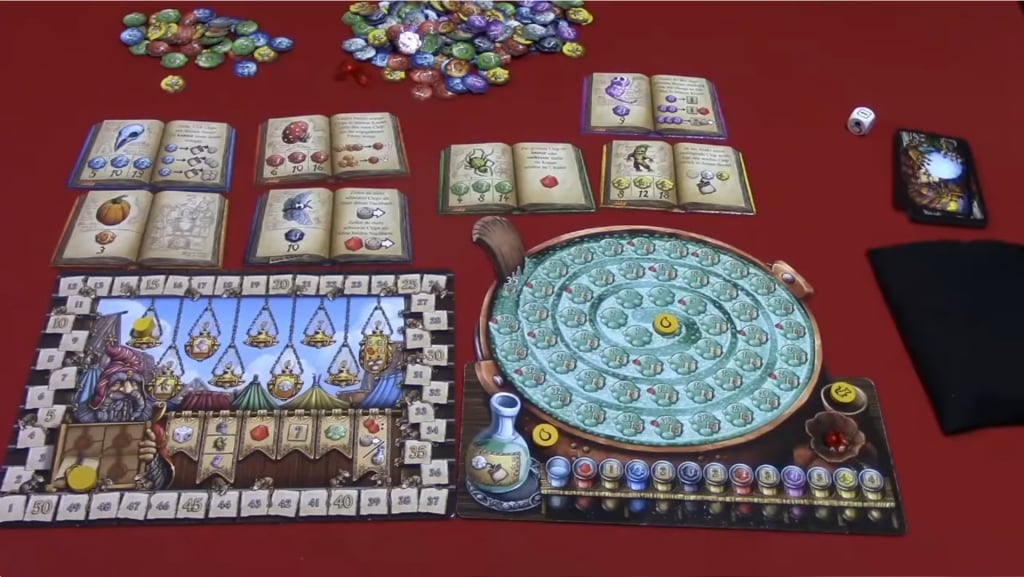 On each turn, players will draw ingredient tokens from their bag and add them to their cauldron. Starting from the center point, players place the tokens a number of spaces away from the previously placed token, as is shown on that token. So drawing a 2, means placing that token 2 spaces away from the token you played before that. Players are aiming to get as far along their spiraling cauldron track as possible before busting and causing their cauldron to explode. If too many tokens of a specific color are drawn, the player busts.
After each attempt, players gain victory points and money based on how far along they were able to go without busting. Money is used to purchase additional tokens from the market. As the goal of each brewing is to get as far as possible on the track, higher valued ingredient tokens are more valuable than lower ones. These tokens also have different prices and effects and will change with each game, keeping every game different.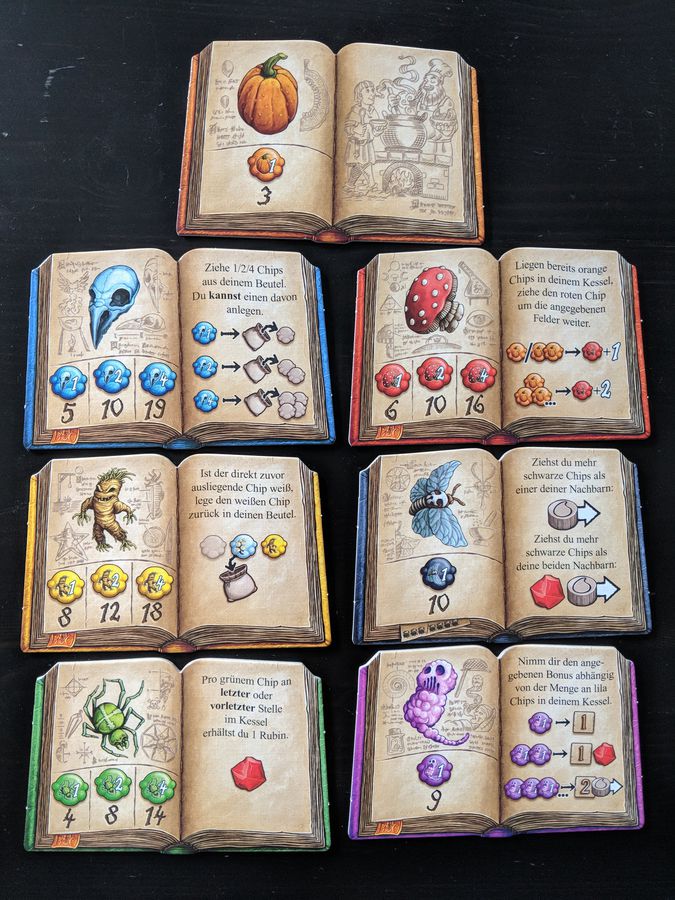 As a Quack, you're not afraid to fudge your mixture a little bit to try and give yourself a bit of an edge. Along the scoring track are a number of rats. For each rat tail you would have to cross to reach the players in front of you on the scoring track, you can add a rat tail to your brew. This allows you to start further along the brewing track to make it easier to reach those higher values on the track. This is a great feature which prevents the winning player from getting too far ahead and leaving the other players in the dust.
While Quacksalber is currently only available in German, Bruce Voge from North Star Games announced they will be bringing the game to America later this year.
From Schmidt Spiele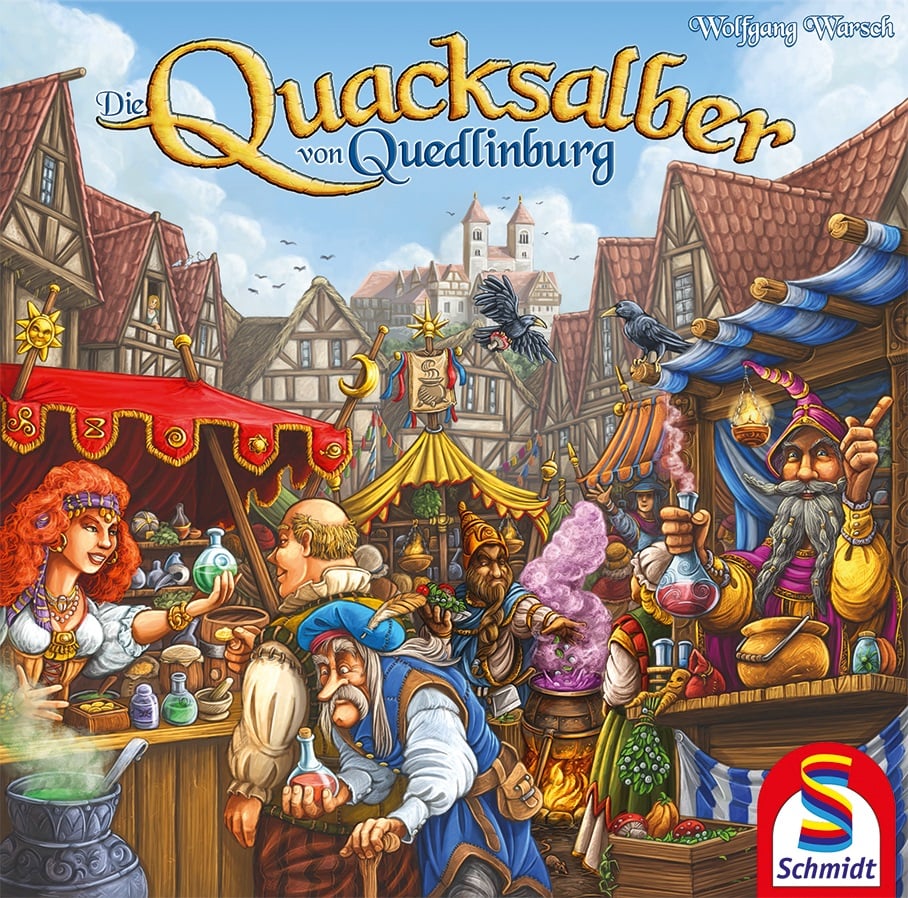 Each of the up to four playing quacks cooks his own soup here. Ingredient by ingredient is drawn for this purpose from its own, during the game itself collected supply bag. But care: a pinch of too much of the peas and the whole mixture is spoiled. Since it means sent at the right time stop and prefer to cook only a small Portiönchen to earn even more valuable ingredients with the income earned for this. Then the next potion will certainly be even better and bring in many valuable victory points.
[From Google Translate]
2 – 4 Players
45 Minutes
Ages 10+
~Neunundneunzig falsche Tränke