Rob Williams has completed a pilot script for ths series. It's full steam ahead for the production team; and they need to find a great voice cast. There's this Aussie dude that is pretty awesome. Hint, hint…

IM Global Television CEO Stuart Ford (who worked on the 2012 movie), executive producer Mark Stern (helmed Battle Star Galactica), and Jason and Chris Kingsley of Rebellion (who own the Dredd IP) are heading up the production end. Rob Williams (who worked on Trifecta, Titan, and the Enceladus cycle for 2000AD) has been brought on as creative lead and head writer.
It was announced early this week that Williams has finished a pilot script and has outlined two seasons worth of story arcs. Chris Kingsley has said that he has, "read the pilot script by Rob and the team, and got that same thrill I did when I first discovered Judge Dredd. As we drive this project forward I'm always surprised by how much effort goes on behind-the-scenes to bring something like Mega-City One to the screen. I'm very pleased with how the whole project is coming together and looking forward to more exciting announcements in the coming months."
It sounds like progress is being made despite not having a distributer yet. I'd imagine Netflix or Amazon will pick it up once it's being offered – they're both snatching up original content as quickly as they can, and this is likely to be a hit with audiences.
Cast is going to be a big one here. I'm looking forward to hearing/seeing what they come up with. Karl Urban has expressed a continued interest in being part of the franchise.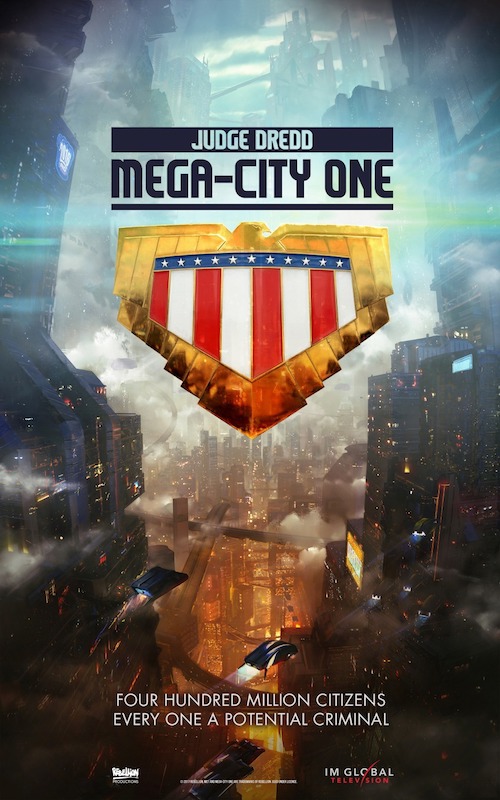 Correction: Mr. Urban is from New Zealand, and the series is live action not animated. Apologies for the confusion.