To promote their latest game, Border Break, Sega worked with model company Kotobukiya to make a 1/1 scale model of one of the game's characters. Instead of presenting a constructed mecha, they're displaying it on a giant sprue gunpla style.

The full mecha was designed piece by piece in CAD. It's made of Styrol resin, and was created using a mix of 3D printing and fabrication using a CNC machine. Kotobukiya is claiming it's the largest plastic modle (or puramoderu) ever made. The choice to debut it like this instead of as a completed statue is really cool – it definitely grabs attention.
It's currently on display at Shinjuku Station in Tokyo, but it won't be on sprue forever. The company will be assembling the model over several weeks. I can't wait to see how they handle the assembly. How will they going to clip out the pieces? Are they going to pull out a giant bottle of glue or is there going to be some heat welding involved? How close are they going to make putting together a 1/1 scale to putting together a 1/60th scale model?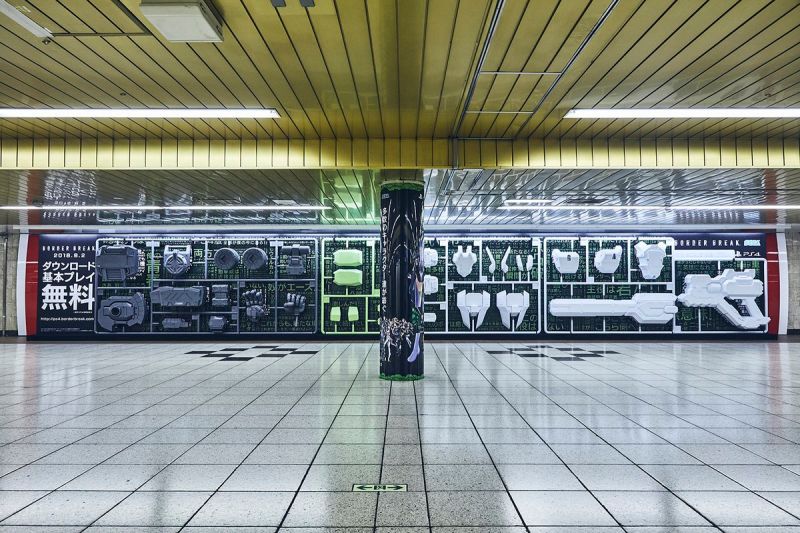 PS4用「BORDER BREAK」、「1/1 プラモデル プロジェクト」始動! コトブキヤ監修のもと実物大巨大ロボットのプラモデルを組み立てる https://t.co/bPNUEuZ4ym #BBPS4 pic.twitter.com/pIaR49gNYQ

— GAME Watch (@game_watch) July 2, 2018
【7/2-7/8】新宿駅地下メトロプロムナード。C面は8/2発売PS4版ボーダーブレイクの1/1サイズプラモデル広告。 pic.twitter.com/zCwdZK9i0v

— 塩おかき(表垢)@fenrir鯖 (@brain_open) July 2, 2018
BORDER BREAK 1:/1 プラモデル

でけぇwww pic.twitter.com/7tUtEf2Vuh

— カズマ (@KAZZMA777) July 2, 2018