The Warhammer Age of Sigmar App is going through a reforging of it's own – soon a new and improved version will be rolled out for the new edition.
Games Workshop launched the Age of Sigmar App back in 2016. Over time it's been tweaked and updated as the game has changed. It also was the GW's first attempt at offering a paid army builder in the form of Azyr when the 2.0 updated dropped in 2017.
Now with the new edition their development team has been working hard to update the App for the most recent edition of the game.
via Warhammer Age of Sigmar (Facebook)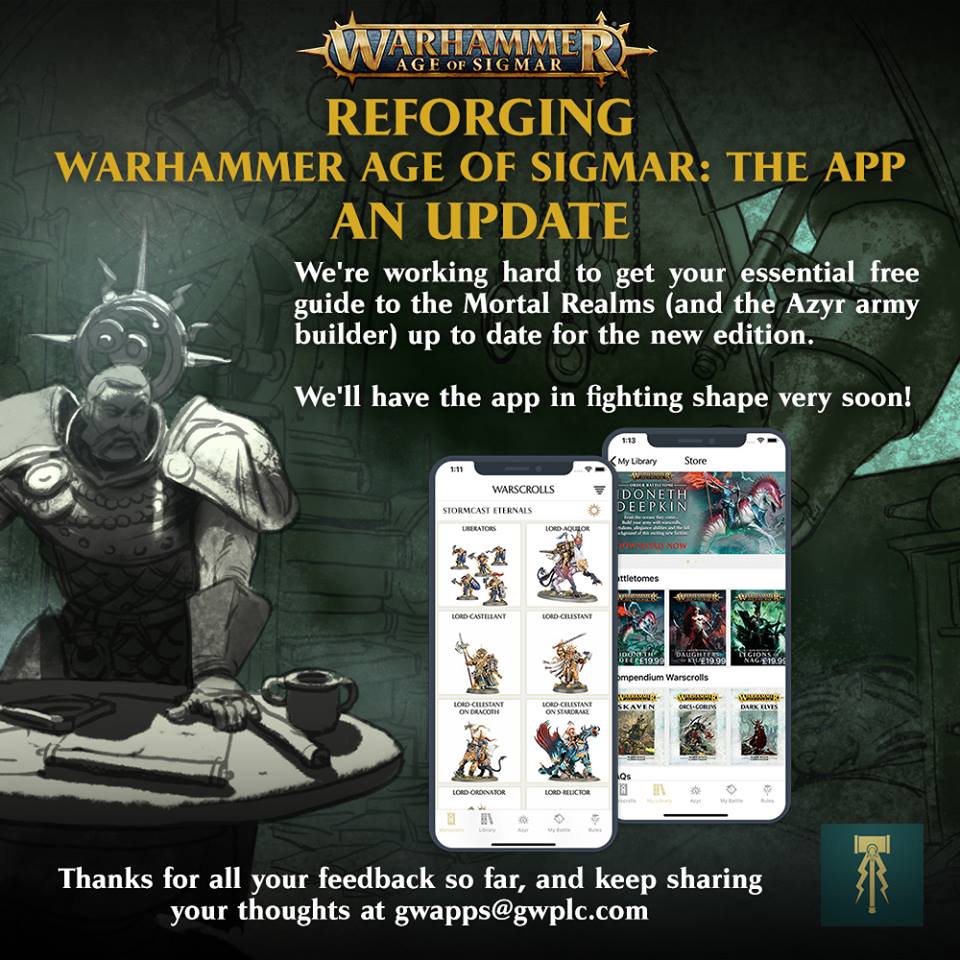 With over 600 warscrolls, a host of rules changes and two new battletomes to round it off, updating the Warhammer Age of Sigmar app for the new edition has been a mighty task – but between our hard-working developers and your eagle-eyed feedback, we've nearly completed it. Thanks for hanging in there – there are some more updates on the way over the next few days, and once they're in, your app will be up to date and better than ever.
I've used the app in my games of AoS and it's pretty useful for pulling up units and checking stats. I've never opted into paying for the Azyr army builder portion of the app so I can't really speak to that. Personally, I still prefer to have a physical copy of the book or the Warscroll Cards nearby – but the App is free to use (minus the Azyr part).
The current release is build 3.0.5 and it's got just about everything in there. Poking around I can see the new Nighthaunts and the Stormcast Eternals Updates are there. It sounds like the developers are still doing some bug-hunting and looking for feedback. If you haven't checked out the app in a while why not give it a spin? And if you find something broken or if you've got some helpful feedback you can always email that info over to GW via [email protected]
Have you used the app recently? What do you think of the changes?