Necromunda Gang War 4 is brining some big changes to the game. New Units, Psykers, a new campaign, and… Tournament Play? Oh my. This could be interesting!
Games Workshop is previewing the table of contents for Necromunda: Gang War 4 and it's looking pretty interesting. There seems to be quite a few additions to the game this go around aside from House Cawdor. Take a look at the ToC and see what you can spot: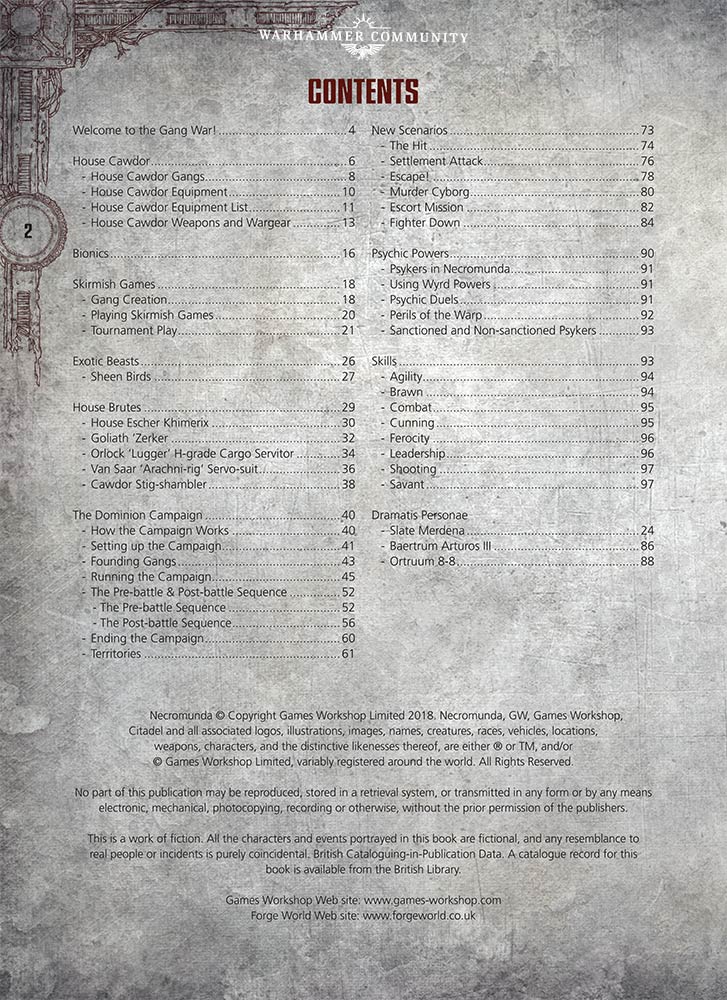 House Cawdor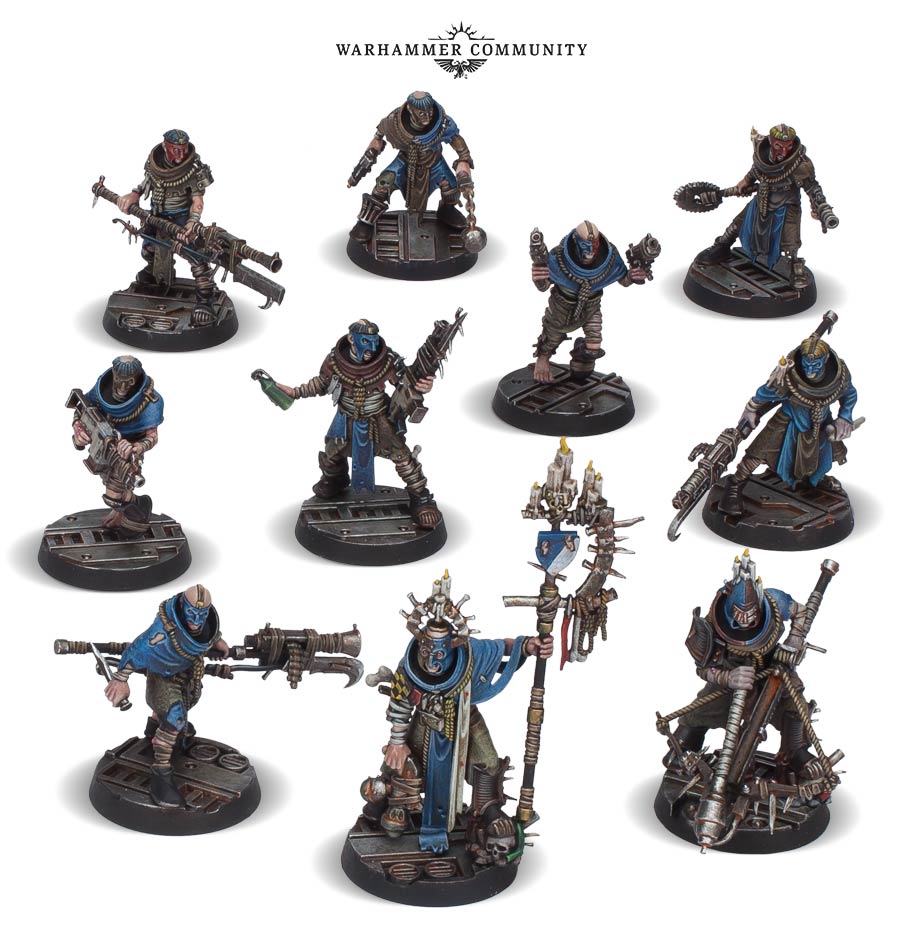 First up, the fanatical House Cawdor is up and coming to Necromunda. This shouldn't be a huge surprise as we've been seeing these models for a few weeks now. Aside from that they are kind of on the cover of the book…
Bionics, Brutes, Beasts, & Psychic Powers
There are a few more headings that popped out at us. Bionics are coming so if you're looking for some surgical enhancements to your Gangers this might be a section to check out. We've also got Brutes coming for each out:
Escher – Khimerix
Goliath – 'Zerker
Orlock – 'Lugger' H-grade Cargo Servitor
Van Sar – 'Archni-rig' Servo-suit
Cawdor – Stig-shambler
That sounds wonderfully terrifying. Also we have the "Sheen Birds" as an Exotic Beast – possibly the first of many to be added to the game. And then there are the introduction of Psychic Powers to the game. This could be a literal game changer. Get ready for Sanctioned and Non-sacntioned Psykers to shoot some mind bullets on the tabletop. I really wonder how bad those Perils of the Warp are going to be…I'm sure they are going to be killer, but I wonder if Daemons are going to get to pop-in.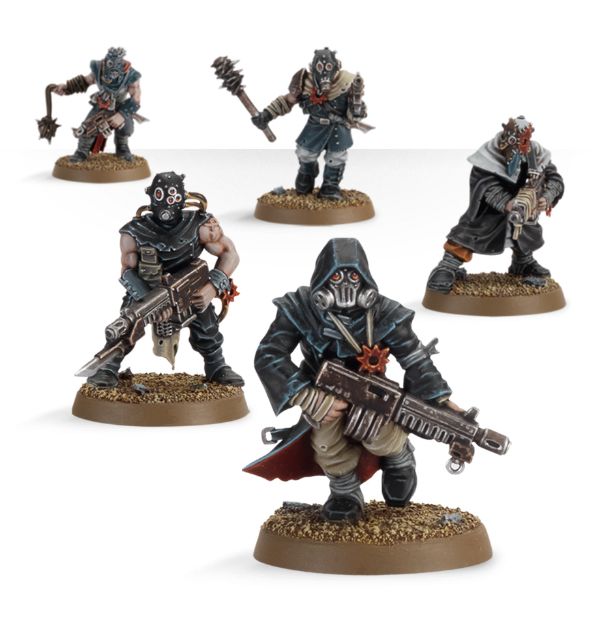 We do have Chaos Cultist Rules after all…
Tournament Play
Looking at the ToC, we have pages 21-25(?) of Tournament Play rules. A lot of folks have been wanting to see some type of competative play for Necromunda that doesn't involve a Campaign or game-to-game book keeping. This could be those rules. Or they could be a way to run a tournament that includes things like gang improvements and such. I think it would be great to have both options codified into a ruleset. The other question I have about the Tournament Play is if these rules are designed for the "board game" style Necromunda, the larger Tabletop version, or both. If Necromunda had a structure similar to Warhammer Underworlds: Shadespire in terms of Organized Play/Tournament Support, I think it could make Necromunda an even more popular game.
More Scenarios & A New Campaign
It shouldn't be a huge shocker that Gang War 4 is also adding in more scenarios. Each previous book added a few more and they help keep the games fresh. Murder Cyborg has my attention. On top of that, we're also getting new "Dominion Campaign" and I'm wondering what this entails. It's got some of the same listings like "Pre/Post-battle Sequences" but is this going to be a different style campaign? It looks like we've got some more Territories to explore as well.
Dramatis Personae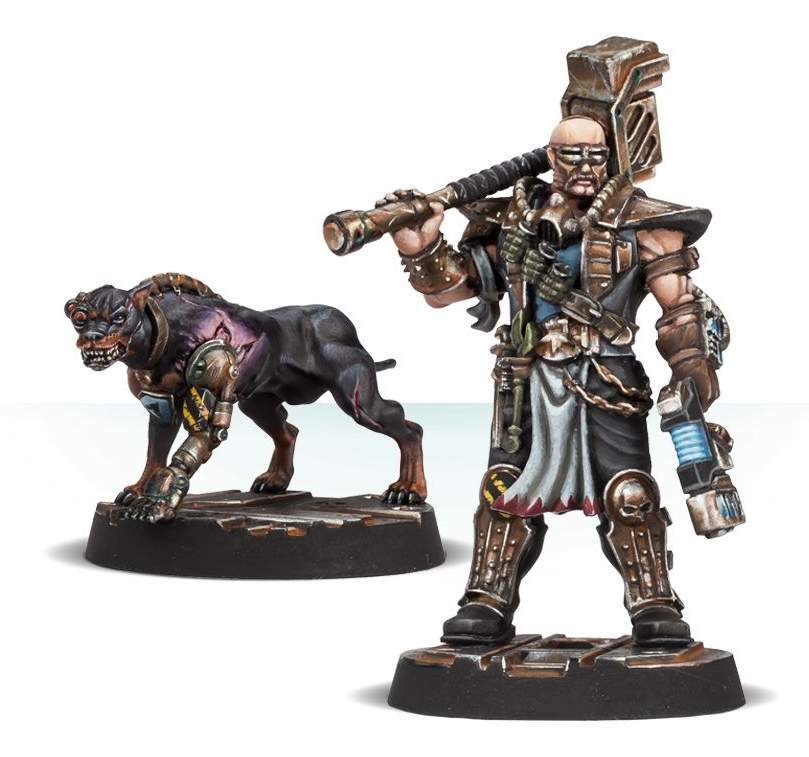 It also looks like we're getting rules for three more special characters. Slate Merdena (pictured), Baertrum Arturos III, and Ortruum 8-8 are going to have rules as well.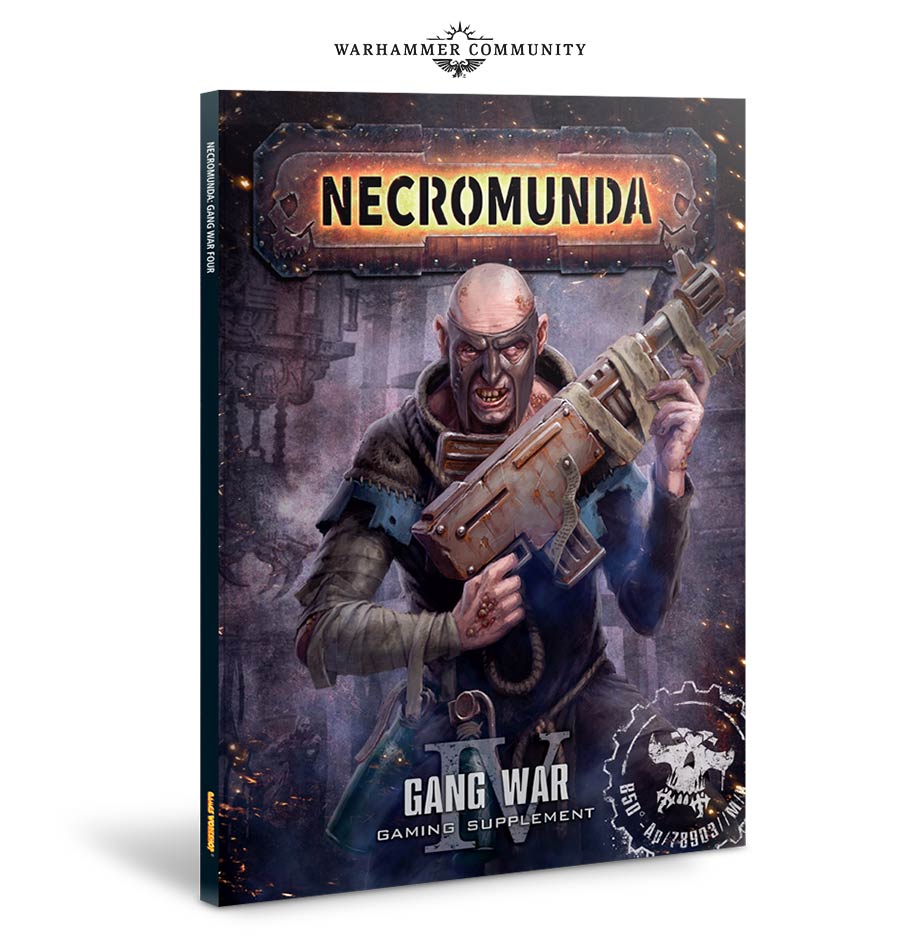 Gang War 4 is coming soon from Games Workshop – are you ready for the Cawdor wave?