Two new pocket-sized Pathfinder guides are out–Ultimate Combat and Bestiary 5. Each of these updates the rules with the latest errata and collects them in portable pocket-sized form. Or grab a "lite" .pdf version if you want a pocket-sized digital edition.
I don't necessarily know how you make something digital into something pocket-sized, but if anyone can do it, Paizo can I guess. I mean it's just ones and zeroes, but these ones fit easier in your pocket–and are probably aimed to be better displayed on mobile devices. These two books are out now, both in realspace stores and in the digital realm, if your tastes run in that direction. So whether you're suiting up to rave the ravages of the Daystar or are gearing up for the Grid, you can still get your hands on Pathfinder.
via Paizo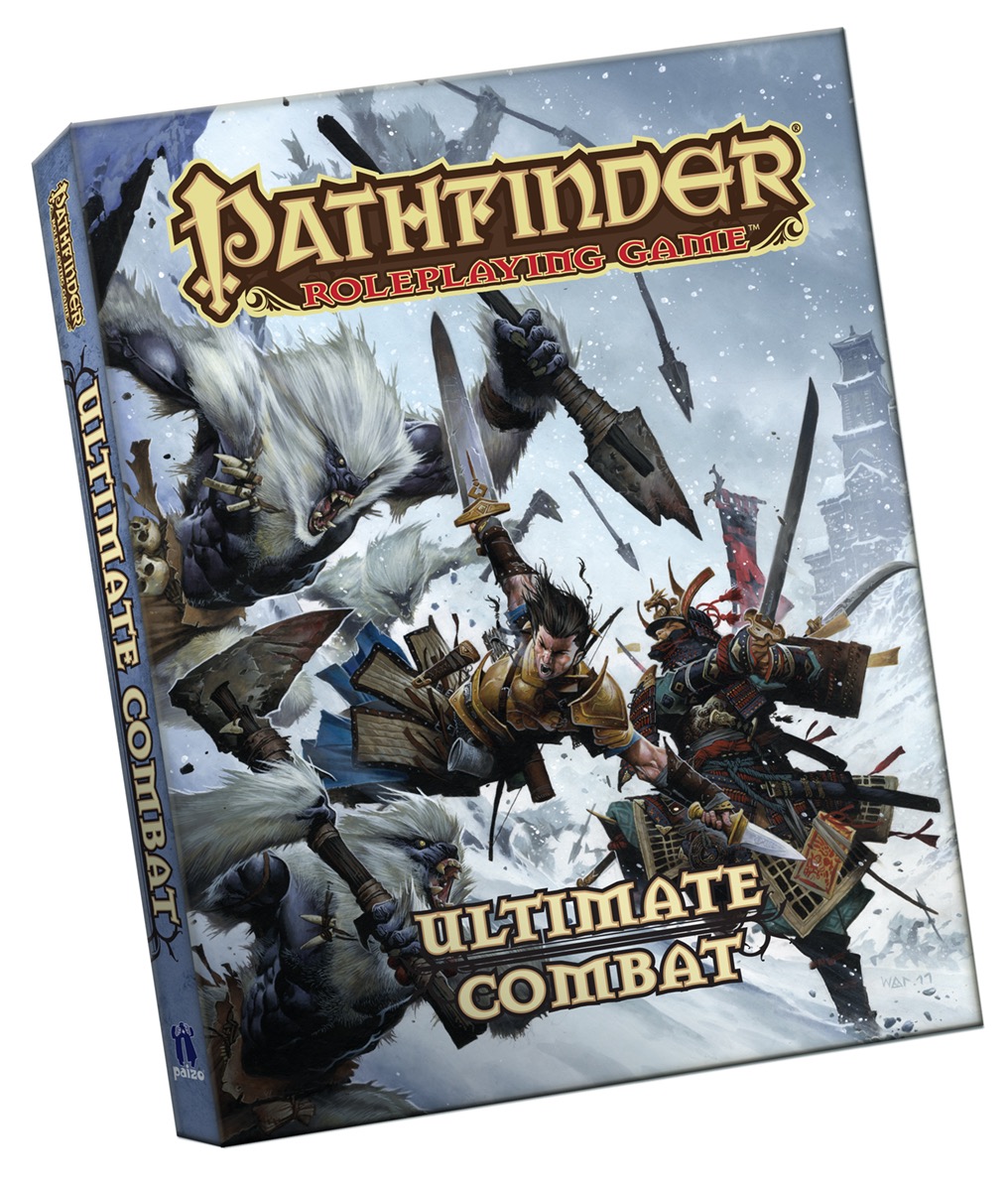 Seize the initiative and chop your foes to pieces with this exhaustive guide to the art of martial combat in this exciting new rulebook for the smash-hit Pathfinder Roleplaying Game, suitable for players and Game Masters alike!

This comprehensive 256-page hardcover reference reveals the martial secrets of the Pathfinder RPG rules like never before! Tons of new tricks and techniques for combat-oriented character classes put a sharp edge on your weapons and a sure step in your tactics, ranging from new barbarian rage powers, new cavalier orders, tons of new rogue talents, and more than 60 new archetypes for nearly every Pathfinder RPG character class, including spellcasters like wizards and clerics.

Ultimate Combat also introduces three new Pathfinder RPG classes: the ninja, samurai, and gunslinger! The ninja blends the subterfuge of the rogue with high-flying martial arts and assassination techniques. The samurai is an unstoppable armored warrior who lives by a strong code of honor—with or without a master. The gunslinger combines the fighter's martial prowess with a new grit mechanic that allows her to pull off fantastic acts with a pistol or rifle. All this plus tons of new armor and weapons, a complete treatment of firearms in the Pathfinder RPG, a vast array of martial arts, finishing moves, vehicle combat, duels, and new combat-oriented spells for every spellcasting class in the game!

Ultimate Combat includes:

New player character options for 14 Pathfinder RPG base classes, including alchemist discoveries, barbarian rage powers, cavalier orders, combat-cleric archetypes, animal shaman druids, new fighter archetypes like gladiator and armor master, inquisitor archetypes like witch-hunter or spellbreaker, combat-themed magus arcana, monk archetypes based on mastery of martial arts, new paladin archetypes like angelic warrior, ranger archetypes like big game hunter and trapper, new rogue tricks, and wizard archetypes like the gunmage
The ninja, samurai, and gunslinger, brand-new 20-level alternate classes specially designed to get the most out of combat
Hundreds of new combat-oriented feats including martial arts feat trees, finishing moves, and combination feats
In-depth overviews on a variety of combat-related topics, such as armor, Asian weapons, duels, fighting schools, guns, siege weapons, and more
A complete system covering vehicle combat, including wagons, boats, airships, and more
Tons of optional combat rules like called shots, armor as damage reduction, and new ways to track character health
… and much, much more!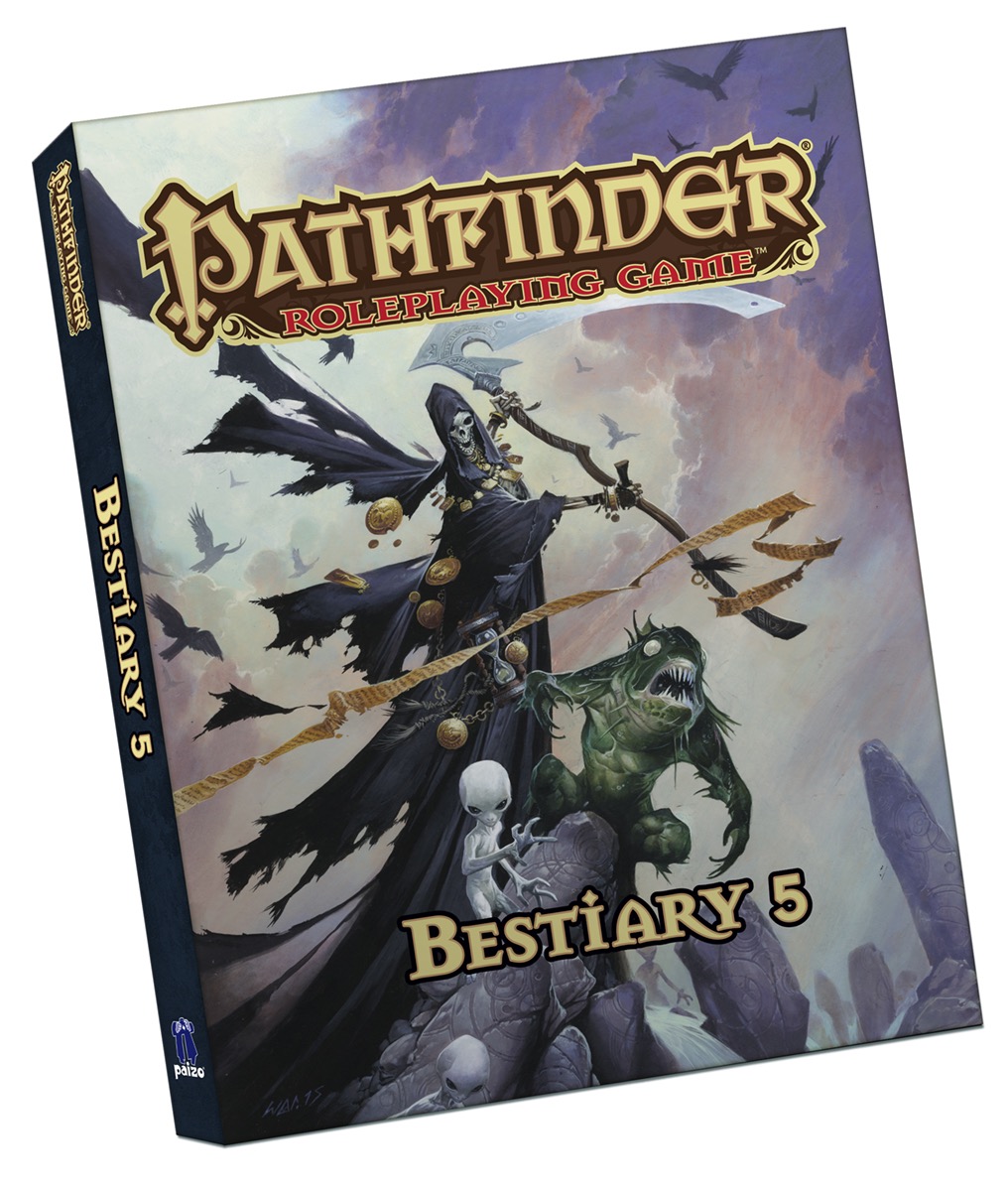 Creatures strange beyond imagining and more terrifying than any nightmare lurk in the dark corners of the world and the weird realms beyond. Within this book, you'll find hundreds of monsters for use in the Pathfinder Roleplaying Game. Face off against devils and dragons, deep ones and brain moles, robots and gremlins, and myriad other menaces! Yet not every creature needs to be an enemy, as whimsical liminal sprites, helpful moon dogs, and regal seilenoi all stand ready to aid you on your quests—if you prove yourself worthy.

Pathfinder RPG Bestiary 5 is the fifth indispensable volume of monsters for use with the Pathfinder Roleplaying Game and serves as a companion to the Pathfinder RPG Core Rulebook and Pathfinder RPG Bestiary. This imaginative tabletop game builds upon more than 10 years of system development and an Open Playtest featuring more than 50,000 gamers to create a cutting-edge RPG experience that brings the all-time best-selling set of fantasy rules into a new era.

Pathfinder RPG Bestiary 5 includes:

More than 300 different monsters.
New player-friendly races like caligni dark folk, deep one hybrids, plant-bodied ghorans, and simian orang-pendaks.
Psychic creatures both benevolent and terrifying, from the enigmatic anunnaki and faceless astomoi to the howling caller in darkness and insidious, alien grays.
New familiars, animal companions, and other allies, such as clockwork familiars, red pandas, and many-legged wollipeds.
New templates to help you get more life out of classic monsters.
Appendices to help you find the right monster, including lists by Challenge Rating, monster type, and habitat.
Expanded universal monster rules to simplify combat.
Challenges for every adventure and every level of play.
… and much, much more!
Happy adventuring!