This hero comes in fun size. Hot Toys' new 1/6th scale rendition of Scott Lang comes with a mini figure so you can display him at multiple scales, and it comes with plenty of accessories.
This fig has a head sculpt that's based on Paul Rudd as Scott Lang in the movies that hasn't been finalized, but given the sculpts Hot Toys puts out it's sure to be great. It also includes a helmeted head sculpt with LED eyes that glow, and a carefully tailored Ant-Man suit that's created around 30 articulation points. It also comes with a miniature lab, as seen in the trailers for the  new movie, and discs.
The fun part is the minifig that can give the 12″ figure scale – either as giant Ant-Man or as regular sized with a mini sized at his feet.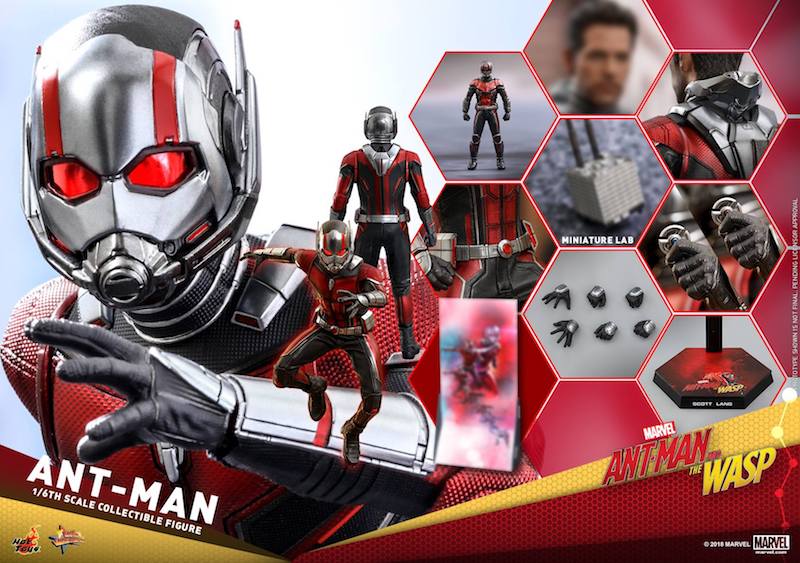 Height: Approximately 12 inches (30 cm) tall
Points of Articulations: 30
One (1) newly developed head sculpt with authentic likeness of Paul Rudd as Scott Lang
One (1) newly developed helmeted head sculpt with LED light-up function (battery operated)
Movie-accurate facial expression with detailed wrinkles, and skin texture
Six (6) pieces of interchangeable gloved hands including:
One (1) pair each of fists and open hands
One (1) left hand for holding disc equipment
One (1) gesturing right hand
Each piece of head sculpt is specially hand-painted
Costume & Accessories:
One (1) metallic red and black-colored Ant-Man suit with embossed patterns, silver colored trims, and weathering effects
One (1) silver-colored Ant-Man particle belt
One (1) pair of black-colored boots
One (1) miniature Ant-Man (Approximately 2.7cm tall)
One (1) shrunken lab
One (1) attachable opened helmet accessory
Two (2) disc equipment
Specially-designed figure stand with movie logo, character nameplate and a character backdrop