James Rhodes disobeyed orders and suited up to fight Thanos along side the Avengers.  His new armor was designed for him by Tony Stark used during the Battle of Wakanda. Now you can add it to your collection.

This fig is based on War Machine's Mark IV in Infinity War. It has some nice armor detail, and two interchangeable head sculpts that allow you to display it with a full helmet or with a likeness of  Don Cheadle as Rhodes. The suit has of LEDs in the helmeted head, chest Arc Reactor, and repulsers that give it a nice touch of realism. He comes with a variety of weapons, and interchangeable armor parts. There are a lot of dynamic display options available here – lots to play with.
There's a bit of a wait on this one – you can pre-order now and expect to receive it Q1 of 2020. Think of it as buying yourself a present that will show up and surprise you in 15 to 18 months.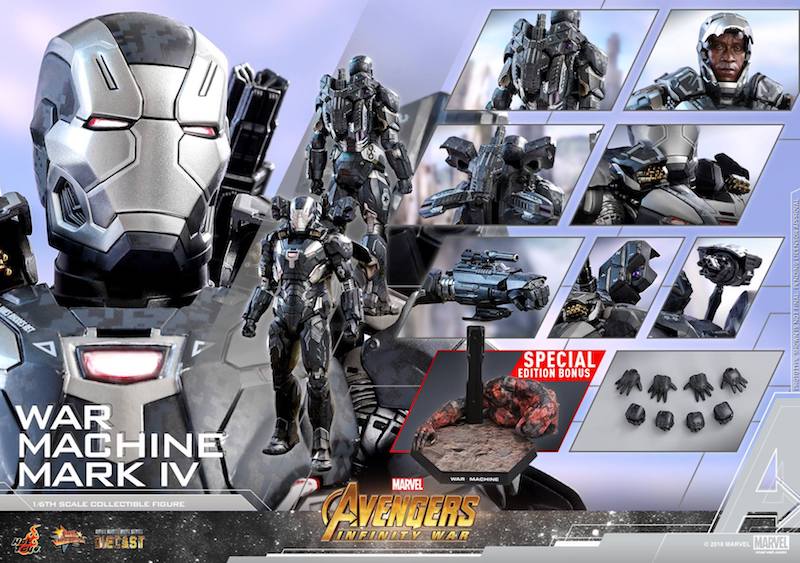 Special Edition War Machine Mark IV – $415.00
The special edition comes with a stand that features a dead Outrider and an interchangeable rocky ground graphic card to complete a Wikandan battlefield display.
Height: Approximately 12.5″ tall
Points of Articulation: 30
Newly painted helmeted head sculpt with authentic likeness of James Rhodes
Movie-accurate facial features with detailed wrinkles and skin texture
One (1) interchangeable helmeted head with LED light-up function (white light, battery operated)
Special features on armor:

Metallic black and silver colored armor with white decals, camouflage patterns and weathering effects
LED- lighted rectangular-shaped Arc Reactor on chest (white light, battery operated)
One (1) detachable chest armor to reveal interior mechanical design
Two (2) sets of interchangeable forearm armor (normal and missile firing)
One (1) pair of fully deployable air flaps at back of the armor
Articulations on waist armor which allow flexible movement

Eight (8) pieces of interchangeable hands including:

One (1) pair of fists
One (1) pair of hands with articulated fingers and light-up repulsors (white light, battery operated)
One (1) pair of repulsor firing hands (white light, battery operated)
One (1) pair of missile firing hands

Weapons:

One (1) articulated back-mounted machine gun
One (1) pair of back-mounted missile launchers
Two (2) sets of missile bullets (attachable to the shoulder mounted weapons)