This week Games Workshop is putting up some Classic miniatures from the Old World up for Made To Order. This will be the last chance to get these miniatures – but who are they and why are they important? Let's take a look at each one's history.
Today Loremasters, we take a look at the lore of the characters that are getting one final nod before they go to the archives. These characters of the Old World caused quite the stir while they were around and deserve a final look back before they are exiled to the void.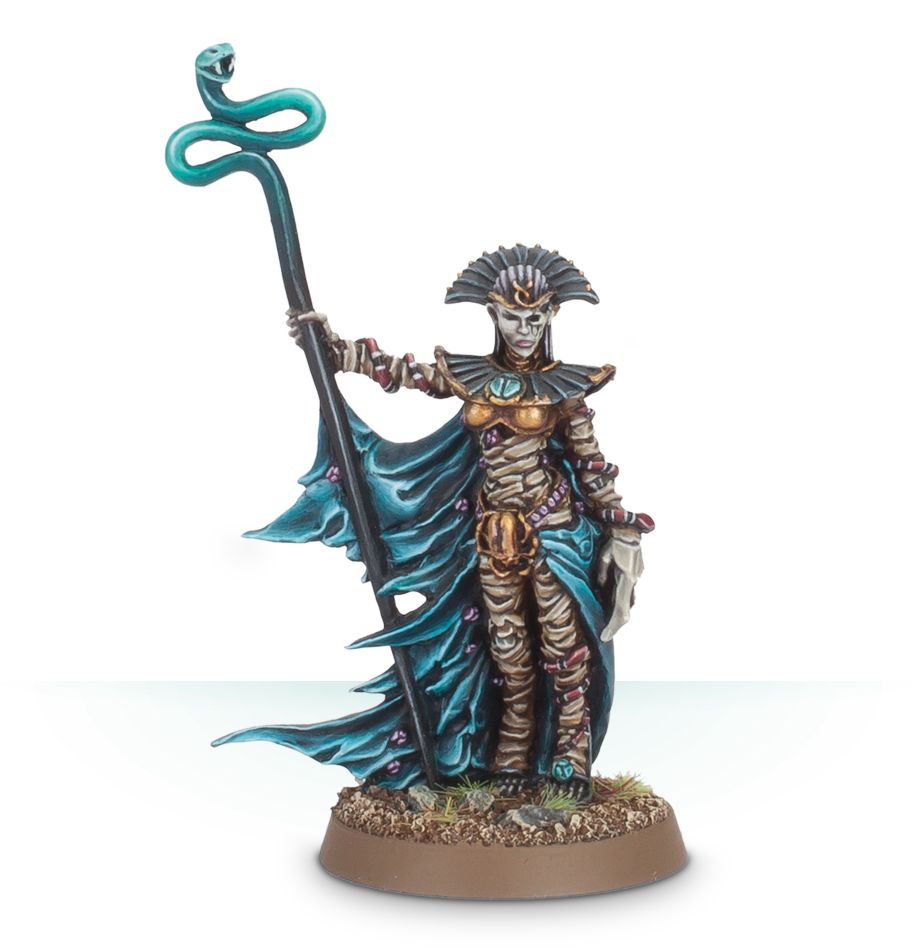 Her equally beautiful cousin, Queen Neferata of Lahmia, had recently become the first of the vampires by drinking from the Elixir of Damnation. Khalida was becoming suspicious of Nererata's dark secret and Neferata resolved to stop Khalida before she had a chance to reveal the truth. In -1520 IC Neferata falsely accused Khalida of treason at a banquet with the intention of assassinating her. Khalida rose to defend her own honour rather than choosing a champion, stunning the noble onlookers. Both Khalida and Neferata were skilled warriors but Khalida could not hope to defeat Neferata in her vampiric state. Eventually, to the horror of the guests, Khalida was struck down by Neferata and Neferata bit her own tongue and let the blood fall down Khalida's throat to turn her into a vampire.
Knowing her fate, Khalida cried out to the gods to save her. Asaph, the asp goddess, heard her cries and cleansed Khalida's body of the vampiric taint but also drained the remainder of her life. Her body was brought back to Lybaras and was interred in a specially made reliquary in a seated position. When needed, Khalida's body is infused with the will of Asaph and she rises to lead her army of archers, who were buried in tombs next to her, against her enemies. It was not until -1170 IC that the vampiric taint was discovered in Lahmia, whereupon Alcadizaar and his allies destroyed the city and force the vampires to flee north to Nagash.
Due to the betrayal of Neferata, Khalida has a burning loathing for Vampires and will not rest in peace until the last vampire is slain. She carries the Venom Staff.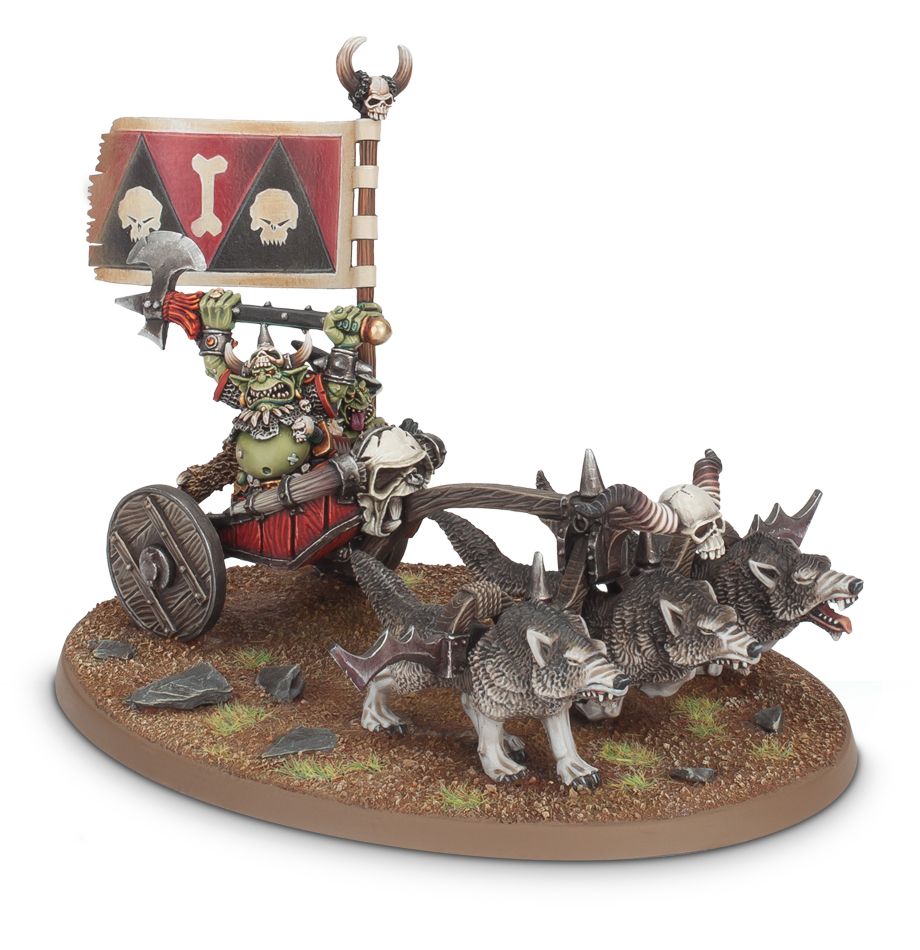 Grom the Paunch of Misty Mountain, often referred to as Grom the Fat, was the most powerful Goblin Warboss to have ever lived.
Although most Whaaagh!s are commonly led by Orcs, Grom was to prove exception. Grom was extremely large for a Goblin. While nowhere as tall as an Orc, Grom was immensly fat and strong. He famously ate a meal of Troll-meat. This act not only gave him life-long indigestion and terrible flatulence but also granted him some regenerative abilities.
For much of his early career, Grom led his Broken Axe tribe across the Badlands and the southern Worlds Edge Mountains, conquering with Greenskin tribes they came across. Then Grom attacked the Dwarfs of Karak Kadrin and after that the Empire. He looted and pillaged Averheim, then crossed the Reik and destroyed the imperial capital of Nuln. Later defeated by the Prince of Altdorf, he turned north and laid siege to the city of Middenheim.
Worried by his fellow Greenskins, who weren't able to sack the city, he crushed the gates with his enormous axe Elf-Biter and constructed his infamous chariot from the remnants of a smaller, wooden temple of Ulric. After that he came to the sea where he ordered the construction of a fleet of ships. With that he confronted the Imperial Fleet in a naval battle before he and his horde set sail for Ulthuan.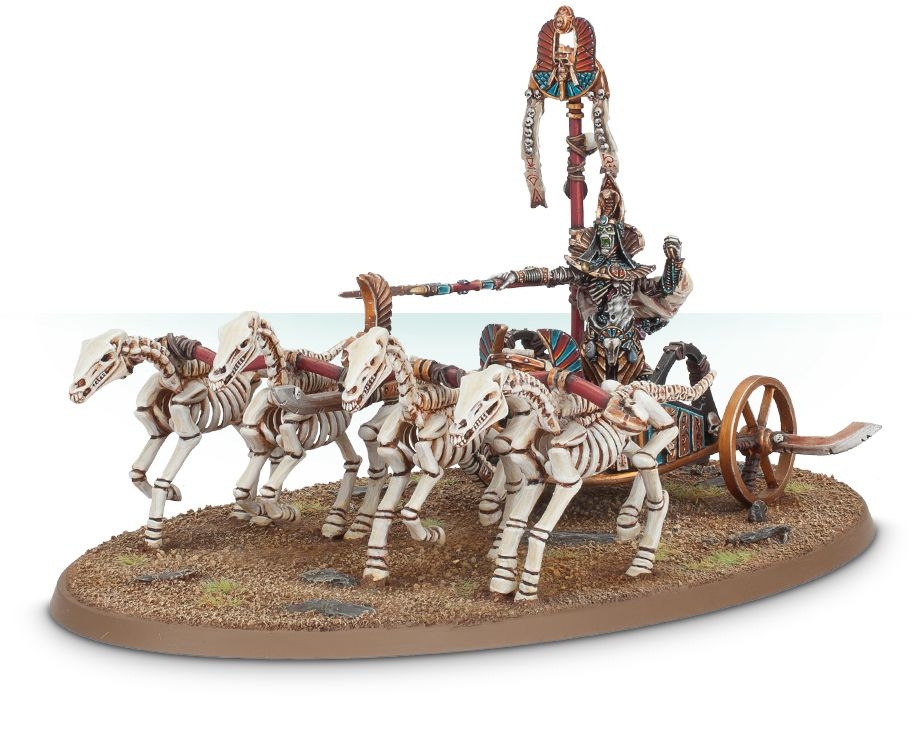 Settra the Imperishable was the great Tomb King of Khemri and ruler of all Nehekhara.
In death Settra was no less mighty than in life and he quickly dominated or destroyed all who would challenge his absolute authority. Even the so-called Liche King Arkhan the Black was forced to flee before him. After taking control he summoned his priests to explain what had happened. Hearing the tale of Nagash and the failure of his cult to deliver on their promises of an eternal golden age Settra cast his priests away, knowing that they had lied to him and kept most of their powers to, and for, themselves. Khatep in particular was exiled from Khemri and Settra's presence- on pain of his ultimate destruction. Settra vowed to restore his empire to it's former glory and create the paradise on earth he so desired himself. He called this his Reign of a Million Years.
Eventually Settra felt that his restoration project was complete and once again set his sights on the lands beyond his own. He declared an age of expansion and massed the armies to expand Nehekhara beyond its previous boundaries and make the name of Settra once again feared across the world. This however never came to be.
Before Settra could begin his expansion, he discovered that Nagash had once again returned. The forces he was going to use to spread his rule were instead mobilized to defend Nehekhara. He commissioned all the best troops from various cities to defend Khemri, knowing Nagash would seek his Black Pyramid, and ordered Nehekhara's best architect, Rahmotep, to build mighty walls around the city. The forces of Nagash did indeed invade Nehekhara with Khemri and his pryamid as his final goal, though there was no sign of the Great Necromancer himself. During the final battle for Khemri, Khatep broke his exile to tell Settra about the Destroyer of Eternities, a weapon that may be able to permanently stop Nagash. Settra listened then executed him for breaking his exile. He didn't find the blade in its place, as unknown to him Apophas stole it (at the behest of a Skaven assassin) to kill Nagash and claim his soul for Usirian, god of the underworld. He later fought Arkhan in 1-1 combat and bisected him. The halves were taken to the priests who could stop Arkhan from being reanimated, but one of them was a traitor who stopped the others, and Arkhan's capture was revealed to be a plan to smuggle Nagash into Khemri without having confront the army at the gates. From inside the city Nagash was able to enter the Nehekharan underworld where he battled and consumed Usirian, finally restoring himself to his fullest power.
Settra and his forces were on the verge of defeating Nagash's armies when Nagash revealed himself. Nagash, now a true god of death, was far too strong for Settra's armies who were obliterated by his dark magics. Settra alone was left to face the Usurper but without the blessings of Usirian to protect him was swiftly overpowered. Nagash gave honor to Settra and offered him a place as one of his Mortarchs, to which Settra replied; "SETTRA DOES NOT SERVE… SETTRA RULES!" Nagash responded to this arrogance by dismembering Settra before leaving his head half buried in the sand, helpless to do anything but watch as Nagash's forces razed Khemri to the ground.
After an unknown amount of time Settra was offered the chance for revenge by the Chaos Gods. He was restored in exchange for agreeing to slay Nagash in their name. To this end he traveled north and joined the armies of Archaon at Middenheim. He earnt his place by defeating Kholek Suneater in a battle that lasted four days and flattened much of the forest surround Middenheim. When the united forces of the incarnates attacked Middenheim to try to stop Archaon from destroying the world Settra confronted Nagash during the final battle. He pointed his khopesh at Nagash, and called him a usurper before leaping towards him. Infact instead of attacking Nagash Settra beheaded a Chaos daemon that was about to attack Nagash from behind. He explained to Nagash that, "NOBODY COMMANDS SETTRA." He told Nagash he would claim his skull eventually, but only after killing the Chaos Gods for daring to offer him immortality and the chance to conquer all realities in exchange for servitude. He then charged into battle against the Chaos armies by himself. He was last seen battling the endless hordes of Chaos as the world was consumed.
Learn more about all of these Old Heroes at the Lexicanum
That's all for the first part of this requiem for the soon to be lost. Come back tomorrow for Part II!