2000AD comes to the tabletop with this skirmish game bases on characters created by John Wagner and Carlos Ezquerra. Hunt down mutants as a team bounty hunters.
Strontium Dog, originally published in 1978, focuses on Johnny Alpha – a mutant bounty hunter that carries a variety of weapons and gadgets to help in him capture and destroy mutants. A great nuclear war has wiped out 70% of Britain's population, which has led to a increase in mutants. This includes Alpha, he hunts his own kind.
In the game players run a team of bounty hunters, or the outlaws they hunt. There will be gun battles, chases and showdowns in a universe filled with pirates, fugitives, and corruption. The minis are based off characters from the comic – if you're looking for a different aesthetic, this has it.
Take a look at the full line – there's an intro box with everything you need to start playing. If you're looking for a bigger game and more minis, these expansion sets are available for pre-order.
SD Agents – $32.00
An angry, uncouth Scotsman with a penchant for the bottle, Archibald 'Middenface' McNulty joins Johnny Alpha on many jobs and is only too happy to 'dish oot the laldy'. Whatever that means…
5 Metal SD Agents miniatures
5 Character cards
4 Armoury cards: Bottle of Mac-Mac, Beam Polarizer, Chameleon Cloak and Medipac
1 Chicanery card: Distraction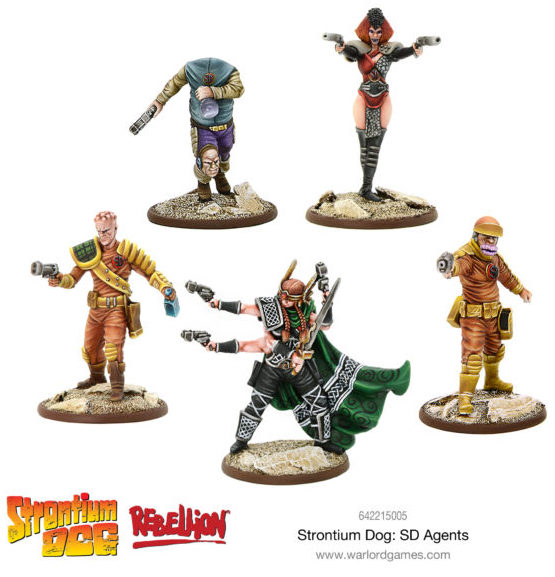 Rogue SD Agents – $24.95
Not all S/D agents play by the rules – in fact, not many worry about the law at all! Sometimes a Strontium Dog goes too far and ends up becoming the hunted rather than the hunter.
4 Metal miniatures
3 Character cards
2 Armoury cards: Life Wire and Time Trap
1 Chicanery card: Last Gasp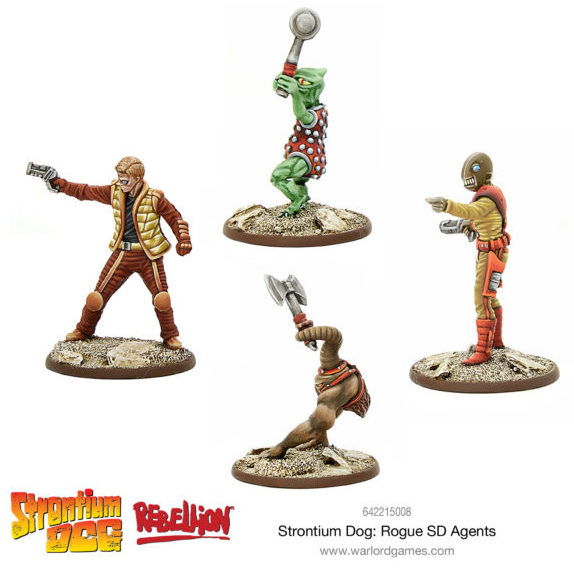 Darkus' Howlers – $24.95
Not all bounty hunters are mutants. The dangerous, yet potentially lucrative, lifestyle also attracts unsavoury aliens such as the vicious Darkus and his fellow Howlers from the planet Kunghung. The Howlers are said to be happy to kill for fun even if they weren't getting paid!
3 Metal miniatures: Darkus and two Howlers
2 Character cards
2 Armoury cards: Dimension Warp and Psi-Tector
1 Chicanery card: No Honour