The Sons of Russ are arriving for pre-order this weekend and Games Workshop is showing off some of the new things you'll find in the army. Make way for the Space Wolves!
Games Workshop has some new previews for the Space Wolves and they are sounding meaner than ever. Not only are they going to be able to get to close combat, but when they do they are going to rip stuff apart. On top of that they are getting lots of tweaks and fixes along with a TON of new units. Check it out:
"Codex: Space Wolves is mere days away from pre-order – and we're here this week with sagas and songs of its awesomeness to whet your appetite for the battles to come."
Hunters Unleashed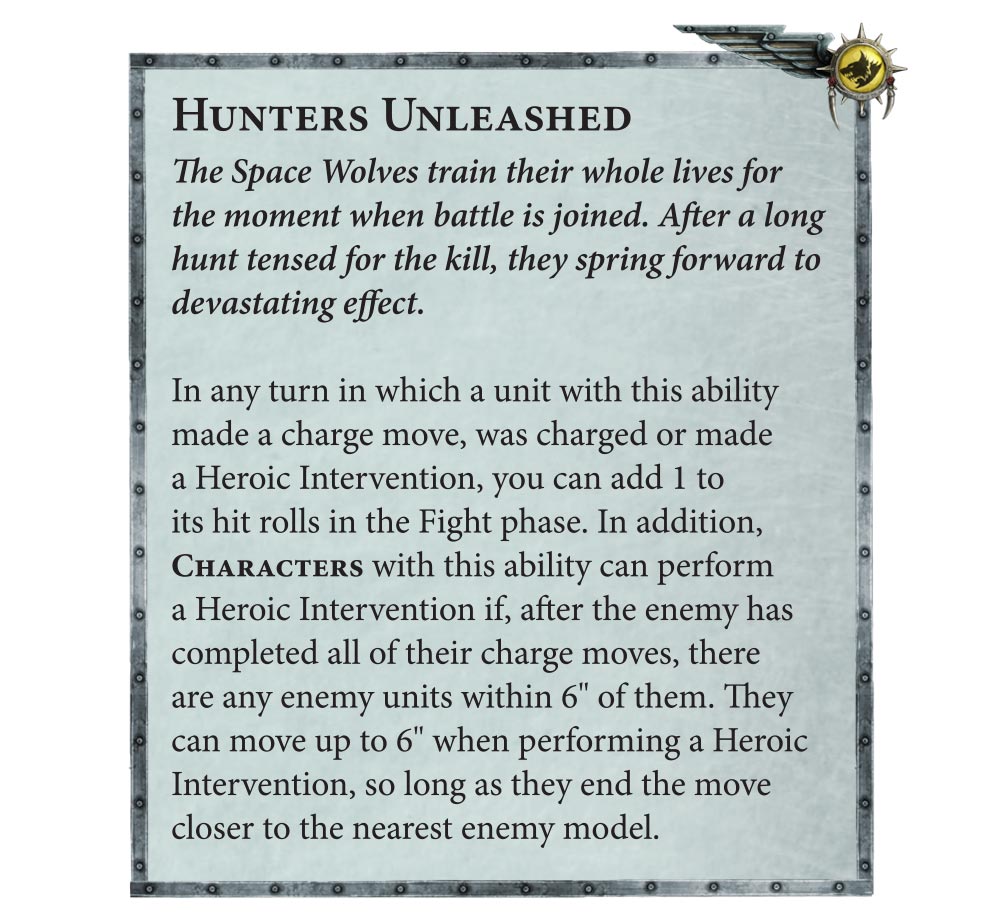 Let's break this down as it's really a two-part ability. First, it has a pretty spicy close combat ability:
You can add 1 to the hit rolls of any unit with this ability if they made a charge move, was charged or made a Heroic Intervetion this turn.
That's pretty solid! If their units have the standard marine stat lines (and why wouldn't they) that means they are likely hitting on 2s on the first round of a combat. Ouch! Remember that Wolf Lords and many of the named Characters also have Jarl of Fenris which allows friendly Space Wolves units within 6″ to re-roll hit rolls of 1. In combination, that makes the Space Wolves one of the most accurate Close-Combat forces around. But speaking of characters…
Characters with this ability can Heroic Intervention 6″ and can do this after the enemy has completed all their charge moves.
If you're looking for a close-combat marine army then the Space Wolves are going to provide you with that in droves. Wolf Guard Battle Leaders (who function as Lieutenants) has Huskarl to the Jarl which allows friendly Space Wolves to re-roll 1s to wound. As characters, they will be also be able to launch themselves into the fray and provide that bonus to your units.
Unless those rules change in the from Codex-to-Index, the Sons of Russ will be re-rolling 1's to hit and wound, getting a 1+ to hit rolls, and having a Heroic Intervention from 6″ away – AAARROOOO! Watch out for Space Wolves.

More Improvements On The Way
Games Workshop also mentioned that there are lots of small tweaks to the codex based on playtest and player feedback. Two changes they called out specifically are that Logan Grimnar on Stormrider got his armor saved improved to reflect the fact that he's wearing Terminator Armor and riding in a chariot. He now has a 2+ save (which it should have been).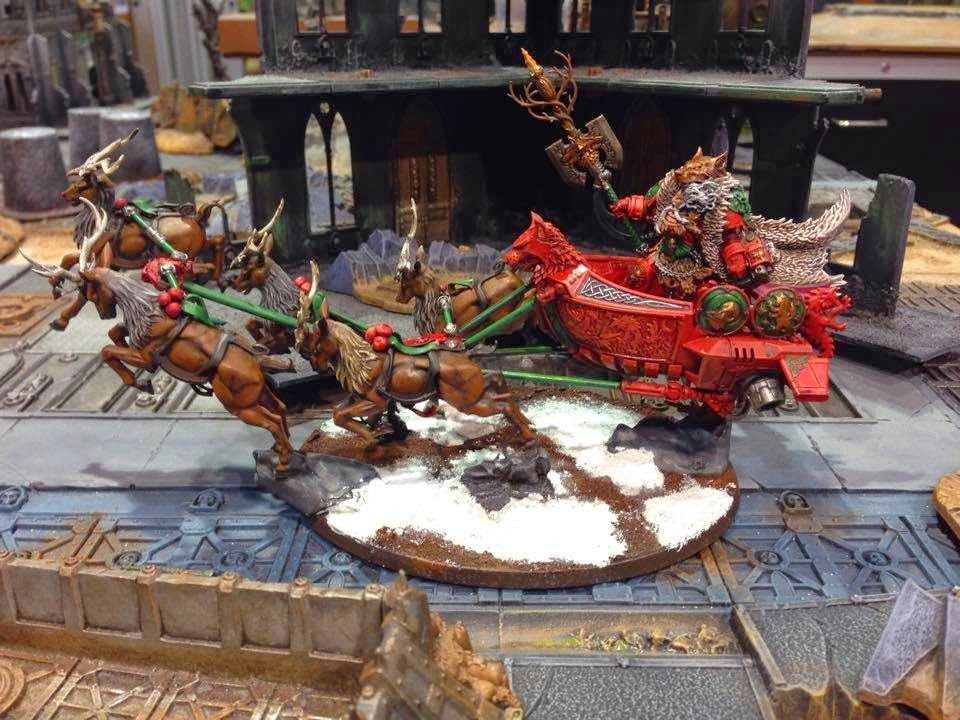 The second big change is that William Murderface Murderfang Dreadnoughts will also come with more attacks. That will come in handy for cutting bloody swathes through your enemies.
More Datasheets Available To Space Wolves
Aside from getting all the Primaris Marine options added to the codex, the Space Wolves are also getting a ton of other Space Marine options that they didn't have access to previously but do now! Including:
Cataphractii and Tartaros Terminator Armors
Contemtor Dreadnoughts
Land Speeder Storm
Scout Bikers
Stormhawk Interceptor
Hunters
Stalkers
and…Wulfen Dreadnoughts!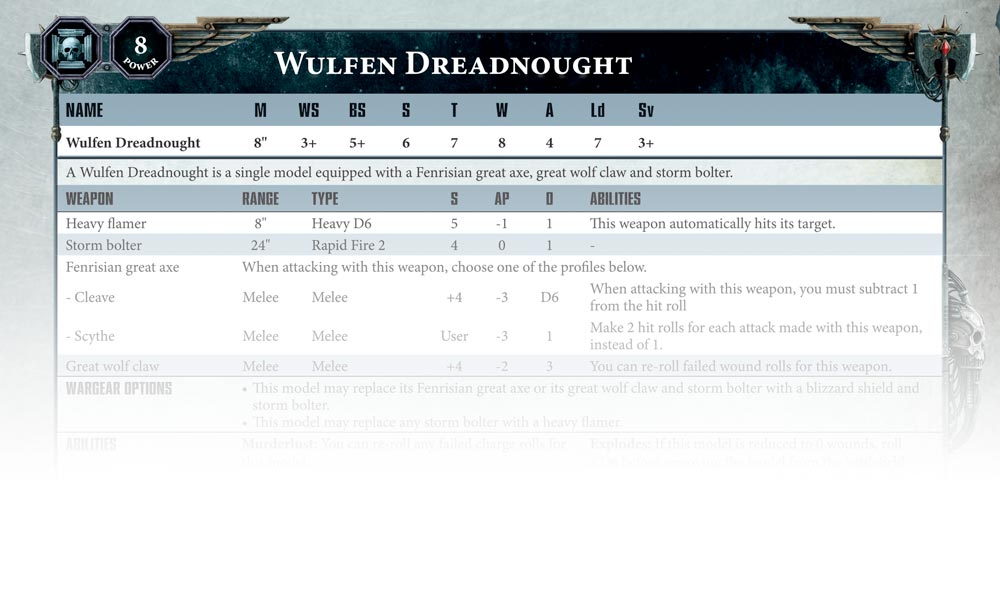 That answers the age old question, doesn't it?!
Games Workshop will also be covering more on this Codex later but rest assured you're going to see more Psychic Powers, Warlord Traits, Stratagems, Relics and even more awesomeness in the Space Wolf Codex!
Sign of the Wolf-time or did these pups just get their second wind for 8th Edition? Let us know what you think in the comments below!