Andy Hoare sat down and talked Adeptus Titanicus. Here's what he revealed – it's a LOT.
via Warhammer TV
Andy & Chris who did both game design and model design dished on the new game.
In no particular order.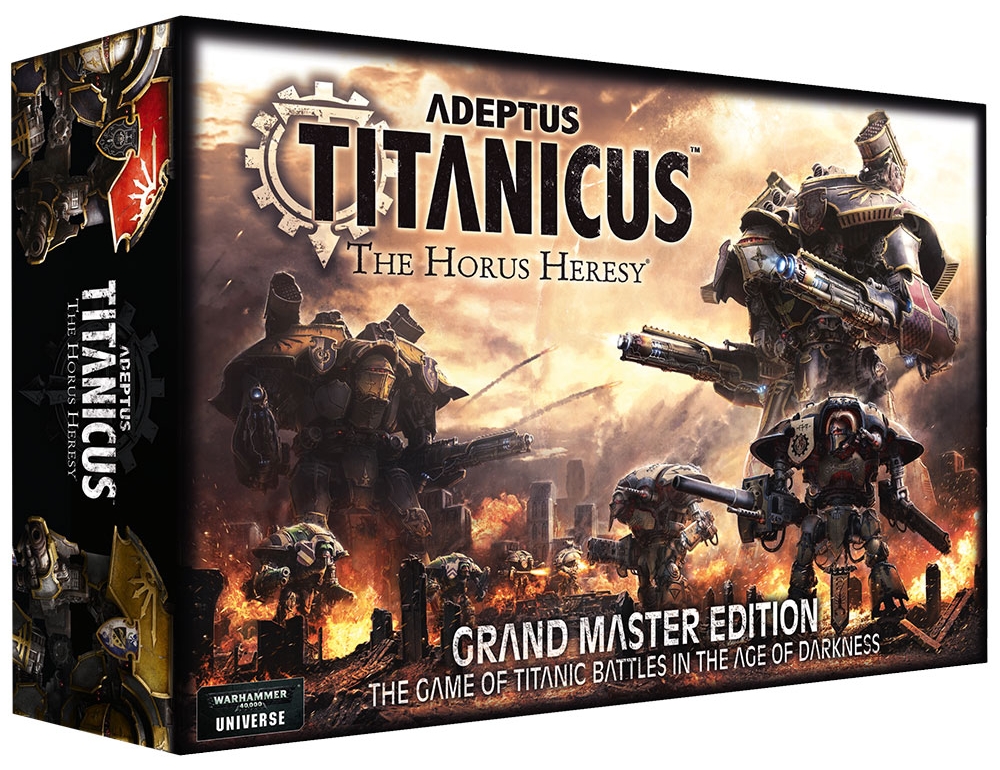 Adeptus Titanicus has been in development for 2.5 years.
"Magnus did nothing wrong" ~They said it!
Hardback rulebook
Background setting is the Horus Heresy "for now"
They could expand into other settings in the future, but want to mine the extensive Horus Heresy possibilities first.
Warlord Titan "resting height" 32.76 meters. This is now known.
Game is played on a 4'x4′ table. If you have a 4×6, it is designed to use the extra space for your command templates.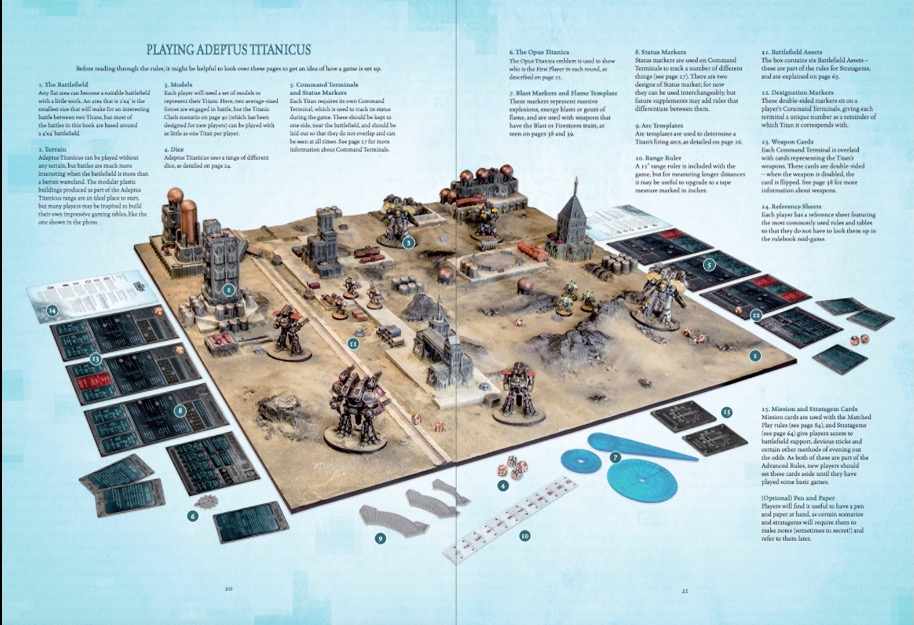 Sample Movement phase page from the rulebook.
There are movement arcs and movemtn is described as stately for the larger titans. Lots of pre-planning is needed and lots of ability for small more nimble units to outmaneuver larger titans.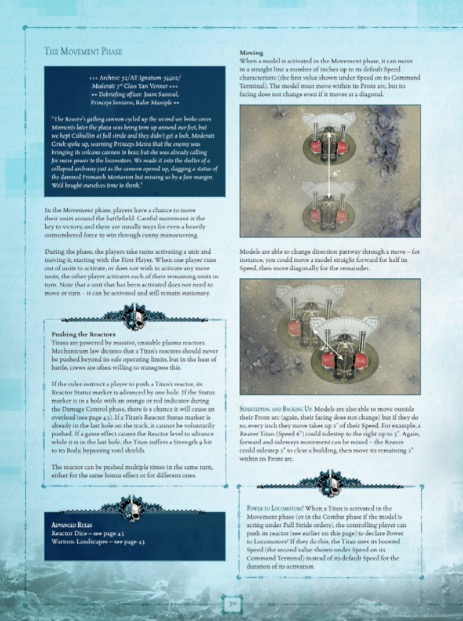 Warlord Command Terminal Card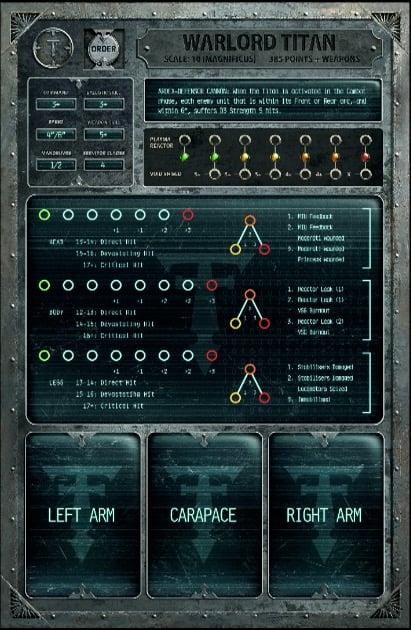 You place little plastic dials into the holes of each row to track your plasma reactor, void-shield, structural damage, and your weapon cards.
There are special dice for checking your plasma reactor when it takes damage.
Weapon cards are double sided and track the weapon when it is operational or damaged.
Titans have a "scale" number (10 for the Warlord) that is used as modifier for a variety of rules (such as explosion radius, etc…)
Knights use a simpler version of the Command Terminal Card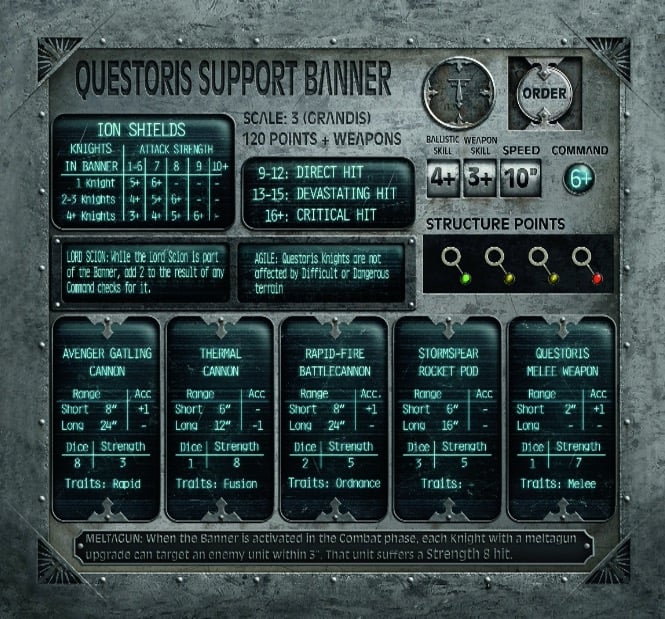 Each Knight Sprue contains 3 Knight models and gives you:
3 Reaper Chainswords
1 Gatling Cannon
1 RF Battlecannon
1 Thermal Cannon
Stormspear Rocket Pod is not included but will be an add-on coming soon.
Thunderstrike Gauntlet is not included, but would be the same stats as the Reaper Chainsword. Might be added in the future purely for visual variety.
Game comes with a weapons deck that includes many more weapons than come with the default game to leave open future expansions. Titan weapons are on a seperate sprue, and future titan weapon sprues can be added.
In the future "years from now" they may expand into vehicles and infantry. But emphasis on titans for now.
Includes an homage artwork based on John Blanche's original cover artwork.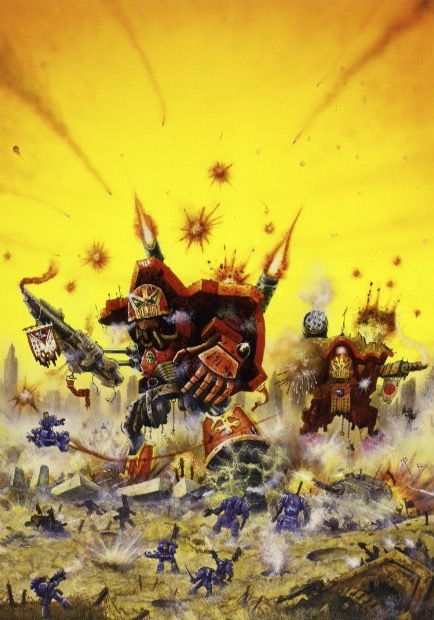 1989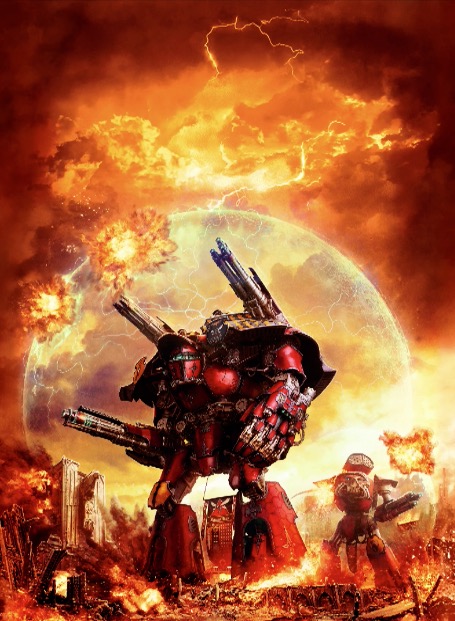 2018
Pressing your titan too much results in a Machine Spirit roll, as the titan tries to rebel from the Princeps and you can end up with good or bad results.
Classic oldschool templates are in the game, in a "fetching blue" plastic.
Objective Sprue includes: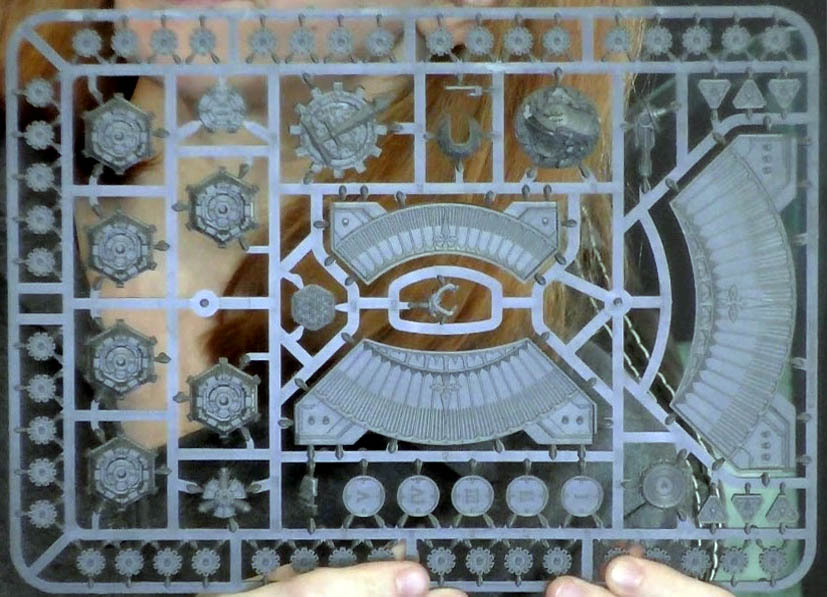 Titan Turn Temples
Tracking Dials for your command cards
Number Tokens to tell your units apart
6 Strategic Asset Bunkers with in-game effects:
Plasma Reactor – helps with plasma rolls
Apocalypse Missile Silo – gives you missile shots during the game
Command Bastion – helps with command rolls
Macro Cannon Battery – extra shots!
Comms Array – ???
Void Shield Generator – extra defense.
Crashed Titan Head objective
Dice:
Standard D6
Plasma Reactor dice
Command dice
Scatter dice
Hit Location dice
 D10s
Command Cards for
2 Warlords
2 Reavers
2 Warhounds
6 Questoris Knights
Deck of Stratagem Cards & Objectives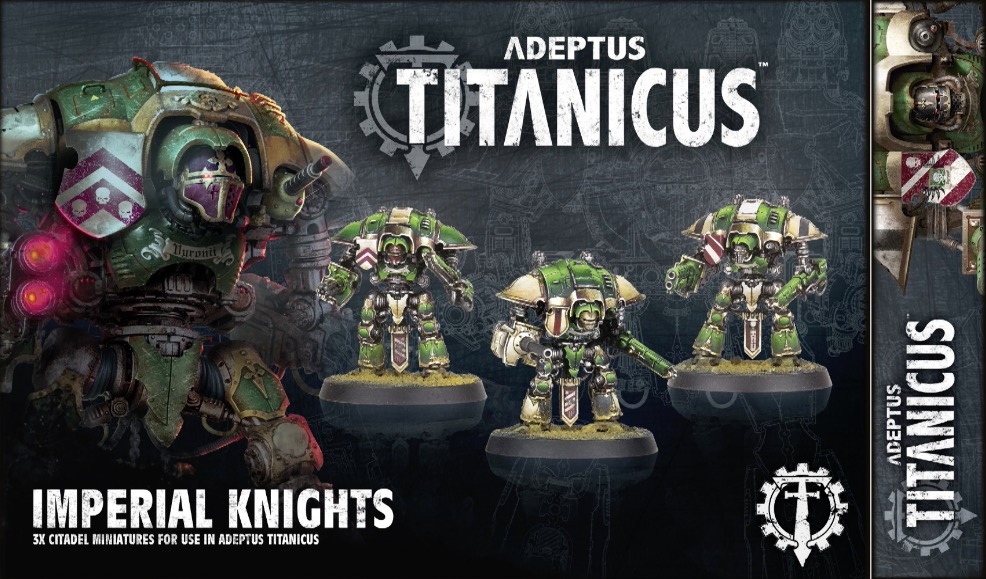 Lots of posability in the Knight models.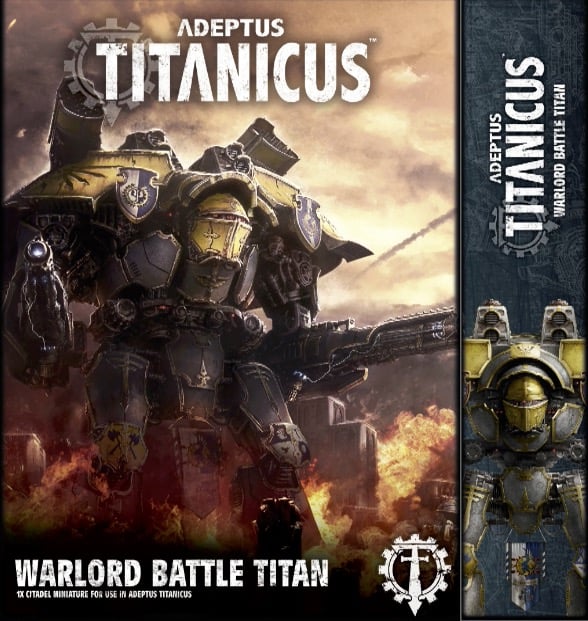 Warhound will be the last of the core titans released after the Reaver.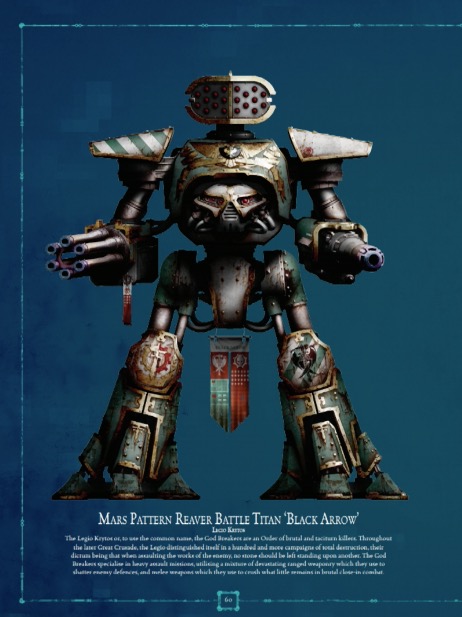 Traitor Legio Krytos Reaver – "The God Breakers"
Several Legios covered in the core book
Legio Mortis (Death Heads)
Legio Gryphonicus (War Griffons)
Expansions planned to cover other Legios and their iconography.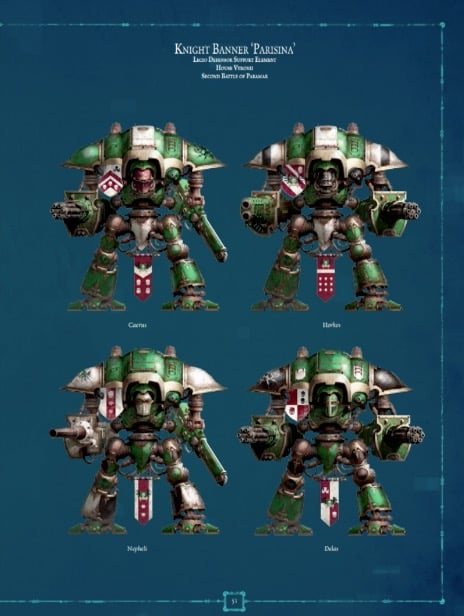 Decals
Launch sets have black & white "generic decals" for the various titan classes.
In the future Legio specific full color decal sheets are coming, which include bonded Knight houses.
Supplements to cover major events of the Heresy including the Siege of Terra.
Beast Arises Supplement possible afterwards which would introduce Orks, etc…
Modes of Play
Open Play – anything goes
Narrative Play – set-piece scenarios
Matched Play – competitive rules inlcuding points and estimated playtimes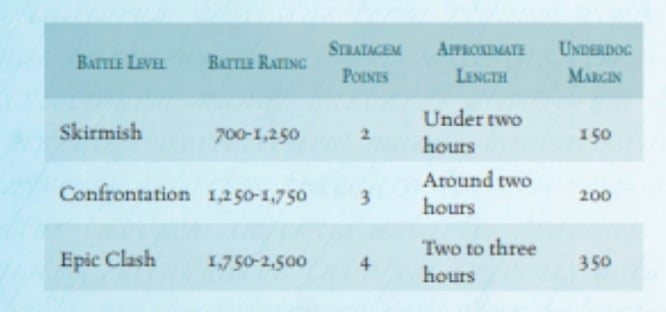 ~Look for Titanicus VERY soon.