Games Workshop has dropped some hints at how list building will work for Adeptus Titanicus. What does a typical fighting force look like and how big are these games? Let's find out!
After GW showed off the Reaver and the Warhound Titans yesterday, we started wonder what a standard game size of Adeptus Titanicus would be. Furthermore, we wondered how the armies would be organized and how many Titans-per-side are we talking about for a typical game. Today we get some answers directly from Games Workshop.
The foundation of any Adeptus Titanicus battlegroup for Narrative and Matched Play is the maniple. A maniple consists of between 3 and 5 Titans of various kinds – different types of maniple include different Titans. For example, the Axiom Battleline Maniple has one of each Titan type – Warlord, Reaver and Warhound – as compulsory components, with the option to add another Reaver and another Warhound.
Sweet – we need to bring a Maniple of Titans which consists of a fighting force of 3-5 various Titans. Good to know. The Grand Master Editions seems to be a good starting point for players but it's not going to be the final stop.
These Maniples also offers some extra benefits. For example, the Axiom Battleline Maniple will allow "orders to continue to be issued even if one Titan fails a Command check…" What's a Command check? We don't know but obviously it could be a big deal as it involves orders that are issued to your Titans. Those probably have to do with manipulating your Titan's plasma core to direct energy towards your void shields, your guns, movement, or even repairs.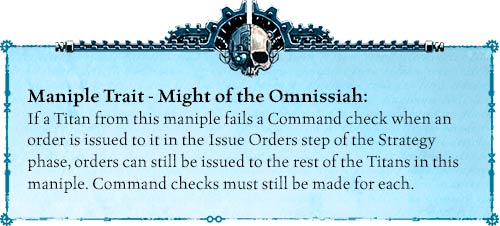 There are other Maniple types as well. There is another Maniple called a "Venator Light Maniple" that involves Reavers and Warhound Titans – when the Warhound from the Maniple takes out the enemy void shields the Reaver gets to make an additional attack. It seems like these Maniples are based in the lore and add some in game benefits for taking them.
The last Maniple mentioned by GW was the Myrmidon Battleline Maniple – this one consists of Warlords and Reavers. However, it's hinted that it would be a good idea to take some faster Warhounds to support that particular Maniple. It's a little unclear in the article if these additional Warhounds are other slots in the Myrmidon Battleline Maniple or if you can just take "Support Slots" – we think they would just be support and probably don't get the special rules from the Maniple.
What About The Knights?
If you're a fan of the Knights, don't worry we got some news about them, too. A group of Knights is called a Banner and there are no limits to how many you can bring besides your point limits. I'm actually curious if you could run an entire army of just Knights on the battlefields of Adeptus Titanicus. They might not have the raw firepower of a larger Titan, but they are more mobile and could threaten the rear arcs of their larger cousins.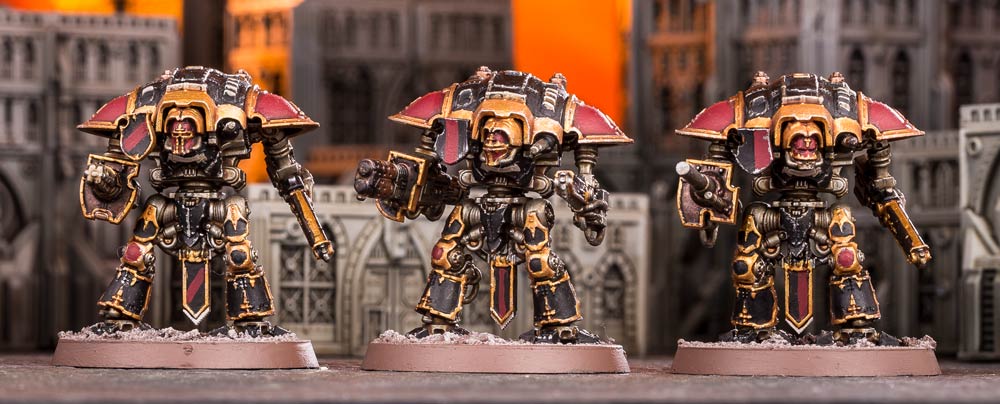 One last note – it's starting to sound like GW really wants folks to split that Grand Master Edition with a buddy like we suggested yesterday: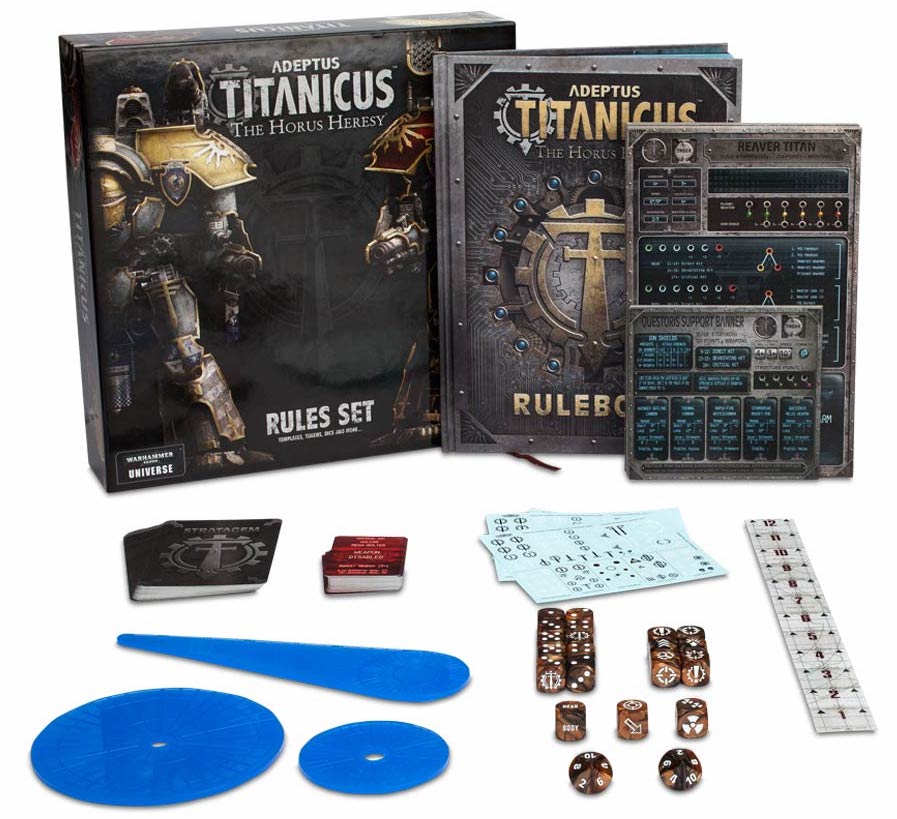 "If you and a friend are planning to collect Adeptus Titanicus, we'd suggest picking up a Grand Master Edition plus the Rules Set. Split the models, and you'll each have a complete set of rules content, plus a Warlord and unit of Questoris Knights – a great start and enough to get playing smaller games."
Not a bad idea after all. If you an a buddy split the cost down the middle you'll both end up spending $175 each and walk out with everything you'll need to play and expand your forces later.
Now we just need to find out how much those other Titans are going run us…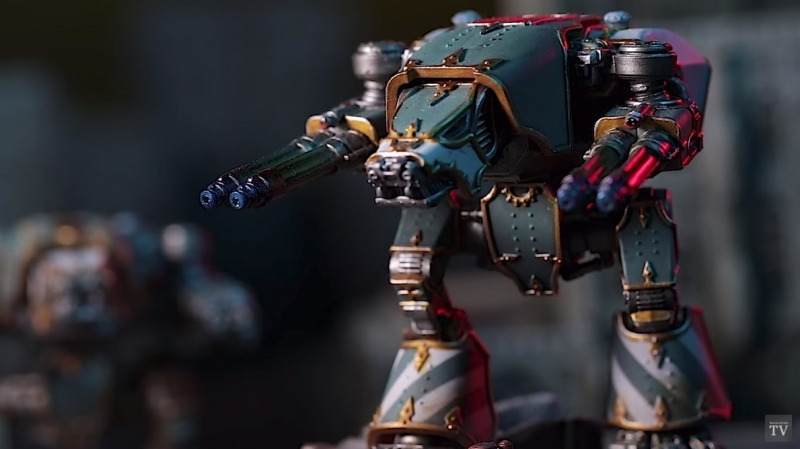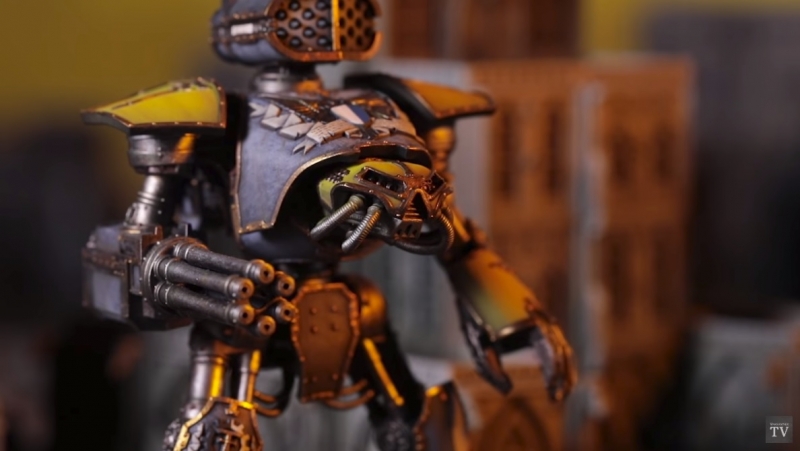 A Warlord, a Reaver and a Warhound walk into a neighborhood (bar)…