There's a small set of rules images doing the rounds today. Take a look before the big game drops this weekend and see what Adeptus Mechanicus has to offer.
Earlier today a set of images dropped on the web, and have been filtering their way through the undercroft of the information superhighway, and now, like a colony of ravening fungus, they've burst forth into the light of day. Let's take a look and see what Adeptus Titanicus secrets can be gleaned.
Machine Spirit and Catastrophic Damage Tables
It all starts with the Machine Spirit of the Titan. The table describes the kind of personality your Titan has. Like most things we've seen for Adpetus Titanicus, there's a lot of crunch on display here. I'm not sure when exactly you'd apply the Awakened Machine Spirit rules to your Titan, but it seems like another chance to show off that even if you're controlling your Titan, you're not necessarily fully in command. Things like Impetuous or Predatory dictate your actions, while Stalwart showcases the timing of some of the interruptions, allowing you to potentially repair your Shields or other parts on the fly.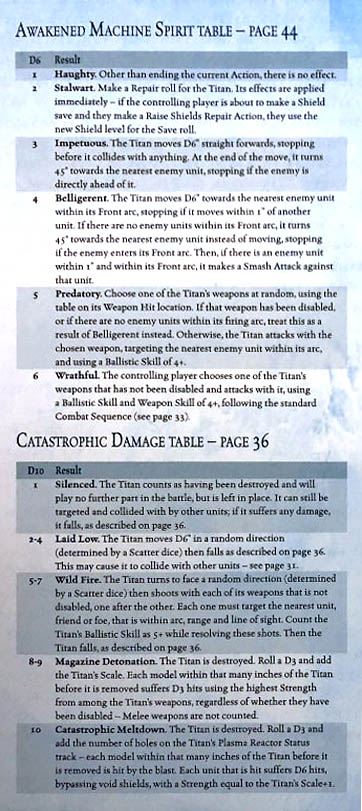 Then we have everyone's other favorite table: Catastrophic Damage. One of the best things in any 40K adjacent game is the crazy critical tables–and this one does not disappoint. When something bad happens to a Titan, it's bad for everyone. Laid Low, in particular seems like it could be entertaining–right up until it crushes your army beneath its massive bulk. If a Titan goes down, it's going to take a whole lot with it.
Titan Orders
Then there are the different Titan Orders you can give yourself. Finally something besides Rotating the ol' Ion shields to do here. Although I guess that's Imperial Knights. Still, we can glean a lot from the rules here.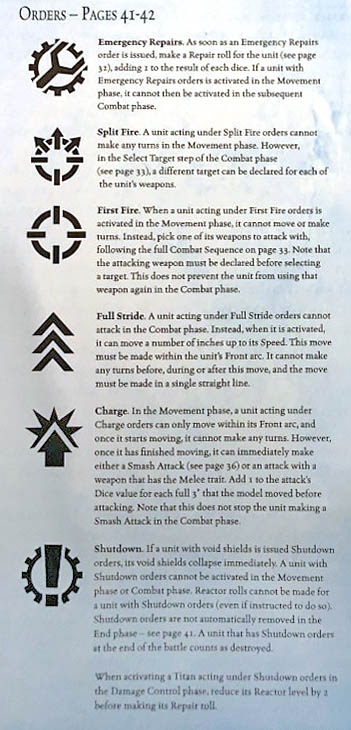 Of particular interest to me are the Shutdown and Full Stride orders which have echoes of some of the crunchier parts of a good Mech simulator game. Reading these rules really conveys the weight/bulk of the Titans. They feel massive. And devastating. Especially if they're wielding weapons like…
Sample Warhound & Reaver Weapons
…well like these guys. We've seen some of these before, Warp Missles, Vulcan Mega-Bolters–everything you need to obliterate the enemies of Reavers and Warhounds alike.