Tromping in from the wastes and wilderlands, an old threat re-emerges to once again bring Chaos to every corner of the world. Marauding beastmen have always been a part of the Realms–now they storm the spotlight together.
(Un)holy cow everyone, the Beasts of Chaos are coming–that's right, Beastmen are back baybee, and with them they bring raw and untamed chaos, and terrain and minis fit enough to be on the cover of an entire festival's worth of Metal Albums.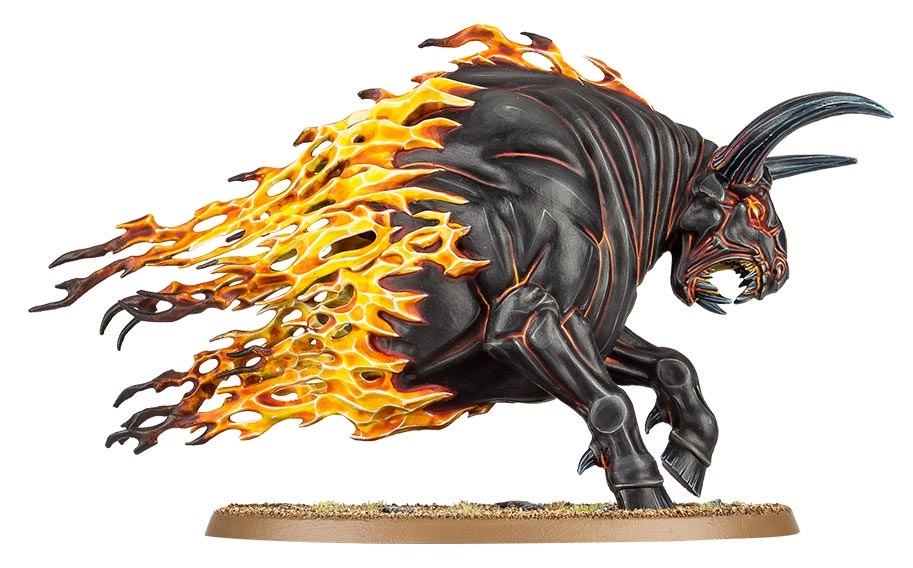 Now, at last, we know where that flaming, charging bull is from. But that's hardly the only thing that Beastmen are getting in their reveal. Come take a look!
via Warhammer Community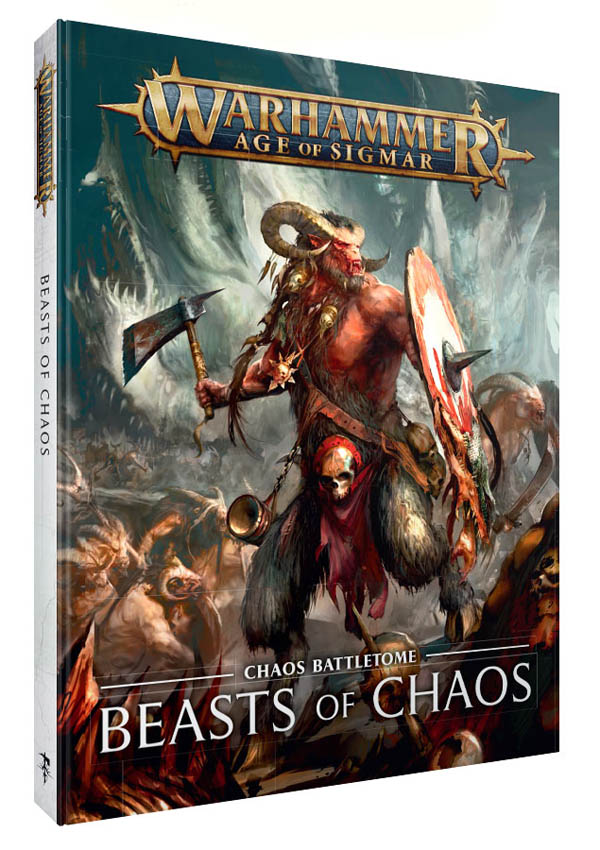 From the wild places of the realms, the true children of Chaos return. And they have not come alone; alongside vast hordes of savage beastmen come hulking mutants and towering monsters ready to lay low any trace of civilisation and return the lands to the primal grip of the dark gods…

This Battletome deals with more than just the brayherds, it compiles many of the bestial creatures of Chaos into a single unholy tome including Bullgors, Dragon Ogors, Tzaangor and more besides. A Beasts of Chaos force represents the untamed inhuman nature of Chaos is all its glory – a single army, with powerful, overlapping allegiance abilities, magical lores, and spells.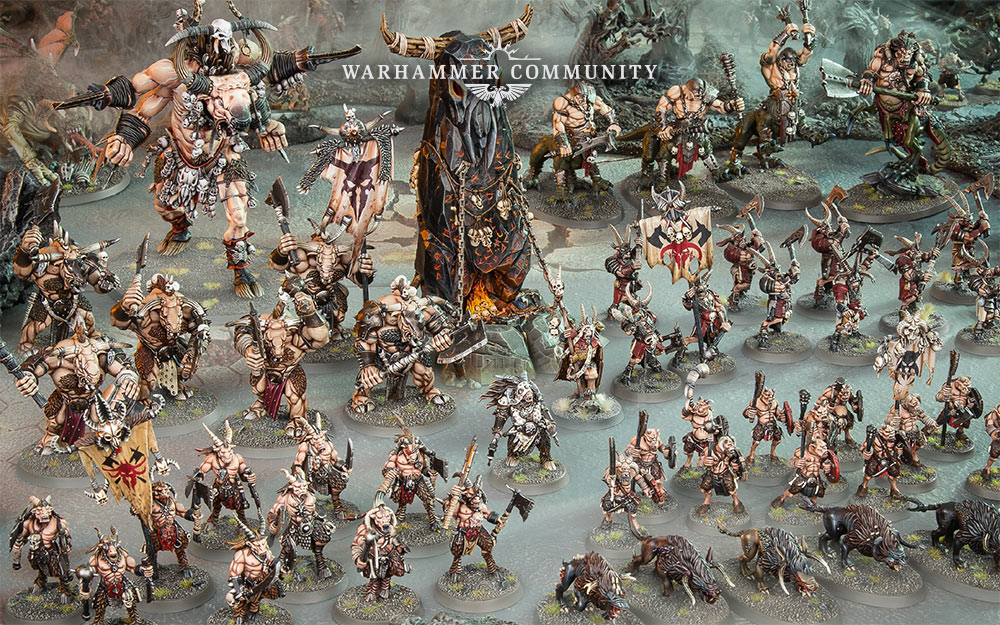 There are some amazing looking miniatures here–a bestial tide of chaos, poised to sweep over the land. But what's really exciting to me is the Herdstone, the big rocky, chaos icon right there in the middle of everything.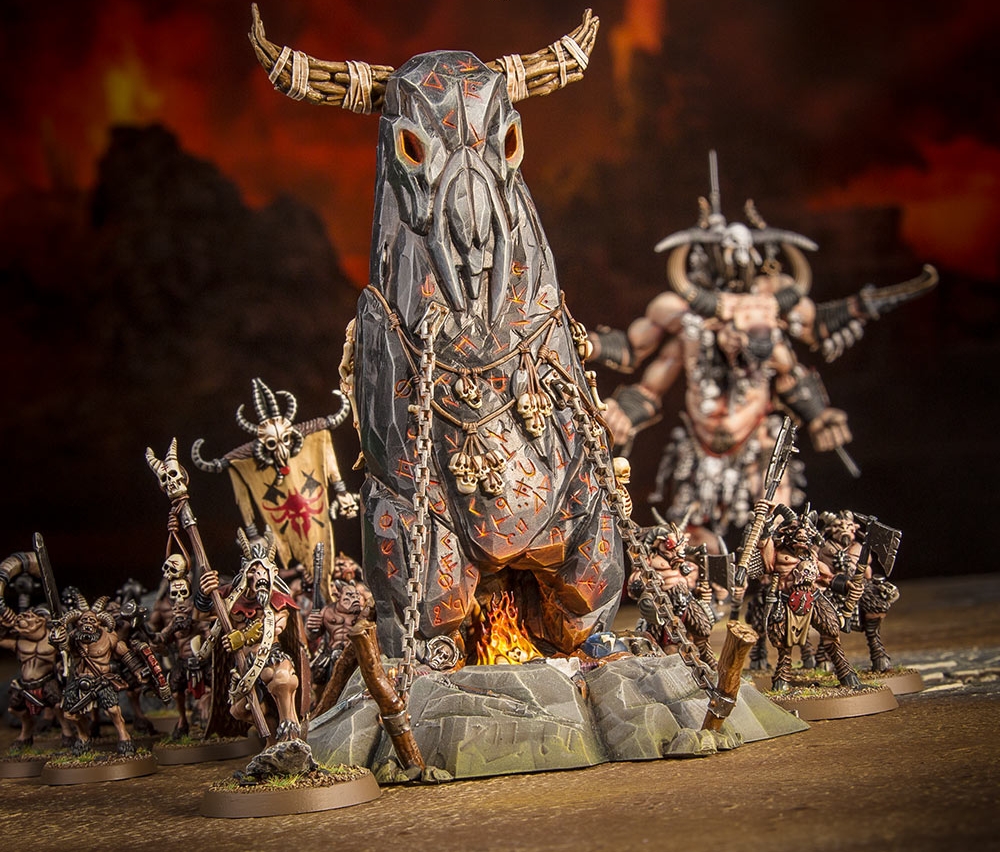 Back with a new miniature, the Herdstone is a primal altar to the Chaos gods. At these Herdstones, the bestial children of Chaos offer up runic engravings, corrupted relics, and, as you can see littered around the altar–unwitting victims–all in a bid to gain the favor of the ruinous powers that flow through them.
As you might expect, this is a terrain piece to build an army around. The Herdstone is said to provide "powerful in-game benefits" that will work alongside the new abilities introduced in the Battletome. But speaking of new things that are introduced in the battletome, let's take a look at the Endless Spells. Like the Stormcasts and Nighthaunts before them, Beastmen are getting new endless spells. There's the charging bull, featured up above, and then these two: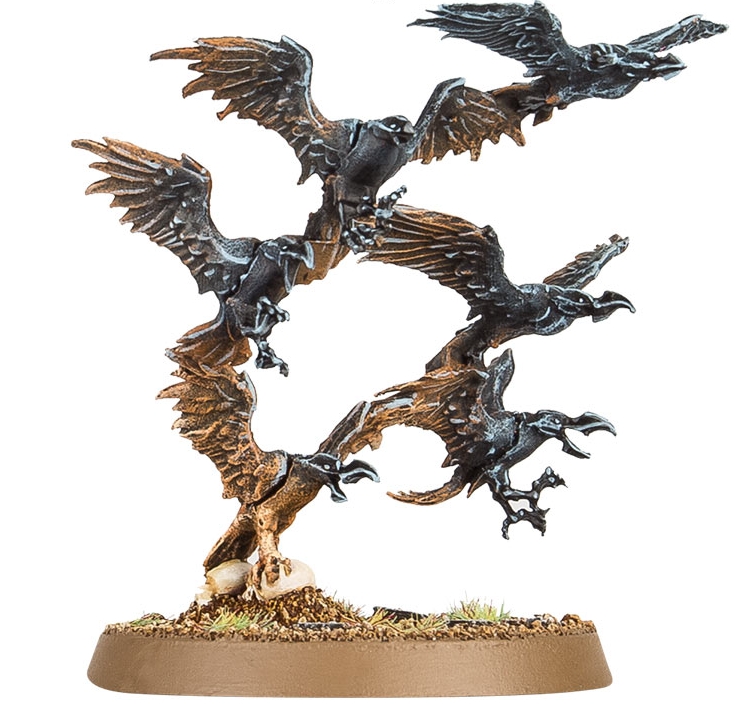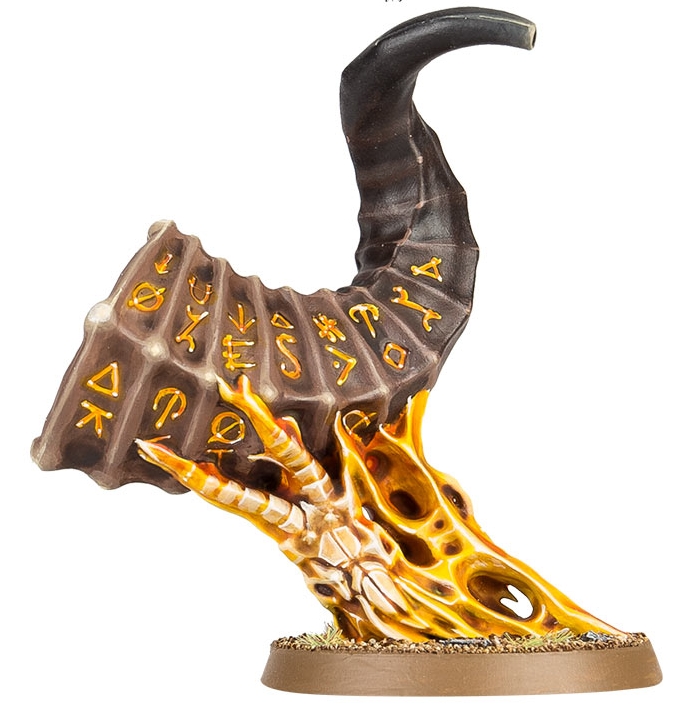 What looks like a flock of vultures or other carrion birds, and a massive chaos horn being gripped by what looks like a flaming, skeletal hand. My guess is, it flies around handing out buffs and debuffs, but we'll just have to wait and see.
At any rate, there's a look at the new Chaos Battletome, stay tuned for more folks. Stay tuned for more.
Going up against a marauding horde of Brayherds is always a baa-d idea. I'll see myself out.