The Legend of the Five Rings RPG uses a unique fusion of two different dice mechanics to create an entirely new beast of a Role-Playing Game. How does it work and why do you need those custom dice? Come learn why.
Fans of the original Legend of the Five Rings RPG might remember the use of the Roll and Keep system. For the uninitiated, it's dice mechanic where players build a pool of dice and roll them, but can only keep a certain number – hence the name.
So in most Roll and Keep systems it's based off a formula of "Roll a number of dice equal to X+Y, but only keep (Y) number of results." Depending on the system you might be rolling D6s or D10s and you could be keeping the highest, or dropping them. Generally speaking, you're also aiming for a target number you're trying to meet or beat.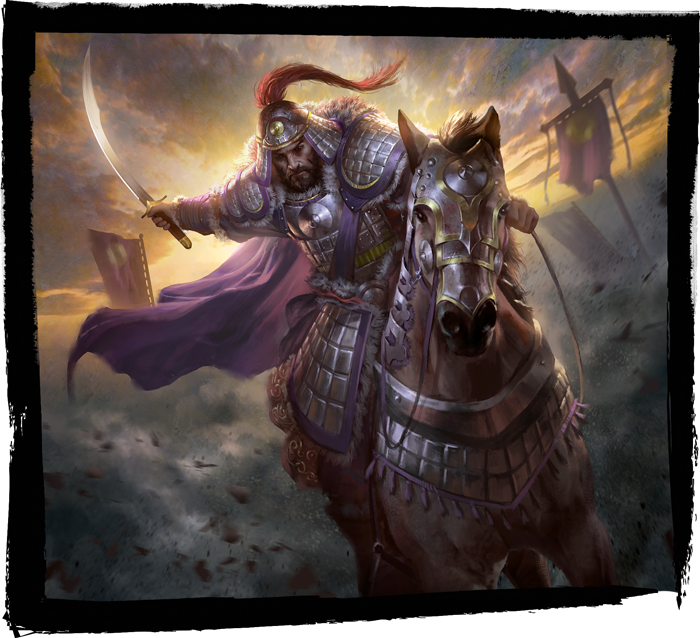 However, FFG wanted to explore their idea of non-binary (ie pass or fail) results like the Narrative Dice System. In that system you build a pool of dice to roll and the results can generate a lot of narratively interesting mechiancs. For example you might pass the check, but gain more threat which could cause complications later on. Or you might fail the check but may learn something or create some benefit down the line.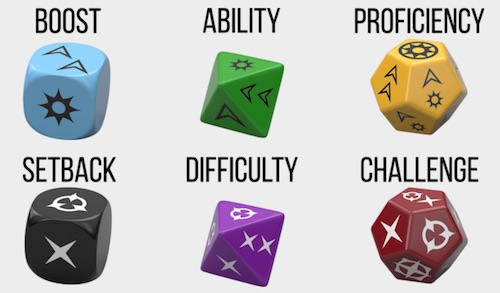 The Narrative Dice System – An RPG system where you can Fail Forward in spectacular fashion!
The new Legend of the Five Rings Roleplaying Game uses a a hybrid approach that not only speeds up the gameplay, but it also allows for a representation of the inner turmoil of the character and provides for more interesting effects for the players.
When building a dice pool, you start with the character's applicable skill and add that many white dice. Then, the GM determines which elemental ring fits based on your intention of the action:
Air – Precise, subtle, cunning
Earth – Defensive, thorough, reassuring
Fire – flashy, creative, inspiring
Water – affable, flexible, perceptive
Void – Mystical, wise, instinctive
You take a number of black dice based on the element and get to add that to your pool. This is called your "Ring Value" and when you roll the dice you only get to keep a number of dice equal to your Ring Value.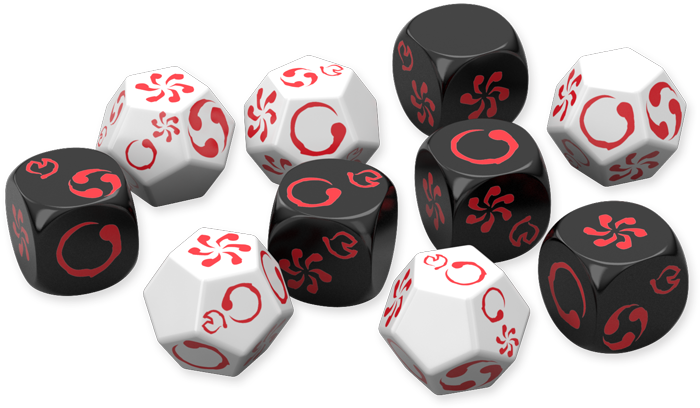 To know which dice you should keep and which ones you should pass on, it's probably best if you have some type of key or legend that tells you what the results are, right? Luckily, FFG has provided one: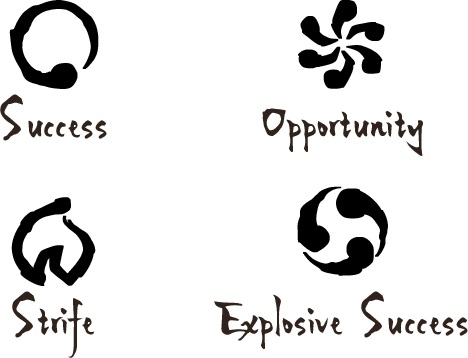 Success and Explosive Success are both pretty self-explanatory. You need the target number of successes to pass whatever check you're attempting to make. However, Strife and Opportunity are the two other factors that allow for additional narrative gameplay. This is where you start to see the Narrative Dice System influence the mechanics.
Strife is a concept that players may thing behaves similar to Threat from the Narrative Dice System. However, it represents something very different. Strife is a representation of the players internal struggle inside of them. Unlike Threat, it the impacts of Strife help to drive the Character's emotional state – their inner turmoil. Strife can be the volcano under the surface waiting to erupt and help push characters in interesting narrative directions.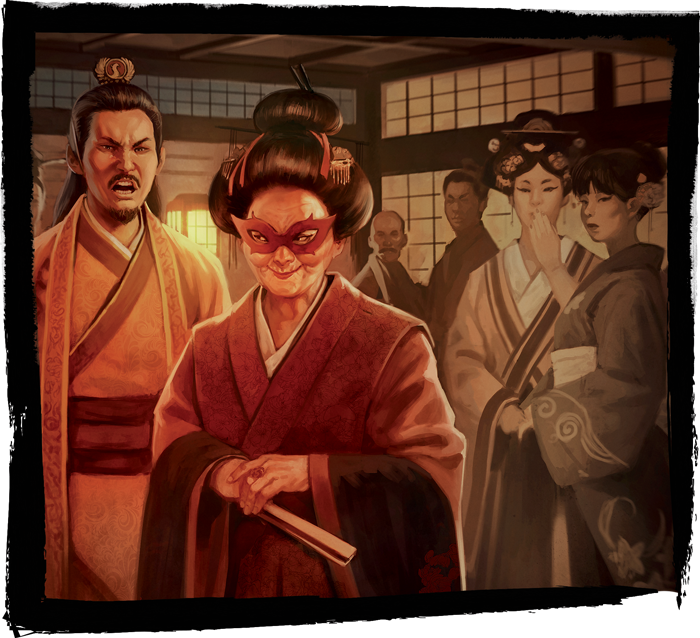 I'm outwardly smiling, but I'm raging on the inside…
It's certainly a more abstract result than a straight-up target number – but that's the point. Players might even choose to fail a check if they have too much Strife as a result. Why? because if a player's Strife amount ever surpasses their composure threshold, they can boil over. In a society that is all about honor and outwardly showing respect, that could be a very bad thing. It's all about generating extra layers for your Roleplaying Game.
Opportunities on the other hand are a bit more tangible. These represent different "flavors" or details that the individual may have noticed. They generally details about the players surroundings or features of people – "the guard has a slight limp with his left foot" or  "the rocky crag above you looks like it could fall at any moment…" Or they could be insights from the characters perspective. For example if a player generated an Opportunity from a test using the Water Elemental Ring, perhaps they notice some very suspicious tracks or hear something in a bush.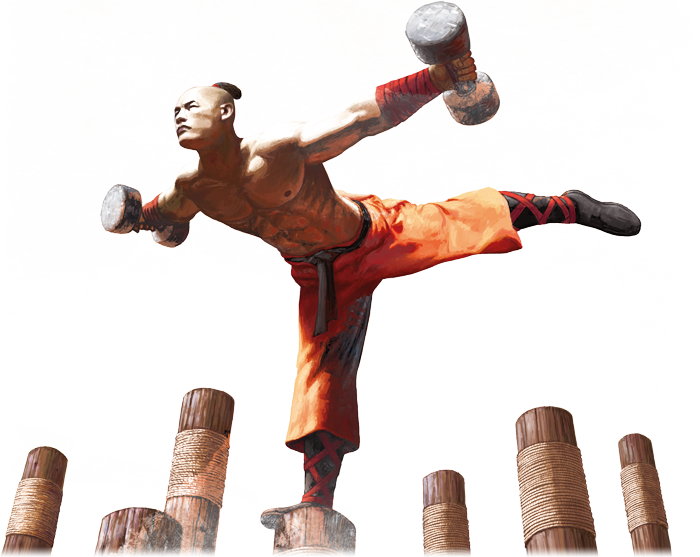 Another neat thing about Opportunities is that they also give players access to different techniques. It's similar to how in previous version players could attempt to Raise – or increase the difficulty of a check – in order to cause cool side effects. When a player chooses to keep an Opportunity, it happens regardless of success or failure on the check. It's another reason for a player to opt to fail a check or succeed with some cool narrative flair.
The Legend of the Five Rings Dice Mechanics are a wonderful fusion of "Roll and Keep" and the "Narrative Dice System." The results are easier to decipher which leads to a faster pace game, but one that is still rewarding for the more narrative inclined players out there.
For more on the dice mechanics, check out Designer Max Brooke's article on FFG's website.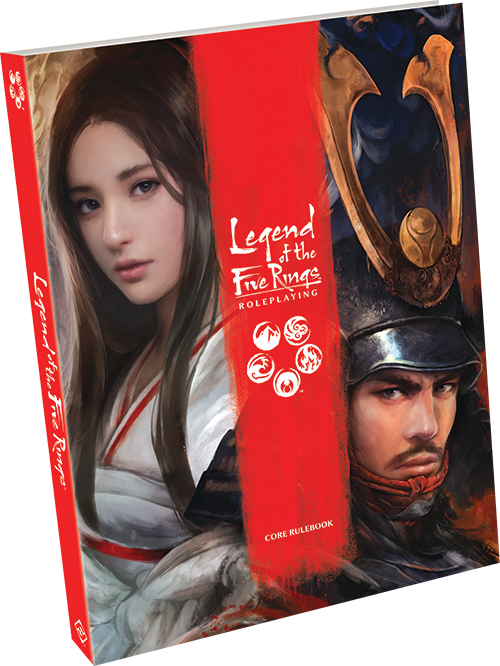 The Core Book is up for Pre-Order now and should be available in Q3 of this year. The Beginner Game is out now and in stores if you want to try your hand at a pre-constructed adventure.
What do you think of this Hybrid Dice System? I know that I definitely want to give it a go!