Tooth and Claw takes players to the embattled world of Vigilus, where the Genestealer Cultists of the Pauper Princes work hard for a living, undermining the Imperium both literally and figuratively at every turn.Their new Aberrants are the Pick of the litter.
Y'know…because they fight with mining weapons. So they use picks. I'll see myself out.
Amazing puns that enrich humanity aside, Genestealer Cultists are one of the scrappiest forces out there. They have to struggle with civilian equipment and alien DNA overwriting their very humanity, all the while listening to whatever their Magus says and watching out for the mutant monsters that are now their brethren. Some of them are two-faced, and I mean that literally because they have two-faces, but also maybe they're kind of shifty. And some of the more powerful of their number are the twisted Aberrants, who wade into battle with new weapon options in Tooth and Claw (and presumably within their codex). But first, here's a look at how they used to be.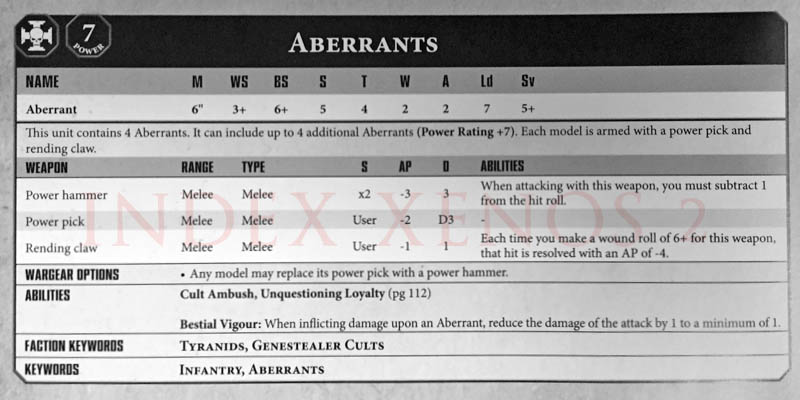 And now, here's a look at the new hotness.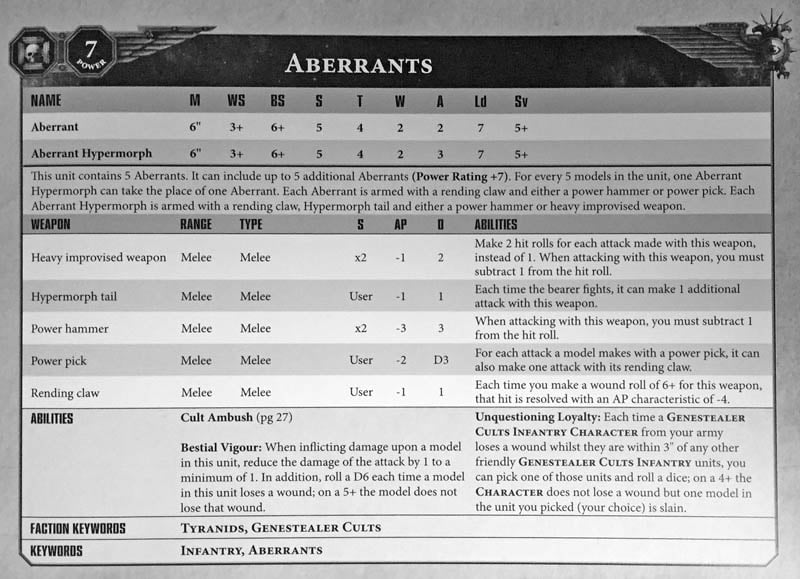 Aberrants make for a fantastic addition to any Genestealer cults force. Their stats haven't changed too much, but there are a few key differences between the old version and the new. For one, there are the new weapons options and tweaks to old favorites that give them access to more attacks across the board. The Power Hammer is still there to do the most damage, but the Heavy Improvised weapon doubles your attacks and hits at Strength 10, while the Power Pick and Rending Claw combo also double your attacks and help you tear through infantry. Bestial Vigour now grants a 5 up Feel No Pain, so they have more staying power. And finally, while the models haven't changed in terms of point costs, their weapons have. Old options are cheaper now–the power pick is 10, the hammer 16, the heavy improvised weapon costs 10, and the hypermorph tail is 2 points. So you can outfit your squad for pretty cheap.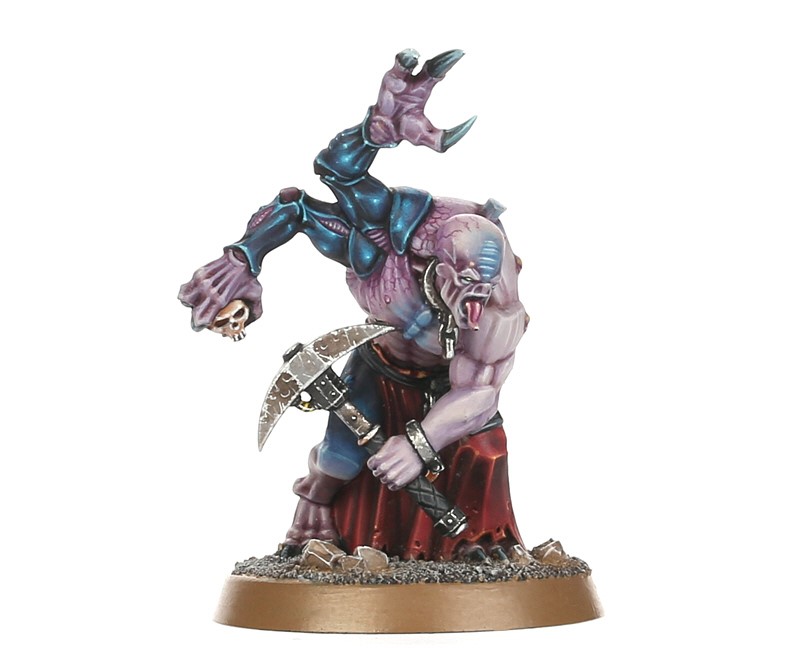 It's probably not all that long before we see these released as a standalone kit, alongside the Codex, so keep an eye out BoLS Readers. But in the meantime, these Aberrants will be fighting those meddling Imperials, and their little dogs too.
The Aberrants can be found down under the streets of Vigilus, where they are a fine example of some Men at Work.