Space Wolves are here and our long drought of new 40k is finally over! Here's how the codex stacks up.
I did a little video with AdamHarry about the codex and after some review, introspection, and deep thought I think the book isn't that bad.  I think the game is just in a weird place where the proverbial "best unit" is really not good enough.  But that discussion of how we could change the game is for another day.  Let's look at it from today's game standards where big monsters rule the game, guys on bikes get buffed beyond nonsense, and a guy in a throne room says no to your car loan.
Fenris: The Big Picture
Before I get into my fur tide list (definitely not the best – I think a Rhino rush army might actually be worthwhile – with gasp actual Space Marines that are not heroes in it) – overall I think the Wolves will do alright.  I think from the normal AM/IK combo – the Blood Angel Captains just give that army more then say Thunder Wolves would give them.  Sure they are fast, hit pretty hard, but they can't compete with wings of fire, a reroll for CP relic, and a no over watch relic.  This leads me to seeing Wolves either in full stand alone armies – or maybe utilizing some Knights for decent firepower.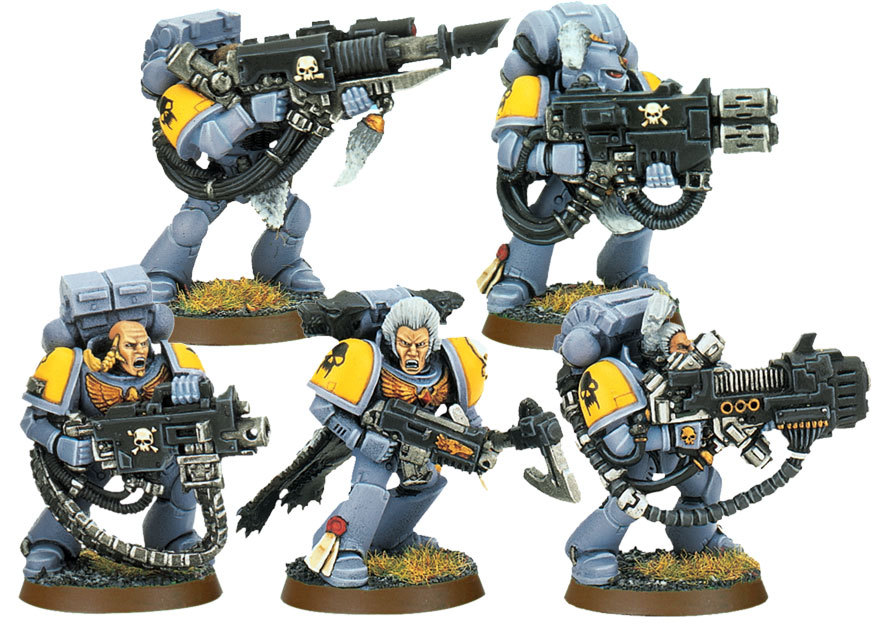 We're old – but we got tricks!
I think the Long Fangs might actually see the light of day due to some interesting stratagems (removing all negatives to hit which includes moving and firing… pretty dang spicy).  I also think boxes full of puppies (Guys in Rhinos) might also be very strong as you can easily make all of them a -2 to hit (Strat we have seen – 3cp everyone in 6 inches is -1 to hit plus Smoke on the Rhinos).  Move, advance, then get out and do some damage with your plethora of characters (28 of them in the book – index generates another 4-5 more due to bike options).  I bet the Wolf Guard stuff could be pretty neat with a ton of Storm Bolters coming out of their boxes as well.  It would be neat to see an actual Wolf army and not just a puzzle piece you fit into the grand scheme of an Imperial army.
I really wish they had gotten a Warlord Strat that let other leaders get their auras.  I like a lot of the Sagas and would think a few that would combo up would be pretty spectacular.  It just seems odd to me with an army so heavily hero based that they didn't figure out a way to let all the hero's work within their own companies.  I also find it odd they have so many Primarus stuff as you would think this is the army that would not be cool with being force to use bigger bros by Mr. Robootie himself.  Obviously will have some Primarus boxes coming out with that handy little mini Space Wolf Sprue.  Full of scoobie snacks and extra furry tails.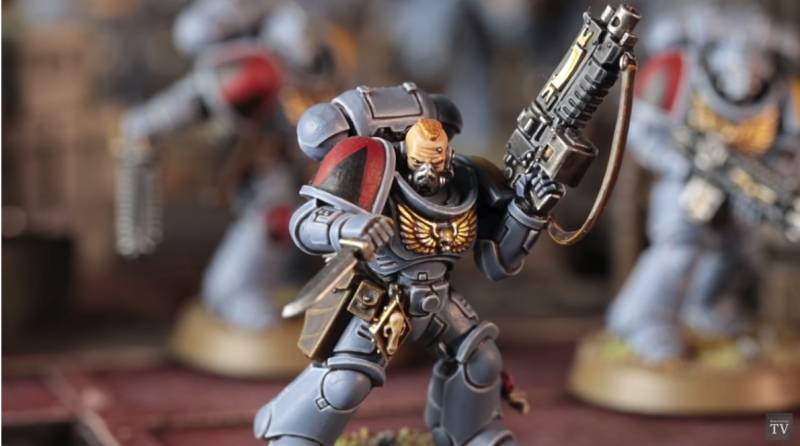 The strongest are strongest alone!
My favorite Strat has to be the Lone Wolf one.  I can see it being very frustrating where you kill all but one little weenie Blood Claw and then bam he gets all emotional and dark.  He becomes like the Crow with more wounds, desire to have some guitar solos follow him around, and then maybe avenge someone while doing the Fallen Angel pose.  It does feel very fluffy and fun so I give big props to GW for writing that rule.
True Grit is still good especially if the army does go Rhino Rush heavy.  Grey Hunters will be a pain as you get stuck into combat, they shoot you a bunch, and then maybe break out and charge someone else.  Mix in the best relic – the Wulfen Stone – and you got an army that is going to hit so many times it is nutty.  2+ reroll 1's will be making math wonky as the wolves get mixed into combat.  I still don't think it is as good as +1 to wound – but with all the other nutty stuff wolves could do it might end up being more useful.  It is all due to how the Wolves most likely won't be locked into an army of 3 minimum troop choices and 2 – 3 characters that superman punch armies to death.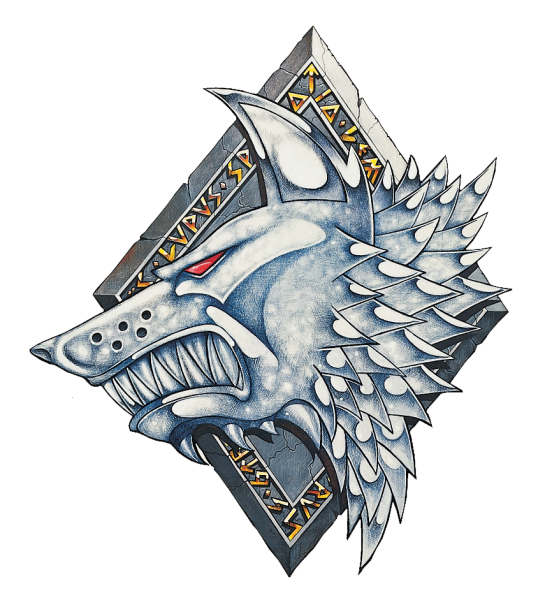 Spell wise I think the Rune Priest will be a much needed addition – especially with a Jump Pack.  Storm Caller is extremely powerful as it gives all Space Wolves units within 6″ of him cover.  Thunder Wolves with 2+ armor saves is no joke. If the game continues to be one big Knight doing a ton of damage then Tempest's Wrath is a legit answer to it giving that mechanical turd a -1 to hit.  Mix that in with a ton of -2 to hit Rhinos and your pound puppies are going to get there, get adopted, and punch all those AM Soldiers in the dingus.  I also like Living Lightning as another Smite option and if you get lucky and kill it you could get a chance to jump to another one.  I don't see that happening too often but mixing Smite then Lightning will be an annoying combo of spells.

Space Wolves List
But enough about that – lets go to a dumb list I wrote up just using Space Wolves.  I talked about the Furrtide and figured why not throw one together with a ton of doggies, doggie like models, and some Heroes in a half shell to do some damage.
Space Wolves Spearhead
Canis – 125
Wolf Priest, Jump Pack – 97pts
Fenris Wolves – 15 + Cyber Wolf – 135pts
Fenris Wolves – 15 + Cyber Wolf – 135pts
Fenris Wolves – 15 + Cyber Wolf – 135pts
Thunder Wolves X 6, Powerfist X 2, Storm Shield X 3 – 294
Thunder Wolves X 6, Powerfist X 2, Storm Shield X 3 – 294
Thunder Wolves X 6, Powerfist X 2, Storm Shield X 3 – 294
Space Wolves Supreme Command
Wolf Lord, Thunder Wolf, Pwrfist – 130 – Warlord – Saga of Majesty
Wolf Lord, Thunder Wolf, Pwrfist – 130 – Relic – Wulfen Stone
Wolf Lord, Thunder Wolf, Pwrfist – 130
Rune Priest, Jump Pack, Stave – 122pts
Wolf Priest, Jump Pack – 97pts
This is just a big horde of doggies that are Fearless due to the Morale Bubble from the Sage of Majesty Wolf Lord.  Add in Canis extra Attacks, the Wulfen Stone extra attacks, and you got a blob of guys that are hitting on 2's and rerolling 1's like its their job.  The Rune Priest most likely will have the -1 to shoot power and Storm Caller.  I am running two Wolf Priests as they can heal some of the Multi Wound options in the Thunder Wolf Calvary.  It doesn't have a ton of CP but you really only need to do the 3CP one once and then you should be there doing some damage as needed.  It can't hit a flyer beyond the Jump Pack guys but it is a furry wave of nonsense from Goatboy.  The Copy and paste powers were in effect in this one – but again I wanted to see how many doggies I could fit into an army.
Next time I will work on the Rhino Rush list as I think it has options to do something interesting as well as look like a real 40k army – full of guys in power armor, Rhinos rushing up the field, and not everything just be some dude on a giant Thunder Wolf that might have been his brother at one point.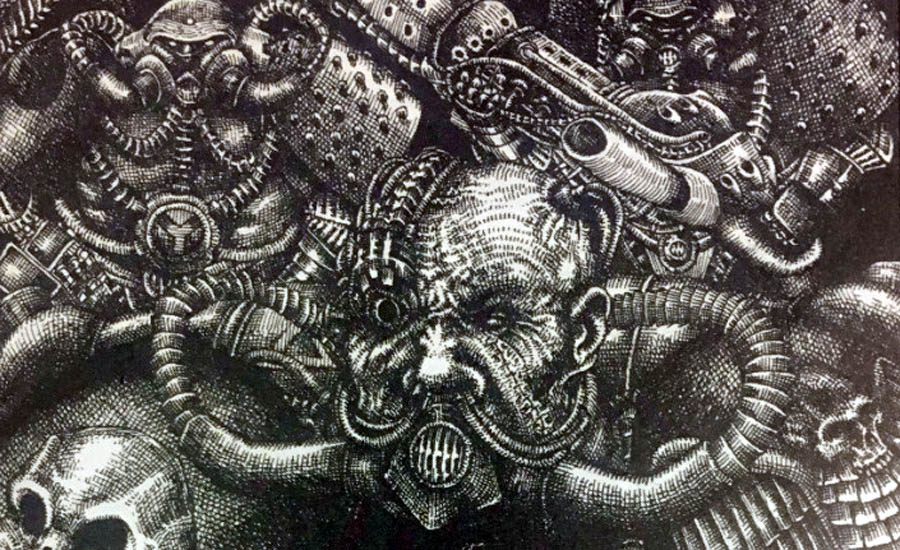 I will be there – for the Wolftime.
~Until they give us Primarus Thunder Wolf Cavalry – ARRROOOO for the Emperor!