In the midst of a summer 40k drought, lets pull out a crystal ball and see if we can figure out what Codex Space Wolves will hold.
Wow it has been a bit for some true 40k tidbits.  Between the new AOS (lovely models, lots of rules that would make 40k interesting, sad I don't have time to fully invest, etc etc), the new Kill Team (quick and dirty 40k! but still not Orks/SW/GSC/Ynarri), and looks like the new Titan game we are in a bit of a 40k drought.  This has me sad as I really would love to talk about some new rules, new army builds, and quit thinking about combo Knight nonsense.  With that in mind – lets pull out a crystal ball and see if we can guess some of the new armies rules before they come out.
First of all – both Space Wolves and Orks will have some kind of regiment/clan/kabal/legion/etc set of rules in them.  They are designed that way, have the bits and pieces for these types of rules in index, and really crave this style of game play.  I expect them to follow the regiments we already know about – with Space Wolves taking on "Sagas" as their army play style changes and Orks having Clans.  I don't think the GSC will have that but you never know.

Hello Fenris
Let's start with Wolves first.  I am guessing the Thunder Wolves are going to take a role similar to Custodes bikers.  Decent armor, lots of wounds, large amount of attacks, and mixed with some neat stratagems to help them out.  The big thing will be if we see a lot of "characters" with Thunder Wolf options – which would make taking units less needed and just have a ton of characters running behind "scouts" or some other fodder to help keep them alive.  I would love to see some kind of new character that is a Wulfen – giving out some kind of advance/charge aura and other neat options.  I doubt will see it – but it is something I could get behind.

Translating the Sagas
Let's look at the old saga/clans/etc from the last edition of Space Wolves.
Saga of the Warrior Born
Most likely some kind of assault based option – either something nutty like getting more attacks on a natural roll of a 6 or something simple like just +1 attack if they made a charge.  They might also have something like a warlord trait that would let models around the Warlord heroically intervene or let the Warlord do it at 6 inches.  These are the guys designed to get in, look bad ass with their chainswords, and maybe finish a game in your opponents deployment zone.  Some kind of Frost Sword or Axe will be the Relic for these guys.
Saga of the Beast Slayer
These guys are going to be able to kill Monstrous Creatures easier.  Something like reroll 1's to hit and wound maybe?  Their Warlord trait might let the Warlord reroll all hits and wounds when fighting Monsters or things with x amount of wounds.  Relic wise you could see a weapon of course or maybe some kind of cool shield to block their devastating attacks.
Saga of the Iron Wolf
These guys love vehicles so usually that involves fixing them.  Since this edition has removed units switching battlefield role places (accept Chaos Space Marines cuz the Internet got mad) this one would most likely be a weaker saga to take.  I mean if they could add something like vehicles within range of the Warlord get a -1 to hit or something it could be good.  I would guess Relic wise would be some kind of special Servo Harness for the Iron Priest to wear.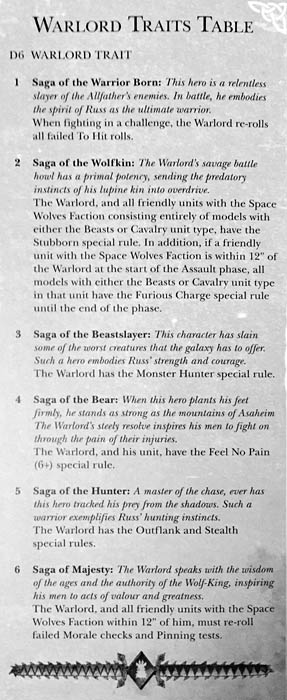 7th Edition sagas
Saga of the Bear
This Saga could be where they have the FNP option for the army.  This could be pretty neat and give a way for some regular Space Wolves to be used – or say Thunder Wolves with a 6+ FNP option.  The Relic would be some kind of Mantle that would grant a better FNP and the Warlord trait might further increase it or do something like heal a wound a turn.  This could be an interesting one.
Saga of the Wolfkin
From better Thunder Wolves, Wulfkin, and regular "wolves" this could be another sleeper winning Saga.  Further assault moves, better leadership, or more attacks could make for some interesting character Auras.  I am guessing Wulfkin might be the Aura machines for the army so other rolls and options for them would be good.  Maybe a Mantle that turns the character into a Wulfkin would be a cool Relic with their Warlord Trait giving another form of an aura.
Saga of the Majesty
This one was a leadership buff and other unit switching so I am not sure what it could do in 8th edition.  Leadership is less of an issue with most things either exploding from "enemy" contact or just ignoring the Leadership checks.  Maybe it could be something to do with attacking other Characters and challenging them etc.  This is where the simple relic of say a cool suit or armor or some other form of Protection would show up.  It might also have some kind of reroll mechanic thrown in for a warlord trait as this leader is pretty amazing.
Saga of the Hunter
Ravenguard power most likely.  With the same Stratagem to allow you to deploy guys all over.  I bet it is only for Infantry but will see how nutty GW wants the executioners of the Emperor to be.  This one will most likely be the powerful one – if they go in this direction for the army.  Relic wise some kind of no Overwatch option maybe?  The Warlord trait would do something like Behind enemy lines for units to appear out of.

Auras, Points & More
This hits all the old Sagas from the previous editions.  I am not sure if they will keep it – as they could just make Wolves a single "choice" like Blood Angels or Dark Angels.  I would really like an Aura mechanic based off their heroes and how you set up each detachment. Each leader would get a Warlord Trait and free relic with only one of them being the True Warlord.  You saw some of this with the Dark Eldar and I think it could be really interesting for Space Wolves.
I expect the army to have a pretty good deal of point reduction throughout the list.  If the Primarus see a point drop then we know what is coming for Marines/Friends which would be interesting to see.  I am kind of doubting it as Death Watch fell in line and I think they like how much they cost right now.  A mixture of rules/armies is what keeps the Primarus at bay a bit.  I really want to see Wolves shine a bit more as I can see a lot of fun in creating Thunder Wolf Armies.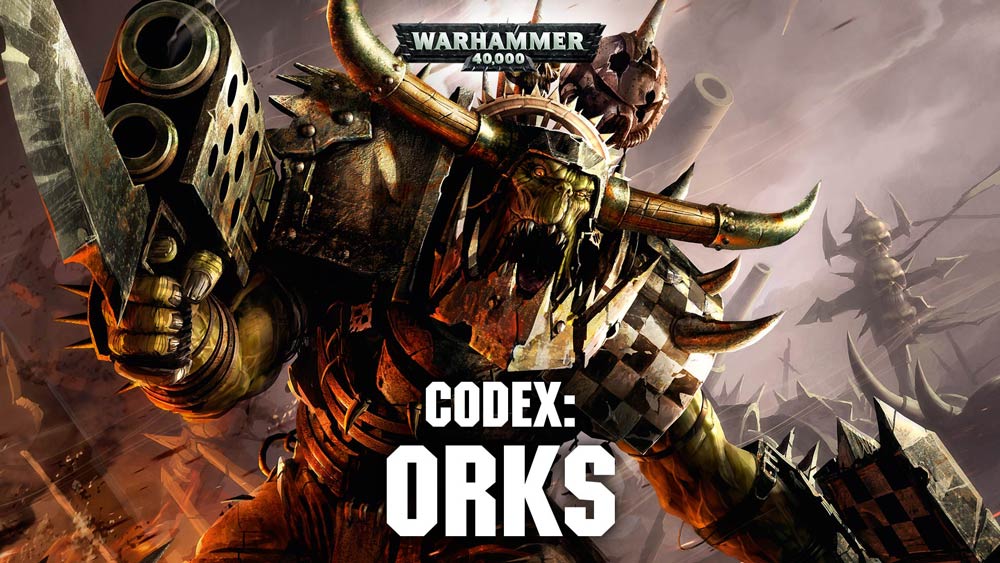 I will look at the Orks and see what could show up for them next time.  I think they have a pretty distinct Clan structure that will be pretty interesting to imagine what will see.  I expect some of the same sorts of rules we have seen now – most likely with the new rule add on of giving the Clan rules to Vehicles and other options.
Are you excited about some new 40k stuff coming out?  Do you want Wolves to finally get better?