Goatboy here to talk about the best stratagems in the game – and why.
Woohoo I survived the first week back to work after the new baby came.  It was a bit rough towards the end as I took one for the team to let my wife rest a bit.  I am starting to think your brain makes you forget how rough the first few weeks are with a new, lovely, but spit up covered new baby.  But – enough family stuff you want to read about 40k nonsense.
While driving home tired as heck I thought – what are the best stratagems currently in the game.  We have seen some nerfs on old standbys that have severely knocked them out of heavy rotation as well as a ton of new ones.  I am basing me list off of what I see a lot of lists splash into armies.  Sure some things might be more powerful – but these are the ones that seem to be heavily used.  A lot of the time they end up shifting the game so dramatically that it is hard for your opponent to come back.

10. Command Reroll Stratagem – I have listed this one as # 10 because it is probably the most heavily used Stratagem right now.  How many times have you saved your Warlord with a timely reroll?  Or how making that much needed assault with a reroll of a 1 into a 6?  I won't go into how many times I have countered an 11 casting psychic power with a timely reroll of a 1 into a 6.  I have built armies that don't rely on Command Points to be effective and this power is still used to try and save a model from your opponents damage.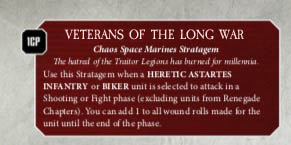 9. Veterans of the Long War Stratagem – This one has fallen a bit out of favor as you don't see nearly as many Chaos lists towards the top tables.  The current good list usually involves utilizing horde mechanics plus fearless Auras.  Still this is an extremely powerful ability that can turn a lowly autogun into a murdering bullet throwing murder ball.  Or how about needing to ginsu a ton of models with Zerkers coming in on the charge.  Overall it is still a powerful ability and I expect any new Chaos stuff to come out will use this pretty heavily.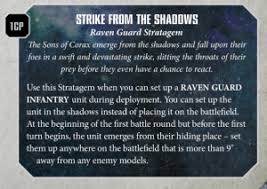 8. Forward Operatives/Strike from the Shadows – Both of these are the same thing – infiltrate Infantry closer to the enemy line for a single Command Point.  This is pretty powerful if you set up your army to abuse this – either with massed Cultists or Aggressors getting close and ready to unleash death.  The Alpha Legion one fares a bit better as they have Nurgling protection to allow for guaranteed deployment zones against a lot of armies.  Raven Guard can take Scouts too – but it becomes a crazy roll off to try and protect yourself when playing Chaos Vs Marines.  Hopefully an updated Marine dex will help out the army more.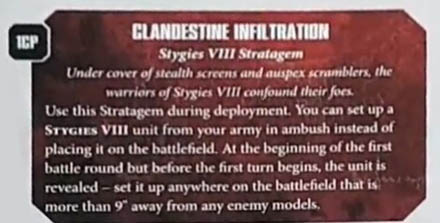 7. Clandestine Infiltration – This Ad Mech Stratagem for Forgeworld Stygies is very powerful.  Most of the other deployment option powers only effect Infantry (Alpha Legion/Raven Guard) so this ones blanket ability to let you sneak in anything is pretty amazing.  Thankfully Ad Mech have other army issues or this Forgeworld would be a pain in everyone's butt.  The current hotness is either some Chicken Walkers or Drill full of Priests sneaking up and getting the jump on your army.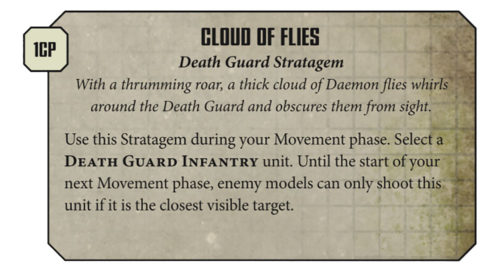 6. Cloud of Flies – If you have played versus a Death Guard army you should know about this power.  A very powerful protection ability that allows you to protect your unit from harmful enemy shooting attention.  If it wasn't for one of the upcoming Stratagems – Death Guard would be in a better place.  I do like this ability and think it is extremely powerful.  The winner of BAO ran a unit that probably benefited from a nice set of stinky fly cover.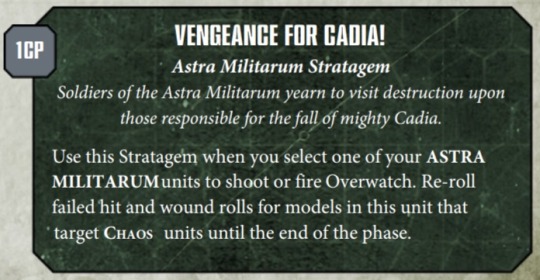 5. Vengeance for Cadia – This power alone can warp the Chaos VS AM match up in a way that is just brutal.  I think this one is pretty under costed and probably needs to be looked at again – but doubt it will as AM aren't burning up the charts.  Most AM you see a lot of is the Command Point Battery so this Stratagem is less used.  Still it is pretty dang amazing on a super heavy vehicle pouring out a ton of fire power into the eternal enemy.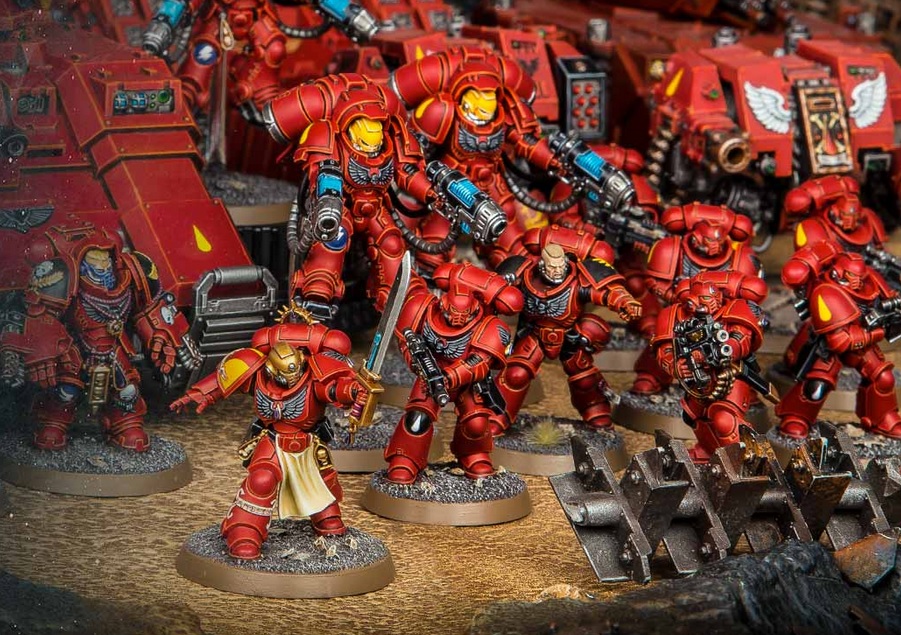 4. Death Visions of Sanguinius/Forlorn Fury/Descent of Angels/Upon Wings of Fire/Red Rampage – I Combined all of these as they are the current heavily used Stratagems for Blood Angels and a crazy turn of Slam lords hitting whatever you want.  To get an idea you can take one of your Death Company lords – move them up the 12 inches plus d6, then move another 12 inches, and hopefully be in range to assault.  Plus you take the other Death Company Slam lord and pull him into the air to redeploy and get ready to assault 3d6 inches.  Heck depending on the deployment Mephiston might be close enough to get mixed in (7+12 from wings).  Assault in, have one use Red Rampage and get a ton of attacks.  Profit, steal all the underpants, and if you get lucky and someone kills one – just burn 2 more CP to attack in death and do more damage.  Then burn another 3 to have someone else assault again.  Oh – and if you set your relics right you might have gotten some Command Points back so you can do something else.  I won many a game with a Slam lord getting mixed in where he normally shouldn't have gotten into.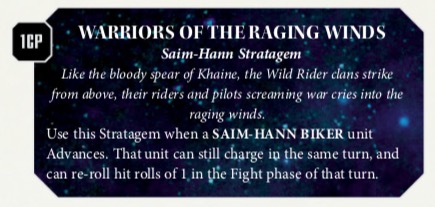 3. Warriors of the Raging Winds – If you told me a Stratagem would give me two amazing abilities for 1 Command point – I would say you just made that up. This is the stratagem that basically activates a pseudo Death Star in 40k.  Shining Spears – when activated up with Psychic Spells and other nonsense can become something you can't dodge anywhere on the table.  Double move, get close, and profit.  The skill it takes to know how much to engage and not in engage is important and this  command point ability activates an already impressive unit and makes it something brutal.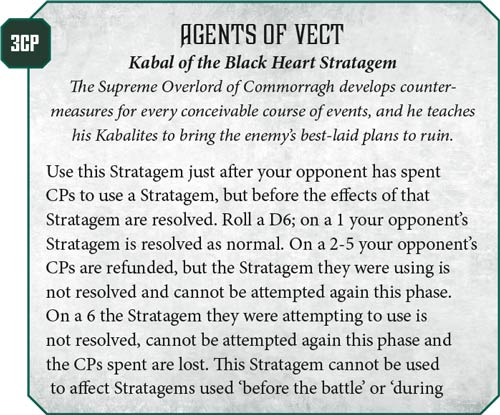 2. Agents of Vect – I put this at 2 as while it is very powerful – it again is very much set up to go after armies that rely on one stratagem to win the game.  I think every player has to look at how they can fare against an army that could just say no to their powerful army ability. I still don't think it is the best game design as too many lists rely on Stratagems to actually work – but it is here to stay now.  I guess until you start to see more national events dominated by the pain loving Space Elves we'll just have to wait.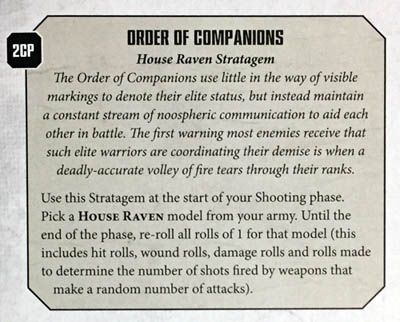 1. Order of Companions – This single Imperial Knight stratagem for House Raven is very powerful.  It single handily activates a single Knight Aux Detachment and creates a very powerful long range option for any Imperial Army.  For 2 Command points you get to reroll all rolls of 1 for the model.  This includes shooting, amount of hits, and wounds.  This is insane as you can turn a bad shooting phase into an amazing one with a cascade of rerolls on a model full of "randomized" shooting amounts.  I have used it pretty extensively on a regular Crusader (don't have a Castellan… yet) and have found going from 6 to 10 shots to be pretty brutal versus a lot of armies when firing down range with a Battle Cannon.  I could just imagine how powerful Cawl's super Plasma gun can be on Castellan body.  I think the current army to beat for normal event play is the AM/BA/Imp Knight army we have seen show up in some top table reports from the East Coast.
Honorable Mentions
I know there are a ton of Stratagems out there.  All the double Attack can be very good for specific army styles.  I know the Thousand Sons one for Tzaangors is pretty dang amazing as it costs less.  I think Warp Surge for Daemons can be very good but it becomes very cost prohibitive as it only lasts a Phase instead of a full turn.  I tried to list stuff that is game defining as most of these can easily break a game in a single turn of use (The BA smash fast combination is just nutty).
~What other Stratagems do you think are extremely powerful?  Is there anything you think needs to be changed?