US, German, and Italians are getting some back up in the form of tanks, big guns, and heavy weapon teams. Take a look at how you can increase your army's firepower on the table.

Konflikt '47 is set in a weird WII setting that includes walkers, high tech weaponry, and mechanical monstrosities. It's inspired by Bolt Action and uses the core of its mechanics in its rules, but is a stand alone game with it's own unique flavor. Players can use existing 28mm Bolt Action models to start their armies and add Konflikt '47 minis to really get weird.
Learn more by reading the Designer's Notes and checking out Warlord's How to Play Video.
As World War II continues beyond 1945, the battling countries have become even more desperate to develop new super weapons to give them a winning advantage. Exploiting new technologies revealed from the first nuclear explosions, the Axis and Allied forces quickly develop new tanks and strange armoured walkers to become the vanguard of their armies, supported by new highly equipped or terribly twisted troops. With the Soviet Union seceding from the Allies the war now becomes a three-way conflict!
New this month…
King Tiger-X with Heavy Rail Gun – $48.00 (Pre-Order)
Scale: 28mm – 1/56th
1 Vehicle
Plastic, Resin, & Metal Parts
Requires Assembly
This is one serious Super Heavy bit of kit and demonstrates Germany's technological supremacy. Capable of reducing even the heaviest armoured target to scrap at tremendous ranges you'll want to field this 540pts (Regular) where lines of sight are likely to be more available and enemy armour is in great numbers!
Weapons: one turret mounted heavy rail gun with co-axial MMG and forward facing hull-mounted MMG.
Damage Value: 11+ (super heavy tank)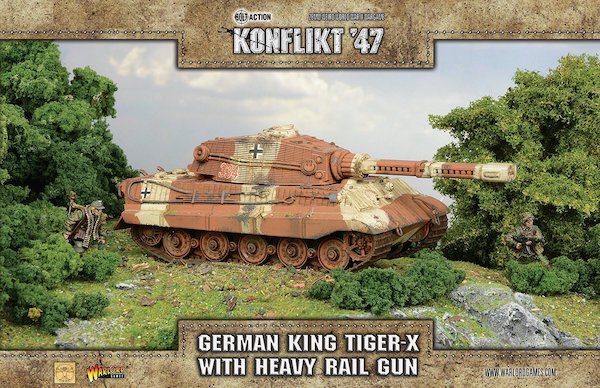 Legio Aquila Squad – $40.00 (Pre-Order)
Scale: 28mm – 1/56th
10 Infantry
Metal
Requires Assembly
Styled after the ancient Romans, the Legio Aquila combines patriotic fervour, dogged resilience, and aggressive tactics to achieve its goals. Led by experienced NCOs and officers, the effectiveness of the Legion is only hampered by its small size and limited mobility.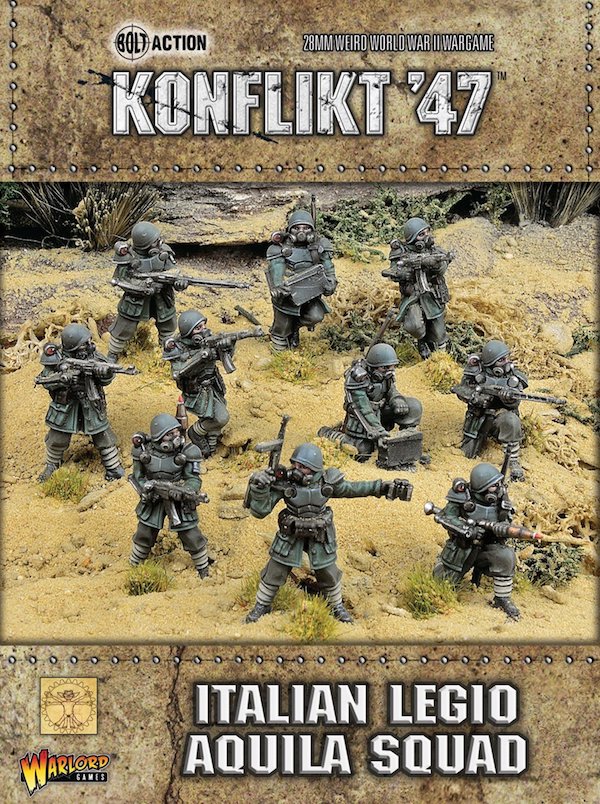 German Towed Schwerefeld Projektor – $40.00
Scale: 28mm – 1/56th
1 Artillery Piece/War Machine
3 Crew
Metal
Requires Assembly
As Dresden's Rift technology scientists looked to enhance the weaponry they were creating they trialed a towed Schwerefeld Projektor to look at its suitability in infantry formations. Although it required a small generator trailer to make it independent of a larger powerpack or vehicle, the weapon was well received.
It has since been issued to several new heavy infantry regiments, replacing the older and heavier PaK 40 anti-tank guns. Entrusted to, and crewed by, the new elite Heavy Armoured Infantry, it has replaced some PaK 40 guns in many units as it is lighter, more compact and easier to manoeuvre.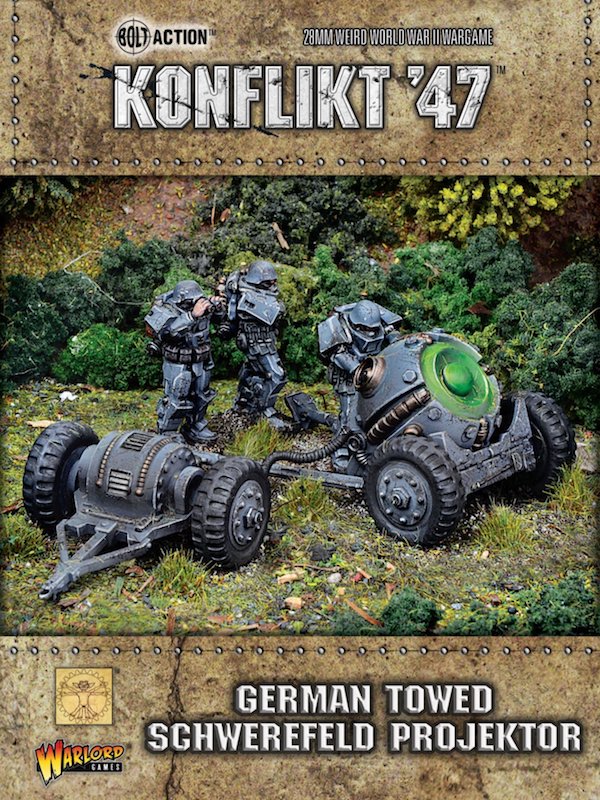 US Tesla AT Gun – $40.00
Scale: 28mm – 1/56th
1 Artillery Piece/War Machine
3 Crew
Metal
Requires Assembly
With production of Rift technology Tesla cannons steadily increasing, the US Army looked at other ways of getting this battle-winning technology on the frontline. Engineers looked to place a full-sized cannon onto an anti-tank gun mount. Trials proved successful with the weapon able to fire from its onboard generator, which could be recharged from the towing vehicle's engine.
The towed tesla cannon was initially introduced to armoured infantry regiments and crewed by men in heavy armour. This reduced the need for a gun-shield thus lightening the weight of the gun, and allowed the gun to deploy further forward into the thick of the battle.