The first of Paizo's new 3-episode Adventure Paths for Starfinder, Against the Aeon Throne, kicks off with pre-orders for the Reach of Empire going live.
Against the Aeon Throne is Starfinder's experimental new 3-episode format of an Adventure Path. They're trying out the shorter format for the next couple, so over Against the Aeon Throne and Signal of Screams, you'll get two very different looks at the Starfinder worlds. Then it's back to 6-episode installments for a while, depending on how audiences like this one–at least that's the word according to Erik Mona.

And the Aeon Throne in particular bridges the gap between Pathfinder and Starfinder by heralding the return of the Azlanti empire. In Golarion's past, Azlant was a powerful empire that one day vanished, leaving only ruins and ancient wonders. Well, apparently they went to space, where they became the Azlanti Star Empire–and now they're back, returning to Pact World space with a sinister purpose.
via Paizo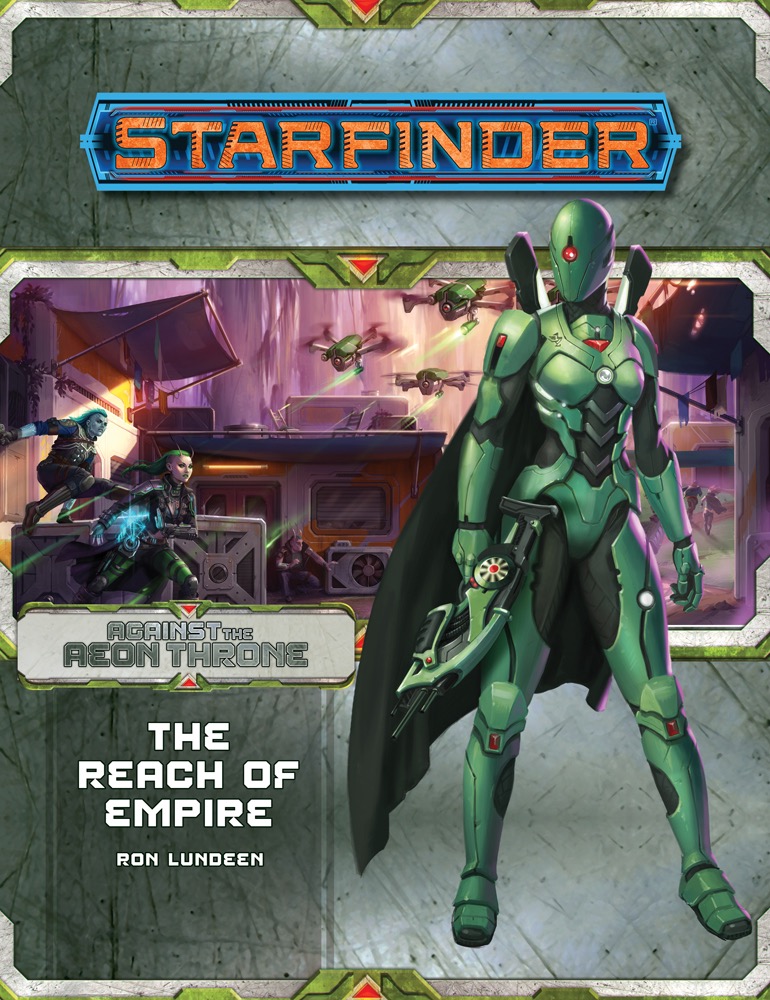 Guerrillas in the Mist

Hired to transport supplies to a fog-shrouded world in the Vast, the heroes discover that a small military force from the Azlanti Star Empire has invaded and occupied the Pact Worlds colony there. The heroes must liberate the settlement from its merciless oppressors, but when they do, they learn that the Azlanti have taken both an experimental starship drive discovered on the planet and one of the colonists—an old friend of the heroes—back to the Star Empire!

This volume of Starfinder Adventure Path launches the Against the Aeon Throne Adventure Path and includes:

"The Reach of Empire," a Starfinder adventure for 1st-level characters, by Ron Lundeen.
A gazetteer and brief history of the Pact Worlds colony on Nakondis and its main settlement of Madelon's Landing, as well as a new colonist theme for player characters, by Ron Lundeen.
A collection of advanced starships built and flown within the Azlanti Star Empire, by Lyz Liddell.
An archive of fascinating new creatures, from beasts of living magma to massive clouds of devouring ooze, by Patrick Brennan, Ron Lundeen, Joe Pasini, and Owen K.C. Stephens.
Statistics and deck plans for an exploratory vessel of the Azlanti Star Empire, plus an overview of the forest planet of Nakondis, by Ron Lundeen.
Happy Adventuring!