Sideshow's Premium Format figs are some of the best in the business – are masterfully sculpted, and have a lot of elements that really set them apart. This take on God of Thunder is no exception.

Thor and his Muspelheim themed based stand at over two feet tall, a size that allows for an amazing amount of detail. The head sculpt is fantastic – capturing the god's fury, you can almost hear his war cry.  He wears sculpted winged helmet and Asgardian armor, scaled leg guards, belts and tunic – all of which have realistic textures. His cape has weathering details and internal wiring that makes it fully posable. The exclusive edition comes with the golden hammer Stormbreaker and a swap out hand that can add another mighty weapon to Thor's attack.
This fig is expected to ship Q2 of next year.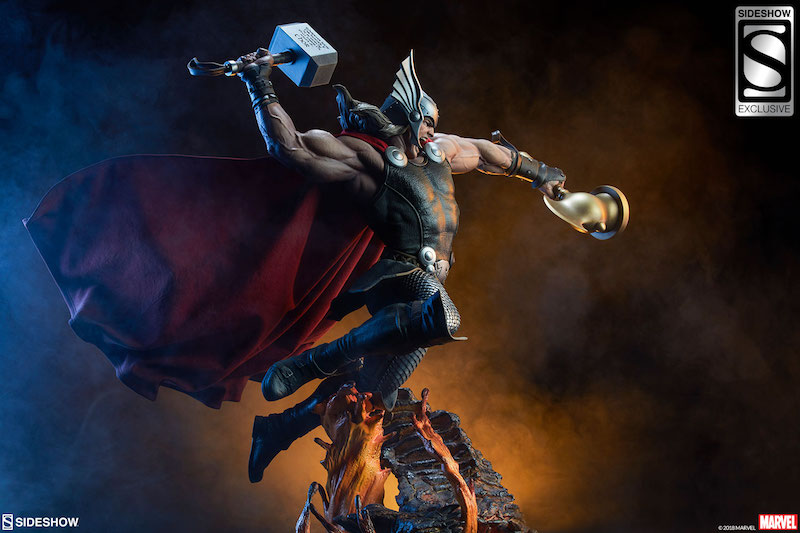 Thor: Breaker of Brimstone Premium Format – $685
Specs: 25.5″ H (647.7mm) x 12″ W (304.8mm) x 12″ L
Materials: Polystone, Metal, ABS, Fabric
Artists

Daniel Bel (Design & Sculpt)
Matt Molen (Design)
Adam Smith (Mold & Cast)
Bernie Esquivel (Paint)
Esther Skandunas (Costume Fabrication)
The Sideshow Design and Development Team