ChahDresh presides over a one-time-only awards show featuring superlatives for the X-Wing 2.0 dial set. Ta-daa!
We're into the realm where 2.0 can be discussed in weeks rather than months. Hooray—almost there! To celebrate, let's do a dial comparison between 1.0 and 2.0 and have our First (And Last) Dial Awards Spectacular—known in the industry, as you might expect, as the Dialies.
Want to see for yourself what the dials look like now?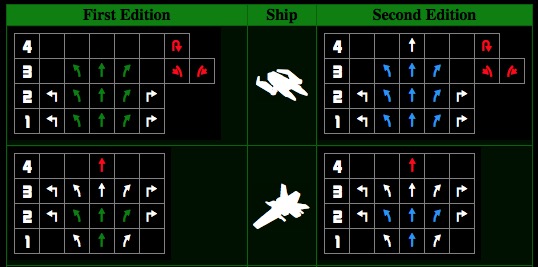 The "Most Improved Dial" Award: HWK
There were contenders, to be sure. The Y-Wing change, though small, makes a world of difference for the ship with the fewest greens in 1.0. The T-65 getting more blue and T-Rolls baseline to go with a baseline barrel roll is delightful; much the same could be said for the Firespray. Though no one noticed, the unloved Khiraxz got some dial loving too.
Ultimately, though, no other ship got the facelift the HWK did. The 1.0 HWK was often reduced to a sitting duck, with a sharply constrained dial while unstressed and a suffocating one while stressed. In 2.0 it has far more options for clearing out, with white 3-banks and 4-ahead, a blue 3-ahead, and red 3-turns, all amplified by a natural boost action. It even gained a stall for truly special occasions. When you consider the ship also got firepower and action bar upgrades and a slight points decrease, there might not be a ship in the game showered with more love than this one. Not bad for a ship that's no longer canon. Fly, HWK, fly!

The "I Found the Power Creep" Award: Wave 8
Out of the 21 ships that got dial changes that were unambiguously buffs, only four were from after Wave 8. Of the five ships that got dial nerfs, all five were from wave 8 or later. Gee, whatsoever could that mean?

The "This Is Fine" Award: Lambda-class Shuttle
The Lambda is an arc-bound ship that can't reposition. It also had arguably the game's worst dial. So, naturally, when many MANY other ships got dial buffs, the Lambda got nothing. Much respect, many props.
(Yes, I know that dial is more practical/functional with a tail gun. Let me have my fun.)

The "More is More" Award: E-Wing
Tied in 1.0 with several other ships with 17 maneuvers on its very crowded dial, the E-Wing moves into sole possession of 1st place in 2.0 with a whopping 20 maneuvers available to it. A maneuver for every occasion! Hopefully FFG uses small type.

The "Deep Blue Sea" Award: IG-2000 (9/17)
This dial didn't change one iota and is still a work of art. No ship has more blue maneuvers (still). No ship has a higher percentage of its dial that's blue (still). The dial even got functionally buffed thanks to the new medium-sized base. This is the will of the machine.

The "We Know, We Know" Award: TIE Reaper
It's almost like FFG blew the doors off in Wave 14 and said "Screw it, 2.0's coming, this won't matter soon, crank it up to 11!" 2.0, then, represents the hangover to the Reaper party. The ship gets *hammered* in the new edition, with a systemic nerf to its signature Jam action, big-time nerfs to its signature crew cards, the vanishing of Lightweight Frame, and, of course, a dial nerf. No more of those ridiculous 1-bank-1-turn combos unless you're willing to take a stress over it. And it's not like FFG released the Reaper, saw it dominate, and went, "Whoops, we'd better fix that"—these nerfs were preplanned. They were contained in the same package as the 1.0 Reaper, released at the same stroke. Hm.

The "Questionable Faction Identity" Award: Firespray
The Firespray is poised to be vastly more nimble than it was before. Dropping from a large to a medium base by itself does the ship a world of good; but it also got some dial loving for good measure. As excited as we all are over 1-turns and T-Rolls, though, there is a puzzling change: the loss of the 3-turns. Long ago, FFG posited that the 3-turn is a more "military-grade" maneuver, and that Scum wouldn't have the broad access to it that the Rebels or Empire have. Accordingly, with the Firespray leaving Imperial service, this was the time to Scum-ify the ship by stripping its 3-turn so it can be like the rest of the faction.
(Looks at the Lancer and its blue 3-turn)
Well, sorta.
(Notes that the YT-1300 actually *gained* the 3-turn)
Kinda-sorta.

The "Most In-Vogue New Maneuver" Award: The Tallon Roll
As I noted before, lots of ships have picked up new red maneuvers—especially T-Rolls, S-Loops, and stalls. I am all about this! These are typically the highest-risk, highest-reward maneuvers on your dials. These maneuvers flip games on their heads, and produce some of the grandest Moments of Awesome (and Moments of Agony) in the game. The winner in this category is the Troll: six ships picked up this gem (including the B-Wing's baffling 1-Troll), while four ships got Sloops and four gained the stall.

The "Stress Is a Way of Life" Award: B-Wing and G-1A (TIE, 8/17)
If the G-1A comparisons for the B-Wing weren't strong enough before, their dials now match almost completely, especially in having an ocean of red to drown in. Eight of their 17 maneuvers—almost half their respective dials—are red. They will, of course, fly very differently, particularly because of the G-1A's medium base.

The "They Are Who We Thought They Were" Faction Identity Award: Rebels
The Rebels have exactly one ship that doesn't have the one-ahead maneuver: the A-Wing. Every other Rebellion ship not only has this maneuver, but has it as a blue maneuver. That's the Rebellion for you: slow-rolling its way to victory.

The "Do They Know Something We Don't?" Award: Jumpmaster
The Jumpmaster was the Jason Voorhees of 1.0: an immortal butcher that killed what it wanted, when it wanted. Every time you thought you'd defeated it, it popped back up and kept on murdering. It took four tries for FFG to rein that ship in, and it when it did, Scum as a whole and that chassis in particular faded quickly.
Now, the Jumpmaster is subjected to a substantial dial nerf, in addition to nerfs to the Punishing One title, a surprisingly unfriendly action bar, and the Grand Turret Immobilization. For enduring all of that, it gets back… its torpedo slot and approximately the same points cost. All of which compels me to ask the question: Does FFG know something about the Jumpmaster that we don't? Is the base chassis that good in 2.0? Is there some as-yet-unknown illicit/crew combo that's slaughtering FFG's test team? WHAT IS YOUR SECRET, JUMPMASTER?!
I'm scared. Hold me.

The "Easy Rider" Award: 1- and 2-Banks
Seven ships saw these easy banks get even easier for them, and a couple more picked up the 1-bank that didn't have it before. The only times (besides the Scyk) that a ship had their 1- or 2-banks get harder, the other set got easier. Just cruisin' along.

The "Nailed It!" Award: Wave 9
We haven't seen the TIE /sf's new dial yet, but as it stands, none of Wave 9's other ships are seeing dial updates. Apparently FFG got them right the first time.
~Pilots dismissed.