That's right folks – there are 557 cards coming to the Warhammer Underworlds courtesy of Nightvault. Are you ready to dive into this new treasure trove of goodies?
Warhammer Underworlds is a very tactical turn-based arena combat game. While the majority of the action happens on the hex-boards with miniatures and dice there is one component that has a big impact on how the game plays out – The Card Pool. There were already over 400 cards in the card pool in the first season and  Nightvault is now adding another 557 cards to the mix!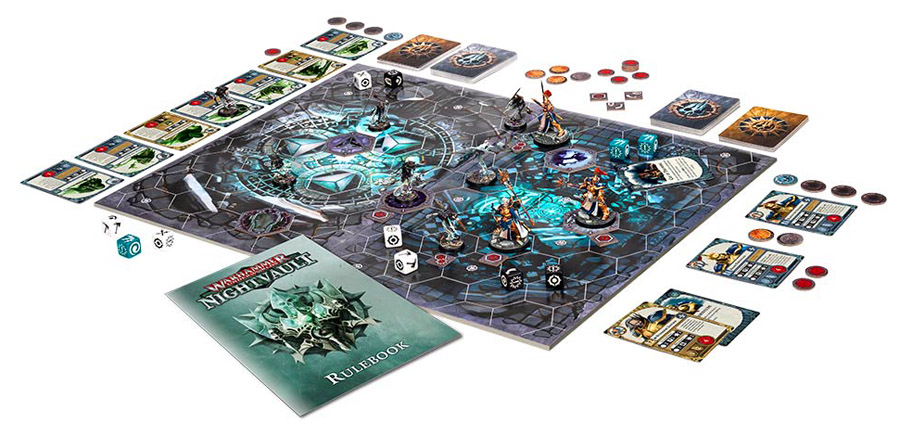 Now, as you may be aware, players aren't going to be using ALL the cards in one game. A vast majority of those cards are warband specific cards. However, there are still 248 cards that are going to be made available to all warbands. These include 80 Upgrades, 80 Gambits (that includes both spells and ploys) and 88 objectives.
With this massive card dump there are sure to be new stratagies and tactics that can be mined for victory. The shake-up to the competitive scene will be almost instant as players will scramble to try out all the different cards and see if they can improve on their already stream-lined game plans.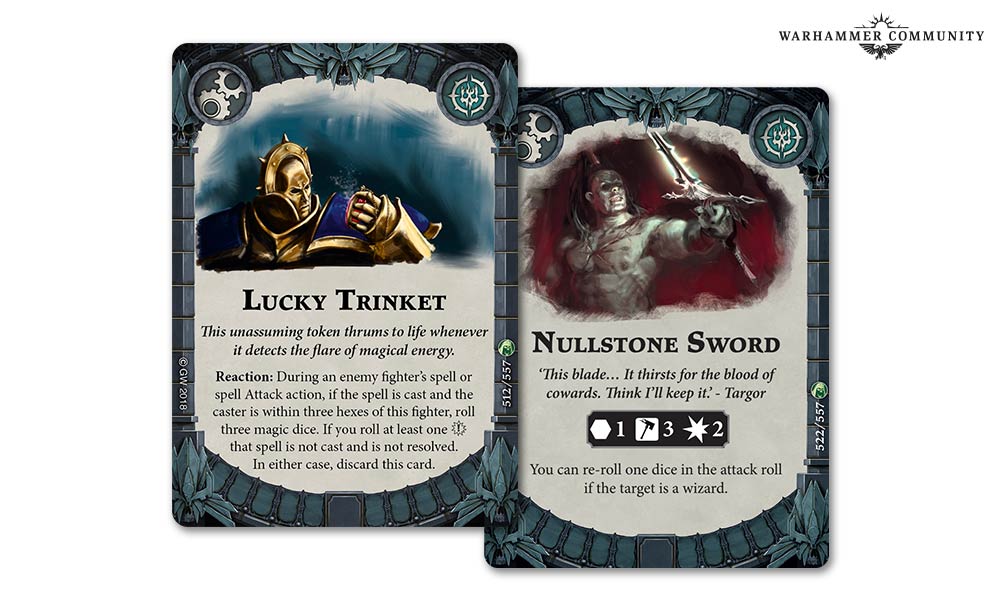 One of the big questions I have is how magic and gambit spells will work for warbands who have no wizards. Are they just going to be unable to cast spells? Will there be a system implenmented to allow you to mix characters? I highly doubt that…but it makes me wonder if Season 1 Warbands are just going to be worse off overall. Then again, spells just seem like a different method to accomplish the same goals. And because your Warband Decks are limited card pools, it's not like EVERY card is going to be viable or make sense with the strategy you want to use.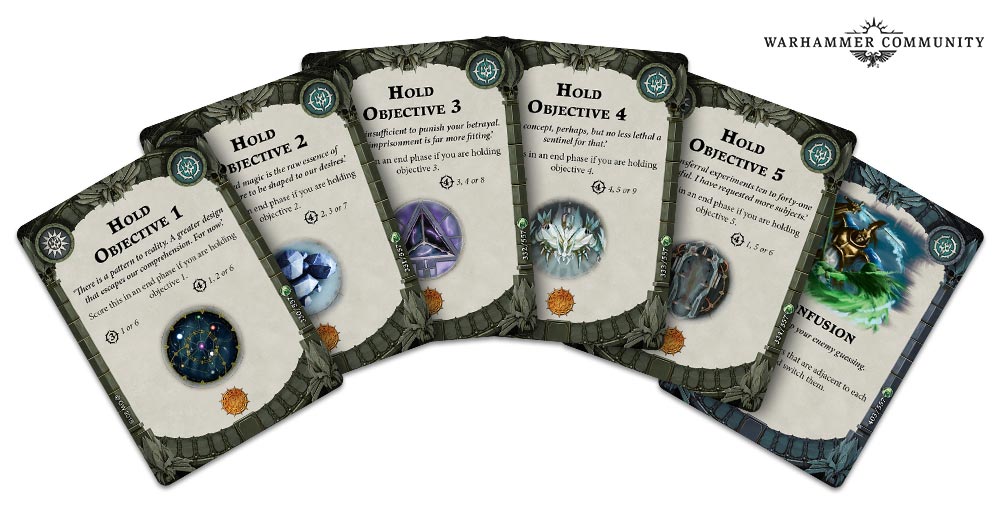 The magic spell cards are a cool mechanic but some decks (like Garrek's Reavers) won't need to "water down" their deck with gambit spells. They will be able to get the job done with the ploys and abilities already at their disposal. I'm still curious about all the interactions that this new dump of 557 cards will have on the game…it's going to be a wild ride.
One last thing to consider is that while that is a huge amount of cards to hit the card pool, it's not all coming at once. Games Workshop has announced the two starting warbands in Nightvault as well as teased 2 more on the way. They have also confirmed there will be a total of 8 warbands for this season:
" if you're looking to try something new, the two warbands from the Core Set are just the beginning, with six more on their way featuring fan-favourite factions and ambitious new playstyles and mechanics."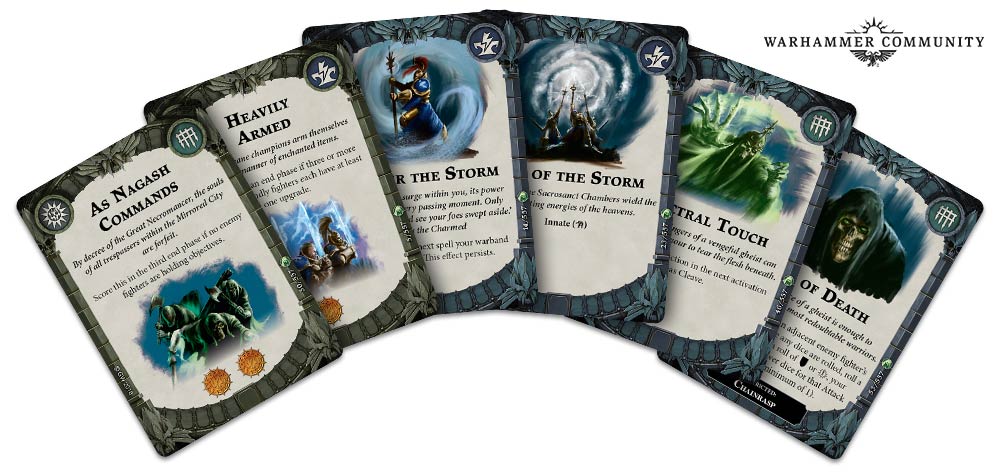 The speed at which they roll-out these new warbands will also gauge how fast the community will be able to incorporate the full card pool. The competitive nature of the game drives the need to get all these cards out quickly, but there are folks who may feel overwhelmed with all the options – striking a balance is needed for the release. With 8 warbands, if they released a warband a month that would put the last warband out sometime next year. When you say it like that, it almost feels too slow – but I guess we'll see how release these new warbands and cards in time.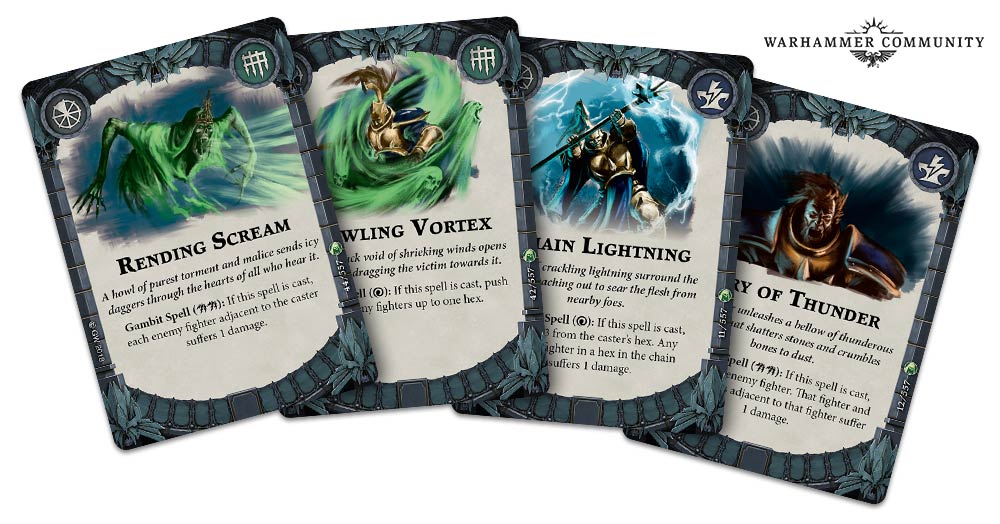 Get ready for the Nightvault to release it's treasure trove of cards upon us all!