Geekery: Drivable Bugatti Chiron Made of Over 1 Million Lego Pieces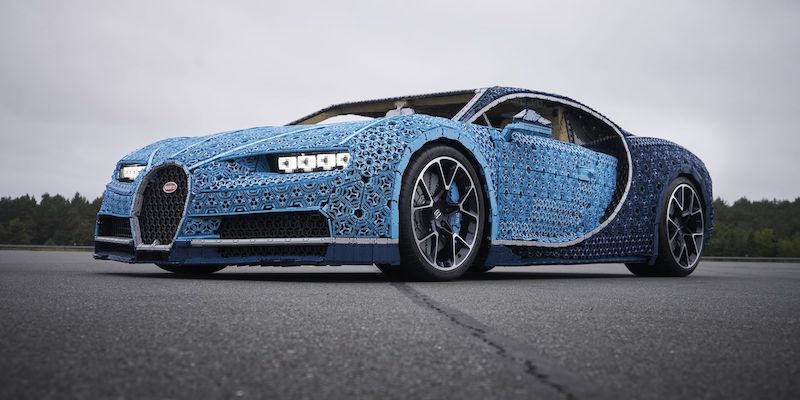 It may not be anywhere near as fast as the gasoline burning model, but it looks remarkably like the real thing given that it's made of Technic – motor included.

This life-sized working replica of a Bugatti Chiron – which will run you about $2.6 million – reached 12mph in tests with it's 5.3 horsepower motor, and has a "theoretical" top speed of 18mph. It contains 3,000 pounds of over 1 million Lego Technic pieces, including 2,304 Power Function motors, 4,032 gear wheels, and 2,016 axles; and the Chiron's actual wheels and tires.
The spoiler raises just like in the real thing. It has a functional speedometer, brake pedal, steering wheel, doors, and lights made of Lego. There is no accelerator pedal – two batteries power the motor, and it accelerates using potentiometer that determines the voltage. If you want more specs on the motor check out this article on Top Gear.
Lego has made a super detailed 3,599 piece take home version that will set you back $349.99. It's 22" long and has a ton of moving parts including paddle shifters, a W16 engine with moving pistons, doors, rear wing, and more.
.