Geekery: This Teenage Witch isn't Afraid of Black Magic


When Netflix announced they were making a Sabrina series I pictured something like the mid 1990s show with Melissa Joan Hart. It was family friendly, included a talking robotic cat, and had more in common with Bewitched than what the streaming service has actually produced.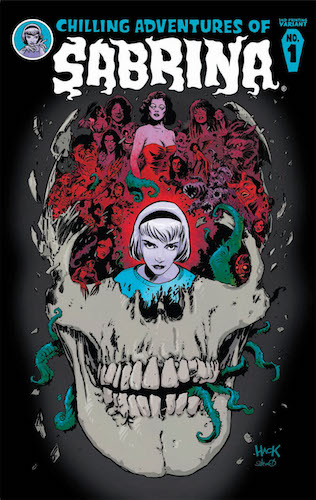 Archie comics have taken a darker turn in the last several years – and they've got a TV drama filled TV show with serial murderers and disturbing secrets to match. It's about time Sabrina got the same. Her books are horror based these days, they're not about froofy love spells and black cats that tell ABC approved dad jokes. They have demons, monsters, and hosts of the underworld. Think more Constantine and less Samantha.
"Chilling Adventures of Sabrina imagines the origin and adventures of Sabrina the Teenage Witch as a dark coming-of-age story that traffics in horror, the occult and, of course, witchcraft. Tonally in the vein of Rosemary's Baby and The Exorcist, this adaptation finds Sabrina wrestling to reconcile her dual nature — half-witch, half-mortal — while standing against the evil forces that threaten her, her family and the daylight world humans inhabit."
The show stars Kiernan Shipka as Sabrina, who you may know from Mad Men. The cast list also includes Miranda Otto, Lucy Davis, Ross Lynch, Michelle Gomez, and Bronson Pinchot. It was created by Riverdale showrunner Roberto Aguirre-Sacasa, and was originally supposed to be a spin off on the CW. I'm glad it landed at Netflix instead, gives it a bit more freedom.
Riverdale is a guilty pleasure of mine, so I'm definitely going to be binge watching this.
Chilling Adventures of Sabrina drops on Netflix October 26th.