Last Days: Zombie Apocalypse from Osprey is a Great Game for Fans of the Genre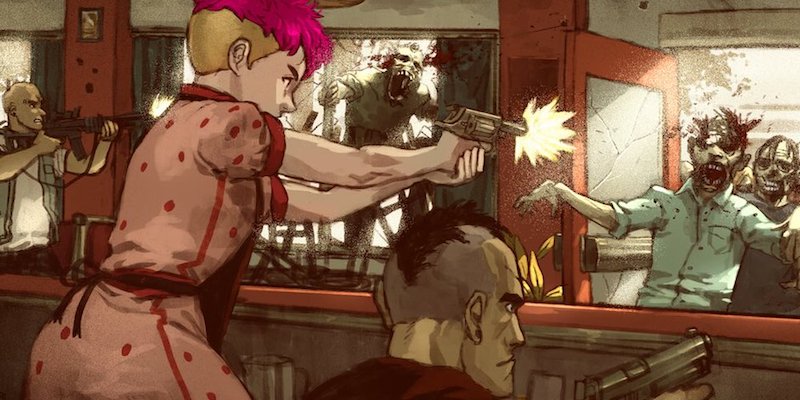 Do you have 20 Zombie Miniatures and a handful of Modern or Post-Apocalyptic Character Miniatures? If you do, you have all you need to get into Last Days: Zombie Apocalypse by Osprey Games. Let's take a quick look…

If you want something a little more in depth, I have a full-review over on Must Contain Minis, but here I am going to discuss what excites me the most about the system. What excites me most is the campaign system. The game itself is very simple and quick to play. If you don't like simple, you might want to carry on with something else. That said, this is the type of game that will come into its own as you play a series of games through the campaign system.
In the interest of full disclosure, Osprey Games sent me a review copy of Last Days: Zombie Apocalypse. 
The Setting
The setting is pretty simple. Zombies have taken over  and you are just trying to survive. Resources are scarce and other groups are after the same items as you. Here you fight for survival and do your best to avoid death at the hands of a zombie.
Your group will consist of a Leader and likely 5 to 7 other characters. These people all rely on each other to survive in this harsh new environment.
Character Development
There are three leader types and 15 character types to choose from. Which character you select determines how many characters of various types (keywords) you can take in your group. No cops or good Samaritans will want to work for a selfish leader.
During the game, everyone in your group gains experience and levels up. Below is a sample page from the book showing the experience table.
As you level up, your characters gain more abilities or better stats. Your character type will help determine how they improve, but there is a lot of randomness to it too.
The Refuge
Like Frostgrave, Badgers & Burrows and other games, players get to build a base for their survivors. The base determines how many people the leader may hire, has empty slots for upgrades and comes with an upgrade or two built right into the facility.
Below is a page from the book that talks about some of the upgrades that players can build into their forts (refuges).
Even cooler is that the Refuge (and its upgrades) can appear in one of the missions. Check this out!!!
Wrapping it up…
Miniatures-wise, there is a lot available out there that would fit the game. Perhaps you own Zombicide or similar board game, that would do. Maybe you have some other suitable miniatures by other companies. If you do, this is an easy game to get into at a very affordable price. The hard-covered book itself is only $30.
For me, it is the campaign system that gets me excited. I am really looking forward to getting this to the table.
Subscribe to our newsletter!
Get Tabletop, RPG & Pop Culture news delivered directly to your inbox.
If you want to know more about the system including its mechanics and my pros and cons lists, check out the full review on Must Contain Minis.
Disclosure: Osprey Games sent me a copy of Last Days: Zombie Apocalypse for Review Purposes. 

Read more about great Indy and Historical games on my site!
Event Notice – Chatham, Ontario, Canada – September 28 and 29
If you are interested and live in driving distance to Chatham, Ontario, KEGSCon 6 is September 28 to 29. For my American friends, Chatham is about an hour away from the Detroit / Windsor Boarder.