The Battle for Vigilus rages on, with the forces of the beleaguered Imperium continuing to clash with the various Xenos forces that have an interest in securing it. This time it's the perfidious Aeldari vs the noble Primaris Marines.
Two more factions come to Vigilus to do battle. Well, one more faction comes to Vigilus to do battle, unless this is a stealthy way of announcing that Primaris Marines are in fact going to become their own faction, since this boxed set contains a whole bunch of stuff that we've seen before–though each faction does get their very own new character. It does look to be a great starter set if you and a friend are looking to get started–or to expand your existing Aeldar/Primaris armies–and it expands the unfolding narrative of Vigilus, which is shaping up to be a nexus for the next leg of the ongoing storyline. Let's take a look.
via Warhammer Community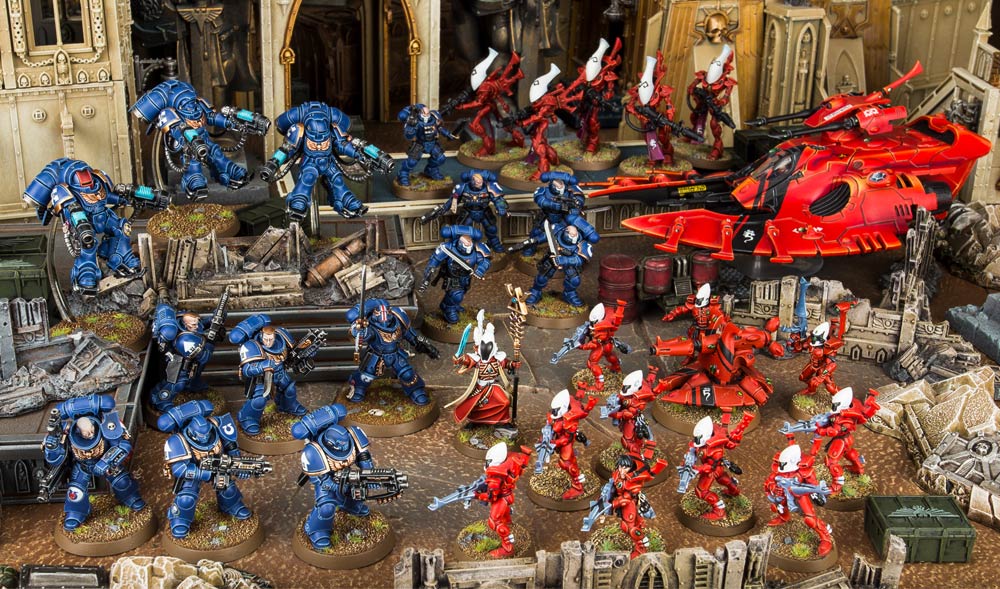 Viglius stands on the precipice. War has shaken it from without and within, as Genestealer Cults wage a shadowy war against the Space Wolves and the Adeptus Mechanicus, while Ork warbands patrol the wastes between cities. This planet – a fragile thread that joins the sundered halves on the Imperium – is on the verge of collapse.

A mission of salvation by the warriors of Saim-hann has turned into a blood feud between the Imperium and that craftworld – and now, upon the streets of Vigilus, the Ultramarines prepare for urban war with the vengeful Aeldari…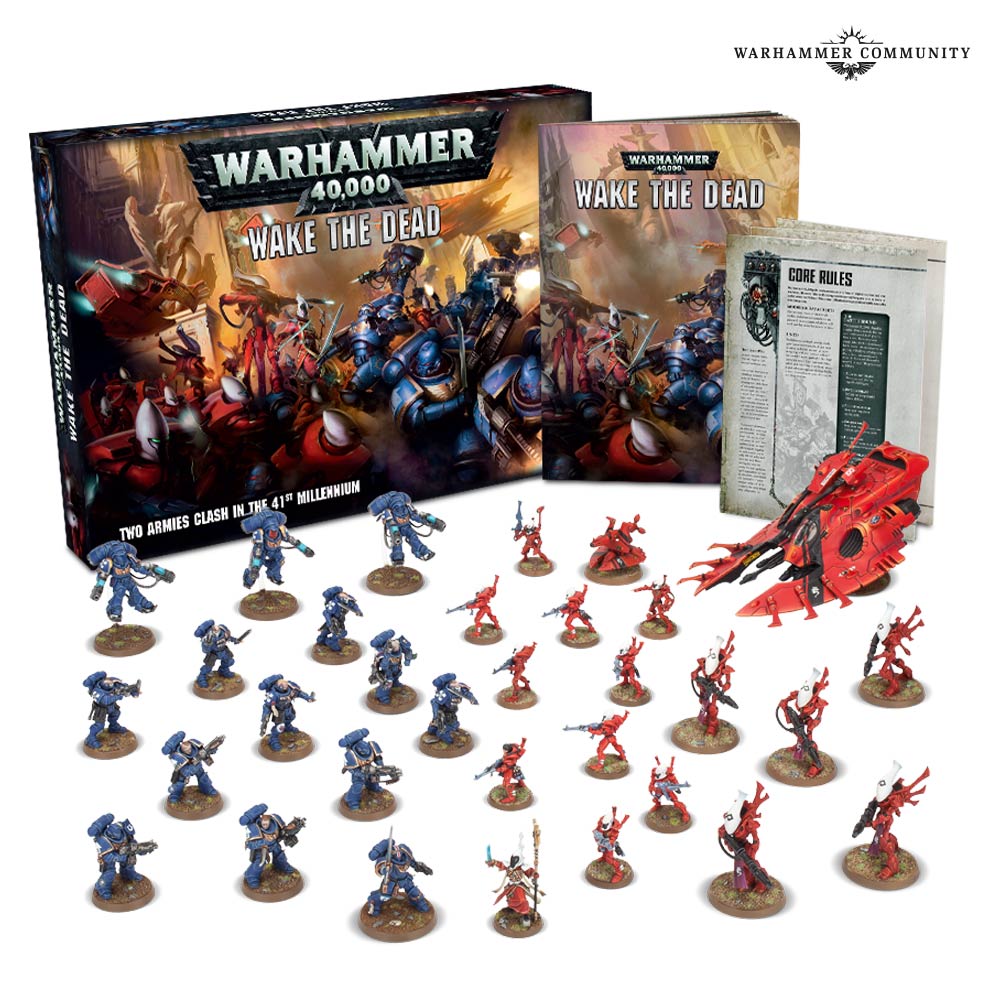 As we've said, this looks like a great 'getting started' box or a budget expansion if you're looking to add to your collection. You get 10 Intercessors, 3 aggressors, a special Lieutenant; on the Aeldari side you get a squad of Guardians, Wraithguard, a Wave Serpent and of course the new Spiritseer.
These two new lieutenants are quite nice. They both seem ready to clash swords with one another–I'm curious if they will be characters of their own right, or if their models will just serve as alternate build options for their extant counterparts in 40K proper. Either way, in Wake the Dead you also get a series of narrative missions and points and everything you need to play through the next chapter of the Battle for Vigilus.
But wait, there's more. Because it is a starter box extravaganza this coming weekend. There are two new Kill Team Starter Sets coming out, and these ones bring the unliving Necron and the advanced technology of the T'au to the Kill Team table.
I'm particularly curious to see what the T'au have to offer, because it looks like they've only got a few Pulse Rifles–and we've talked about how short range weapons (excepting the auto-hitting ones) can really challenge armies, especially ones with lower native ballistic skill. But besides these two sets, you'll also find new Killzone Terrain as well, taking the battle to the trenches.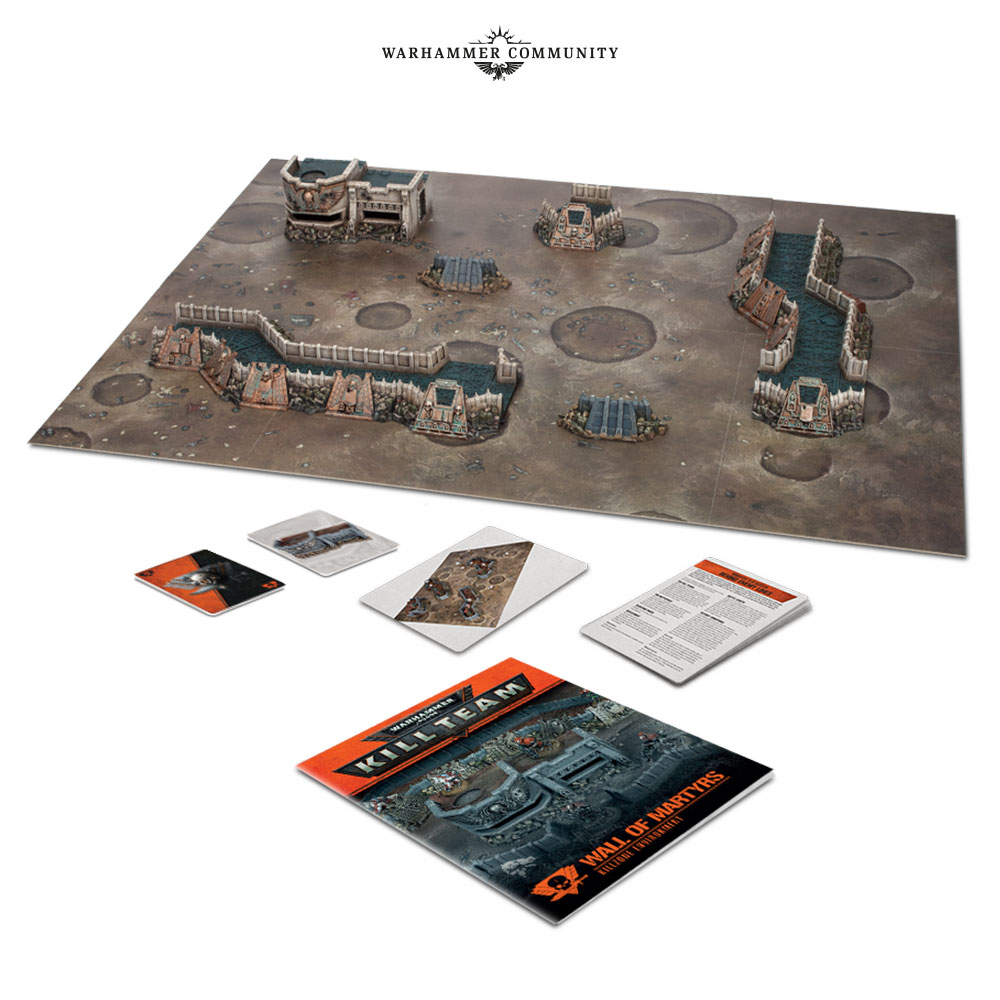 The Wall of Martyrs Killzone gives you another new battlefield to fight over, letting you duke it out in brutal trench-line skirmishes. With defence lines, emplacements and a double-sided gaming mat, you'll have a cracking Kill Team setup right out of the box, complete with an environment card, missions and Tactics for your games. From offering narrative campaigns a dramatic backdrop for their battles to providing matched play players with new tactical challenges, all while saving you some money on some great terrain, this Killzone has a little something for everyone.
Get ready to continue the Battle for Vigilus. Perhaps it's even a place your Kill Teams can fight.