The year is 1977.  ABBA released 'Dancing Queen', the Eagles released 'Hotel California', Foreigner released 'Feels like the First Time' and Whitman Games released 'Wacky Wizard'. All I'm saying is it was a great year for everyone, man.
Back through the 50's to 70's Whitman Publishing was known for publishing children's books, often based on TV series of the day. Beyond that, they also produced some puzzles and games. They were doing well, until Mattel bought them out in 1982. Still, before that happened, they managed to release a few fun games. Games like Wacky Wizard.
Gameplay
Wacky Wizard is a competitive game with set collecting and roll-to-move mechanics.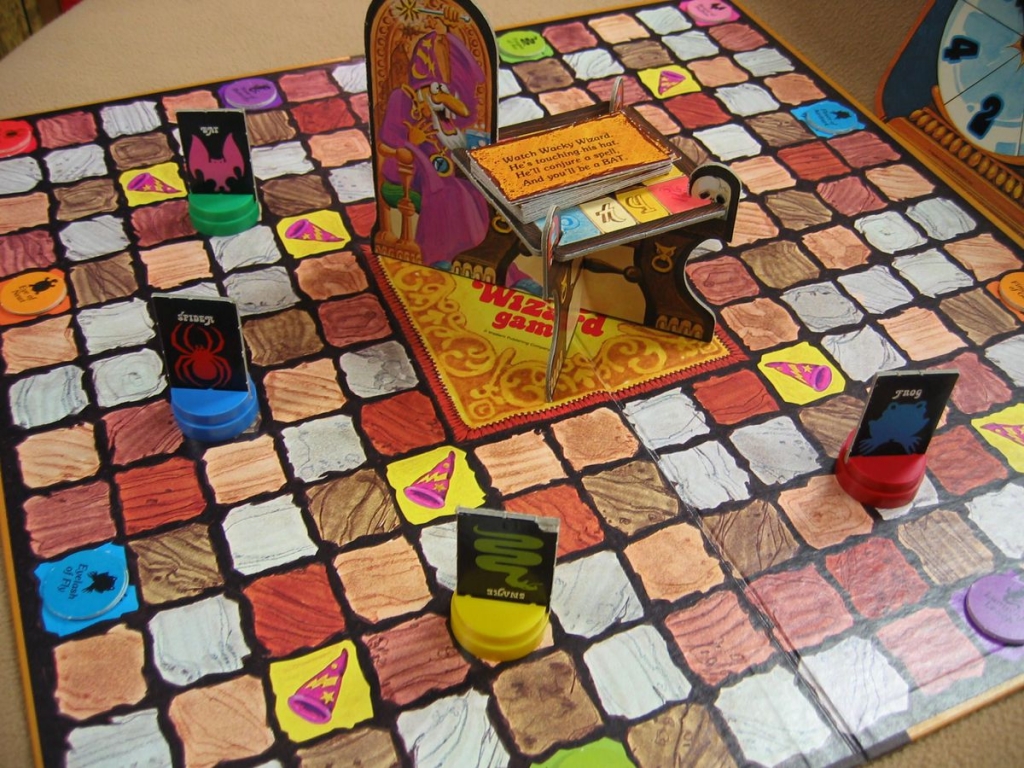 During setup, colored tokens are stacked around the edge of the board. Each token is stacked by color and ingredient. Each player chooses which color player base to play as. Then the Wizard Cards are stacked facedown on the Wizard Table standee in the middle of the board. Each player draws a Wizard Card to determine which creature they begin the game as: Snake, Spider, Frog, etc. Each player starts at the Wizard Table and the game begins!
The goal for each player is to collect both tokens of the same color as their current creature form. Each creature is associated with a color and has two different ingredients. Frog is blue, Snake is green, Spider is red.

So a Bat would need one of each pink token, Beard of Buffalo and Ear of Louse. The board is designed so the tokens of the same color are on opposite sides of the board. To help plays get around, landing on a Wizard Hat space allows the player to move to any other Wizard Hat space. Once a player has both ingredients matching the color of the creature they are, they win!
Hmm… Sounds simple, right? Well, maybe not. You see, the spinner has a special Wizard space.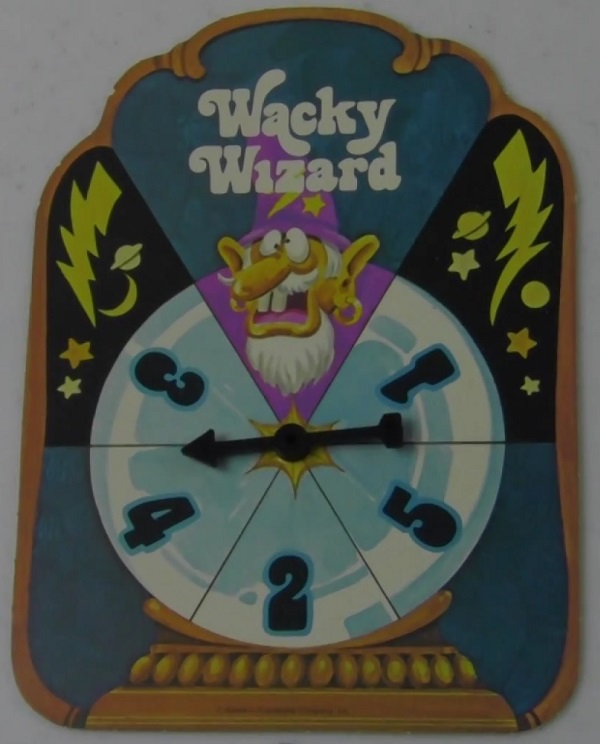 If a player spinner lands on the Wizard Space, the Wacky Wizard transforms them! That player draws a Wizard Card from the Workbench and reads it aloud.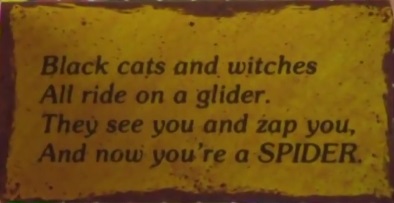 That player transforms into whichever creature is listed on the card. They take the creature token in their player base and switch it out for one of their new form. This random element makes it not so easy to collect the ingredients you need. You might be just on your way to getting Beard of Buffalo you need to break the transformation curse placed upon you and finally return to human form, when suddenly BAM! You're a Turtle and the Ear of Louse you have is useless unless the Wizard turns you back into a Bat.
The first player to break the curse upon them by collecting the 2 necessary ingredients for their current form wins the game!
Final Thoughts
Wacky Wizard is obviously a silly, goofy, fun and simple game. It's geared towards kids and listed for ages 7 and up. Still, They've done a good job of taking an ultimately highly random game and given it a fun and interesting idea and theme. Of all the roll-to-move-and-hope-you-win games we've covered, this might not be the most strategically deep, but I think it's got a pretty high fun factor. The game should take no more than 15 minutes to complete, so you're not spending too much time playing anyway.
Seriously though, what a great year for music.