Who is Kate Bishop, Marvel's Hawkeye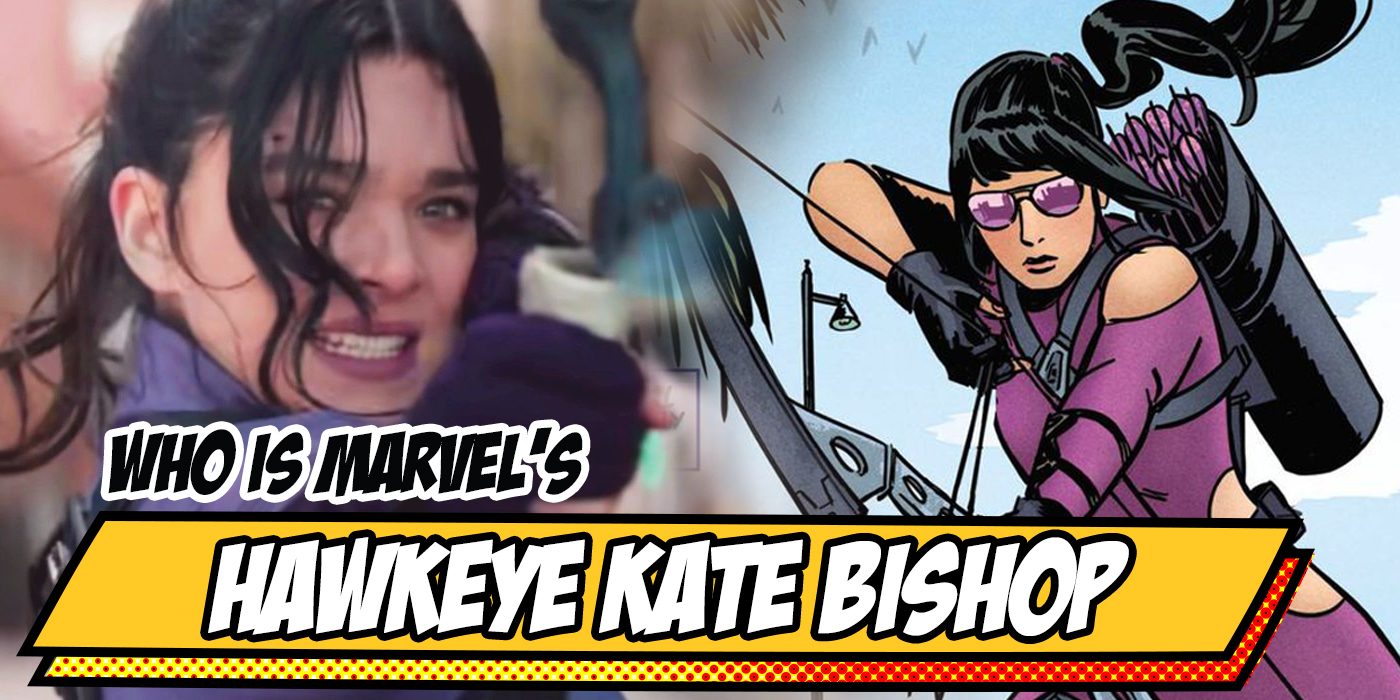 She's Marvel's new Hawkeye and another potential Young Avenger. Who is Kate Bishop and why is she teaming up with Clint in Hawkeye?
This week, Marvel dropped the first two episodes of their highly-anticipated holiday romp Hawkeye. Kate Bishop will be taking up the helm of Hawkeye as part of a new generation of Avengers in the MCU. But who is Kate Bishop?
Created by: Allan Heinberg & Jim Cheung
Kate Bishop's first appearance: Young Avengers #1 (2005)
Powers & Abilities
Kate is an expert archer and marksman, as proved in the first episode of the new Disney+ series. In addition to a bow and arrow, she also knows her way around other weapons. She's skilled at fencing and sword-fighting. She's also a gifted martial artist, and learned to play cello at a young age.
Who is Kate Bishop in the Marvel Comics?
Kate grew up in Manhattan. She was raised with a good deal of wealth, but was often lonely growing up. She developed a commitment to helping others at an early age, and thanks to her education, she was able to learn self defense, fencing, and archery.
In the comics, both of Kate's parents have ties to local crime. As she became aware of her father's criminal leanings, she was kidnapped by a criminal. She was rescued by the Avengers, which gave her a first look at the archer hero Hawkeye.
After this, Clint became Kate's icon. She was really drawn to a hero figure that didn't have super powers, but who used their skills to fight alongside superhumans.
In her fledgling days as a crime fighter, the Avengers refused to recognize her and her team of fellow teenagers. But Kate would earn the respect of Marvel's ultimate super team soon enough.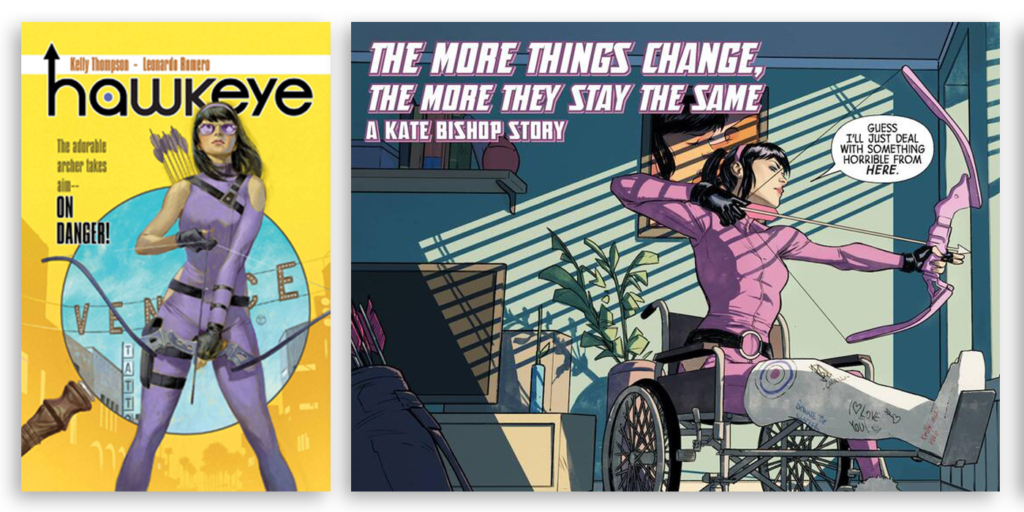 Kate & the Young Avengers
While she's not a founding member of the Young Avengers, Kate and Cassie Lang (Ant-Man's daughter) invited themselves onto the team after witnessing a serious lack of organization. At this time, the Avengers still weren't on board with a junior team of crime-fighters, so Kate used her family's wealth to bankroll the group.
Her persistence in hero work eventually paid off. Captain America extended his blessing to her by giving her Clint's old bow. Clint also eventually gives his approval, and the two team up to fight a variety of foes around the New York City area.
Subscribe to our newsletter!
Get Tabletop, RPG & Pop Culture news delivered directly to your inbox.
Kate has been a supporting character in several Marvel comics events. During Civil War, Kate convinced Clint to join team Cap. Kate and the rest of the Young Avengers were a pivotal part of The Children's Crusade. More recently, she's re-joined a new Young Avengers team alongside Hulking, Wiccan, Kid Loki, Miss America Chavez, and others.
Kate Bishop in the Disney+ Series Hawkeye
The new Hawkeye series is based on a comic book run by Matt Fraction and David Aja. In the story, Clint and Kate team up to fight some street-level crime in Brooklyn. they face off against some very bro-y guys in tracksuits and Madame Masque.
No casting has been announced for Masque in the new Hawkeye series, but that doesn't mean an iteration of her character won't appear. We have, however, seen plenty of the tracksuit Draculas.
What's Next for Kate Bishop?
In addition to her MCU debut, Kate has her own 5-issue comic book run. The series is written by New York Times best-selling author Marieke Nijkamp and illustrated by Enid Balám.
According to Nijkamp's interview with Bustle, Hawkeye: Kate Bishop will feature "some familiar face," including a "very excitable dog," and "villains with a flair for the dramatics". The story sees Kate trying to leave hero work behind her.
"She's racked up quite a bit of experience running a very successful and definitely-very-legal-and-licensed private eye business," Nijkamp to Bustle. The series will also stand alone narratively, so it's great for new readers.
It's hard to imagine that this passing-of-the-torch isn't part of a new Young Avengers team. Clint Barton (Jeremy Renner) will be passing along the title of Hawkeye to Kate, that much we know. But if you want to know more about Kate's future in the MCU, be sure to tune in to the new episodes of Hawkeye.
You can watch Kate in new episodes of 'Hawkeye' every Wednesday exclusively on Disney+.