Today we take a look at just the think to cheer up your greenskins – from Kromlech.
Continuing on with my series of reviews on Kromlech's Orkenburg Table Scenics I like to review the Orc Waatchtower.  I recently reviewed Da Dakka Bunker and the Skargruk Line – Strongpoint. Both are great terrain kits.  The Orc Waatchtower is no exception.  It goes together very easily and is very sturdy.  It offers plenty of room for a mob of lootas or shoota boys to get a great firing position and a little protection at the same time.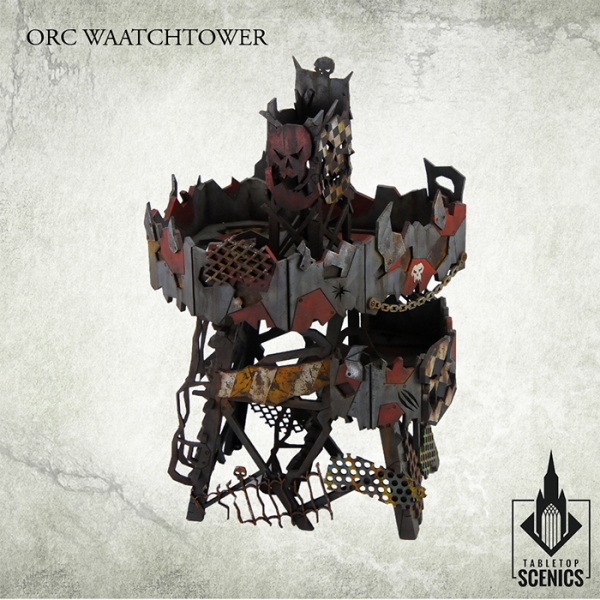 Contents of this frames may be used to make 1 Orc Waatchtower.
Instruction is fitted to give guidelines and tips on how to assemble the product. Supplied unassembled and unpainted. Designed for 28mm heroic scale.
Dimensions: width 15cm, depth 13cm, height 23 cm.
Onto the Review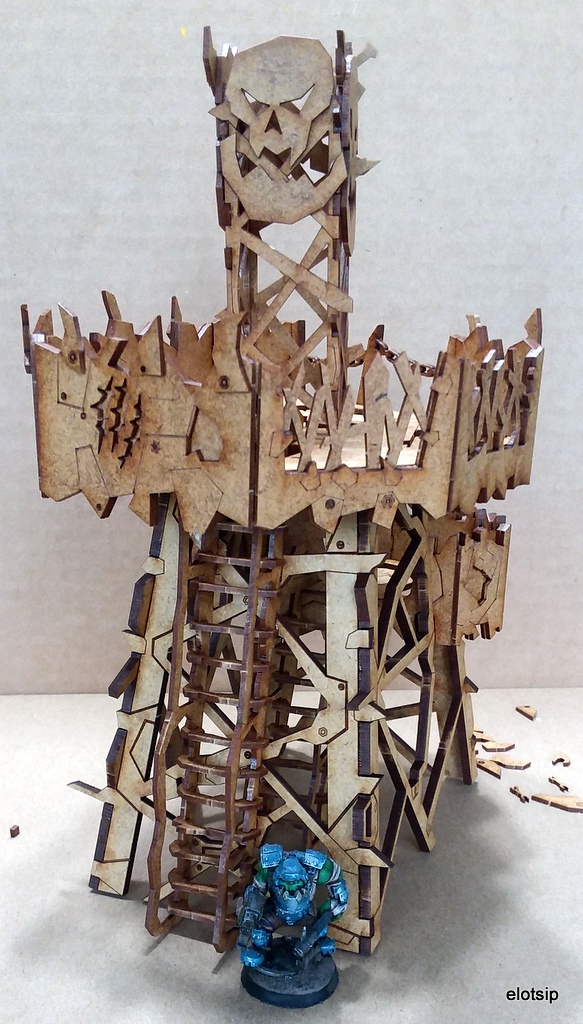 You can see from the image above the tower is a pretty good size.  It's got loads of detail including the jagged scaffolding, 2 ladders to get up to each of the 2 platforms; one large and one small.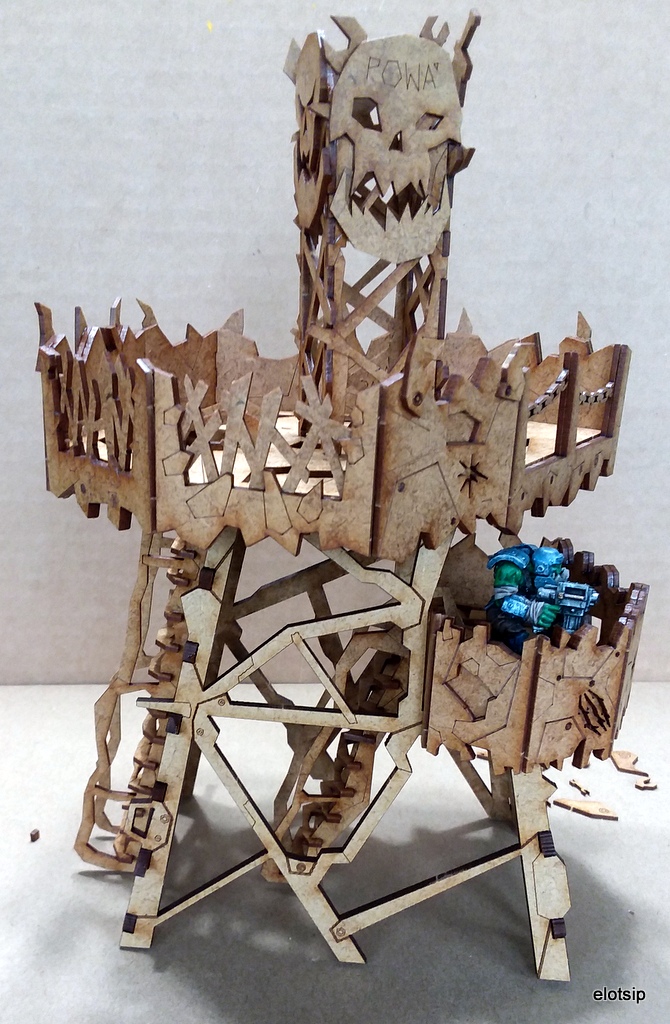 Here's a nice scale shot of the lower, smaller platform.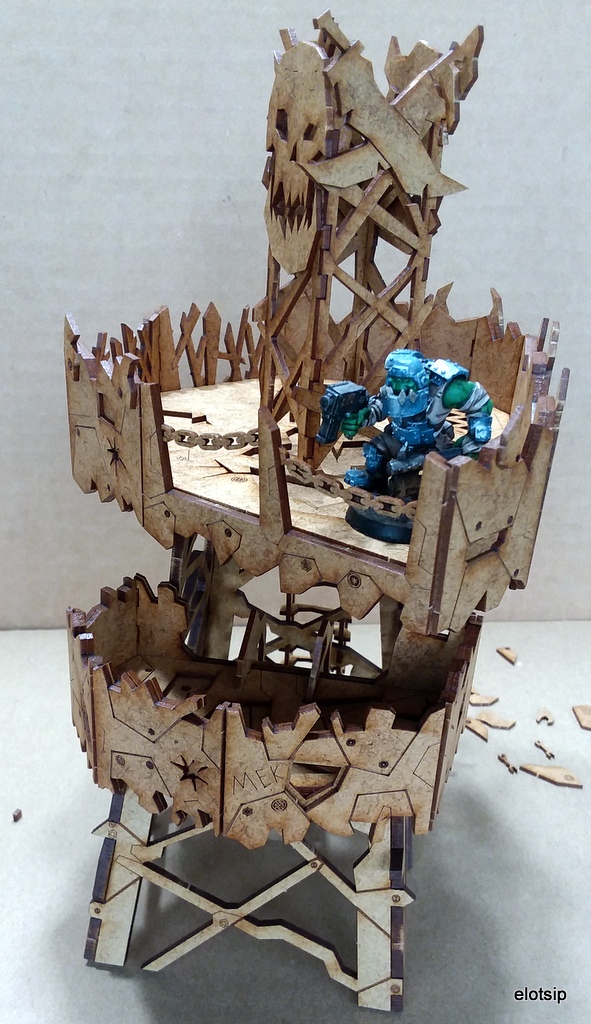 Here's the upper platfom looking down on the lower.  You could easily spread a mob across both platforms as they are not so far apart to break coherency.  The central tower is removable so you can squeeze even more boys up there if you wish.   Below is a side shot of the tower to give you an idea of it's width.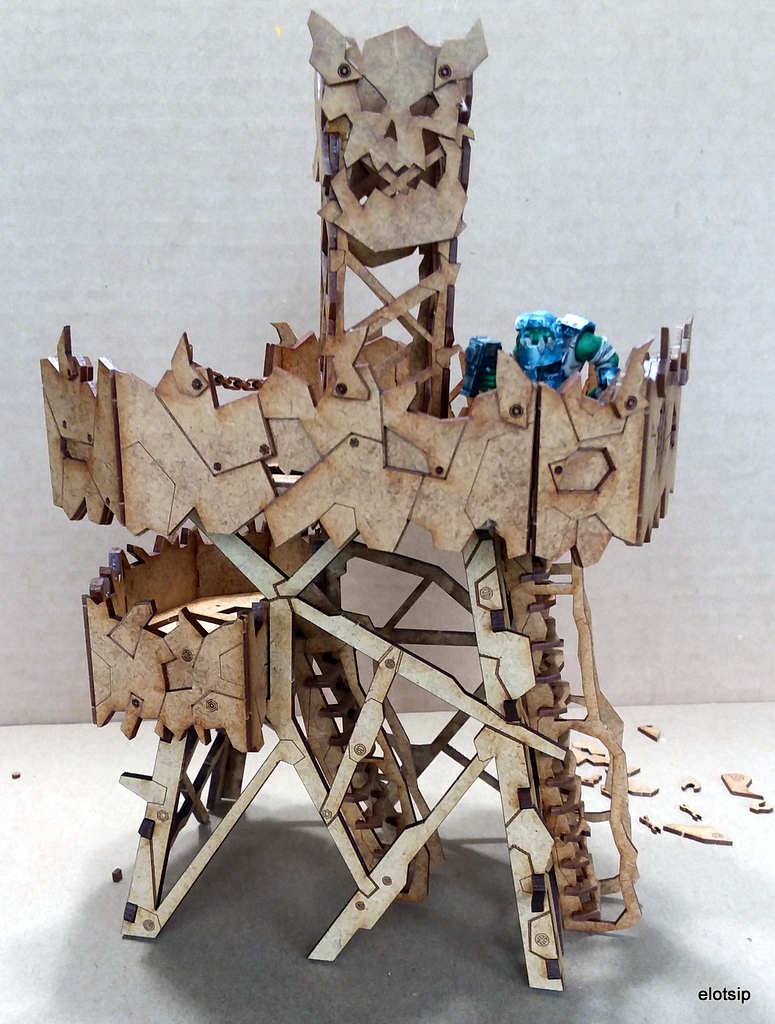 All in all I am very happy with this purchase.  It fits in great with the other Orcenburg terrain kits and is very functional.  I love great looking terrain but not if it's not functional.  It has to be usable, sturdy and look good on the table top.  These terrain kits meet all three of those requirements wonderfully.
I've got a 3 more kits to build, Barracks, Bar and Mek Shop, then my Ork shanty town will be complete.  I'm looking forward to playing some kill team missions with the ork village.  There are all sorts of narrative scenarios to come up with.  I highly recommend picking up some of the Orkenburg Table Scenics kits.  You can add them to your existing terrain or slowly build up an ork board.  Kromlech has several other HDF terrain themes as well.  I've picked a few of them up and will review those in the future.
~WAAAAGH!