Star Wars: X-Wing Second Edition Launch Day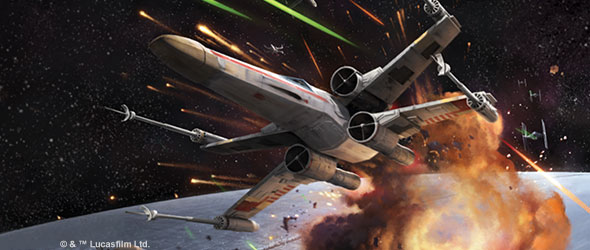 X-Wing Aces, it's the day you've all been waiting for – X-Wing Second Edition is out today. Launch those fighters and start your attack run!
It's a great day to be a Star Wars fan as Fantasy Flight Games massively successful Star Wars: X-Wing Second Edition is now available world wide. We've been covering the build-up for game for months and it's time for you, the players, to finally get a crack at the updated and improved version of this game. Get ready because the game you knew is back and better than ever!
Star Wars: X-Wing Second Edition – A Primer
In an effort to help new and veteran players get up to speed, we've got a collection of articles and videos below to help you get orientated. There are lots of little tweaks and "quality of life" changes that really improve the game play in the new edition. You can read a short summary here. But if you want to dive in and just see the game in action, I got to play the game with Lead Designer and Developer Frank Brooks:
The biggest difference to me from X-Wing 1.0 to 2.0 is that there has been an intentional re-focus on actually being able to "fly" your ships on the tabletop. Mastering the Art of Piloting is really what makes this about skillful play and less about the "gimmick" of your list. It's really a game that rewards players for learning the basics and playing a lot. It's cliche to say but it's "easy to learn but difficult to master" – and that's one of the most rewarding things about X-Wing 2.0.
Diving In To X-Wing
If you're new, you might be thinking, "Cool – where do I get started?" Simple: Get the starter set.
The Core Starter Set has everything you need to start playing immediately. Don't worry about downloading the App, or creating a list with points, or picking a faction. That will all come with time. Just get the Starter. It's got dice, templates, rules and a classic X-Wing vs TIE Fighter setup. It's perfect for two players to use to learn the game and get your feet wet. But once you get a taste, the pool gets MUCH deeper.
Choosing Your Faction
There are (currently) three factions available in Star Wars: X-Wing – The Rebel Alliance, The Galactic Empire, and Scum and Villainy. They are all really good in their own ways and each has their own style of play. You can play all three and have a very different experience with each one. There is no "best" faction and now that the meta has essentially been reset, it's kind of the wild west right now.
Furthermore, FFG made it clear to me that they intend to make tweaks and changes to the game as needed to keep everything competative and interesting. It's a less rigid, fixed game system thanks to the App. FFG can roll out points changes, tweaks and fixes via the app within days after getting major tournament results. If there is something "broken" in the game, the response from the Devs will be MUCH faster – and that's a good thing!
So pick the faction that appeals to you and play it. If you're a vet with a large collection of plastics already, then you need to get your hands on the upgrade kits to bring your collection up-to-date:
Unboxing The Rebel Alliance Conversion Kit
Subscribe to our newsletter!
Get Tabletop, RPG & Pop Culture news delivered directly to your inbox.
Unboxing The Galactic Empire Conversion Kit
Unboxing The Scum and Villainy Conversion Kit
Two More Factions Coming Soon
One other big change is that the First Order and the Resistance are spinning off and becoming their own distinct factions. They are set to arrive with wave 2 of the game – they aren't currently available at launch so if you're new, don't worry about them. If you're an old vet, give it a few months and you should get the full Conversion Kit Treatment.
Star Wars: X-Wing Second Edition is out today – so get out there and start playing! Oh, you need a place to play or a community to play with? Check out FFG's Launch Party Page and contact a local retailer near you to find players! Plus there will be some cool swag on hand to score – so what are you waiting for?!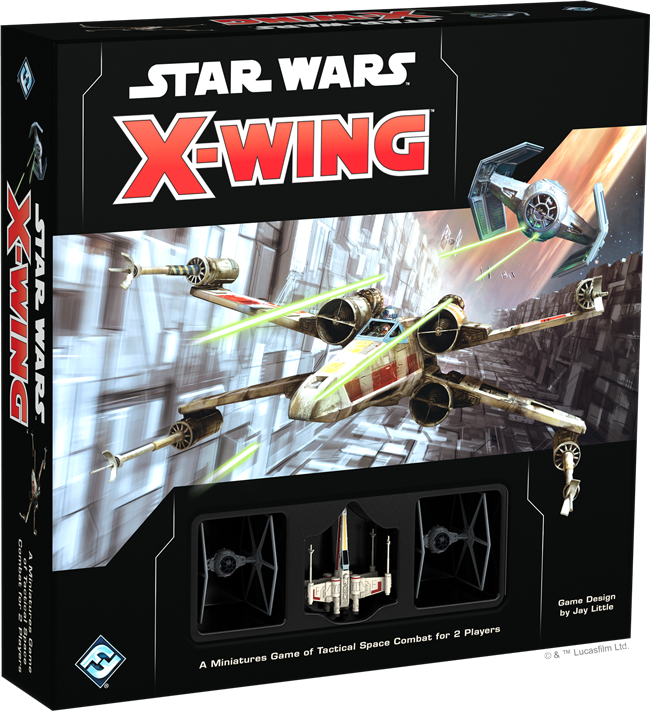 Enter the next era of interstellar combat in the Star Wars galaxy! Out of the X-Wing Second Edition Core Set, you can start to assemble your own squadron of iconic starfighters from across the Star Wars saga and engage in fast-paced, high-stakes space combat with iconic pilots such as Luke Skywalker and Iden Versio. With refined gameplay that focuses on the physical act of flying starships, X-Wing Second Edition lets you create your own Star Wars space battles right on your tabletop. Intuitive mechanics create the tense atmosphere of a firefight while beautifully pre-painted miniatures draw you deeper into the action. Man your ships and enter the fray!

The X-Wing Second Edition Core Set contains two TIE/ln fighter miniatures and one T-65 X-wing miniature, along with all of the maneuver templates, dials, cards, dice, and rules that you need to play the game.
X-Wing Second Edition – It's Good, go PLAY IT!