Tabletop Podcast Review: September 9th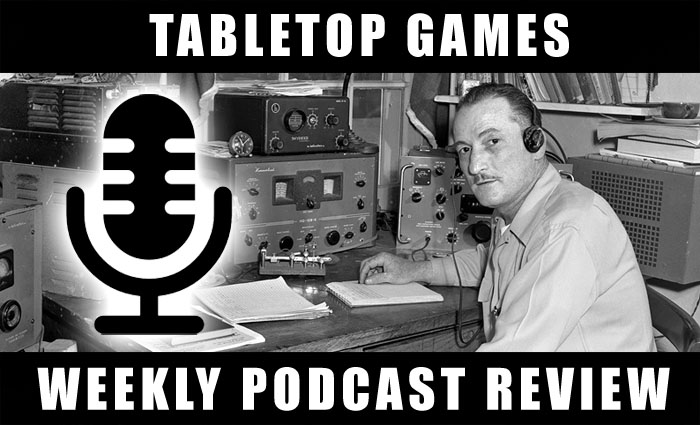 Adam here for another week of tabletop podcast reviews! This week we have Space Wolves codex reviews, a lot of NOVA talk, and more!
Hey all, Adam here, from TFG Radio, for this week's reviews! We have a few more Space Wolf codex reviews, some new podcasts, a whole lot of NOVA recaps, and more! So, with all that said, let's get on with the show!
Battlehosts Episode 72 – Part 1 of a look at the Tyranids. They talk about the history of the army, some of the different hivefleets. They also start talking about units in the the HQ and troop slots. If you're interested in starting a Tyranid army, give this a listen.
Boosted Rolls Episode 1 – A new Warmachine Podcast
The 40K Podcast Episode 1 – The original hosts of  40K Radio are back with a new podcast (and totally original title)
Signals from the Frontline – Always a good listen for new and rumors on 40K. This week, especially, they discuss how Las Vegas Open went for them and talk about some of the issues that occurred.
Also Out This Week
40K Radio Episode 31 (40K)
Battle Brothers of the GCWA Episode 15 (40K)
Best in Faction (40K)
Boosted Rolls Episode 1 (Warmachine)
Caledonian Deathwatch Radio Episode 73 (40K)
Chain Attack Season 2 Episode 116 (Warmachine)
Subscribe to our newsletter!
Get Tabletop, RPG & Pop Culture news delivered directly to your inbox.
Chapter Tactics Episode 80 (40K)
Come the Apocalypse Episode 22 (40K)
Cubic Shenanigans Episode 17 (40K)
Combosmite Episode 203 (Warmachine)
Crippled System Episode 248 (Warmachine)
Exterminatus Episode 54 (40K)
Eye of Horus Episode 141 (30K)
Eye of Terror Episode 62 (40K)
Favoured of Chaos Episode 13 (40K)
Flying Monkey Podcast Episode 40 (40K)
Forge the Narrative Episode 252 (40K)
GCPD Episode 5 (Batman)
Honest Wargamer (AoS/40K)
Imperial Truth Episode 97 (30K)
Legion Outriders Episode 27 (SW:Legion)
Long War Episode 164 (40K)
Lords & Heroes Episode 4 (AoS)
Mayacast Episode 197 (Infinity)
Mynock Squadron Episode 136 (X-Wing)
Mob Rules Episode 85 (40K)
Mortal Realms Episode 28 (AoS)
Mynock Squadron Episode 134 (X-Wing)
Not a Real Faction Episode 7 (Warmachine)
ngc40K Episode 44 (40K)
Ohiohammer Episode 275 (KoW)
Pimpcron Episode 5 (40K)
The Pitch Episode 19 (Guildball)
Realm & Ruin Episode 14 (AoS)
Splintermind Episode 51 (40K/Dark Eldar)
TFG Radio Twitch Stream Episode 25 (40K)
Veteran Gamers Reenlisted Episode 56 (40K)
As always, check out our blog, at TFG Radio, and give the podcast a listen. We talk 40K mainly but delve into other game systems.  This week we have Adam, Danny, and John on the show. Adam talks about his experience at the Nova Open, they talk about the Games Workshop reveals, and go off the rails into the world of Harry Potter!
Have a different opinion? Post in the comments below or email me at [email protected] and let me know!