Don't pretend you're not curious about this game. Come join Adam and Chris as we take a look at this game of civilized deduction…and dinosaurs in fancy hats.
Dinosaur Tea Party is a deduction game with memory and hidden role mechanics.
Each player is a fancy dinosaur at an even fancier tea party. But thanks to their tiny walnut-sized brains, the players have forgotten the names of the other guests. However, by referencing a guest list which notes a few key characteristics of each party-goer, the golf ball-sized brained dinosaurs among them will be able to figure out who is who.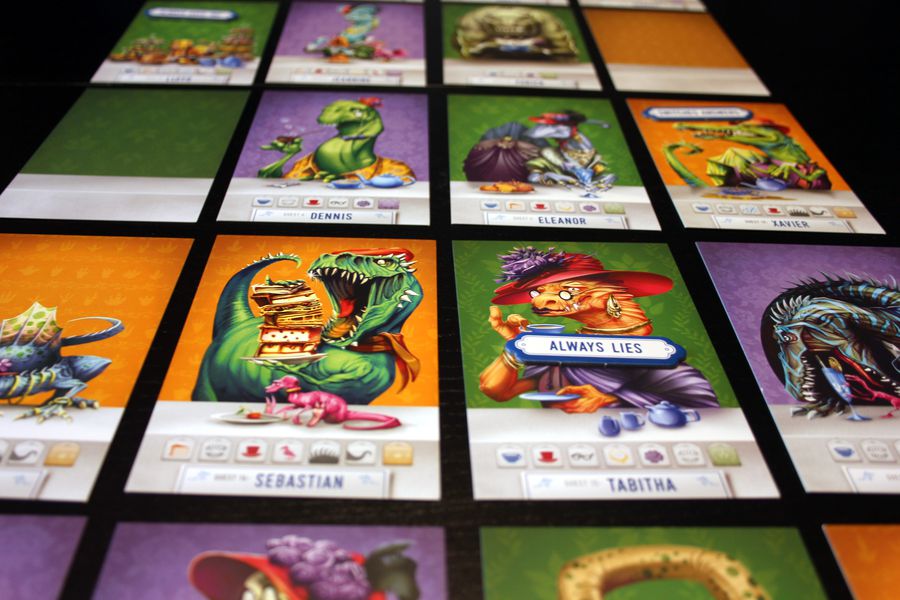 In the center of the play area is a grid of every character card and icon showing their clearly defined traits: hat, glasses, sharp teeth, striped skin.  You know, the usual traits one might have for a party guest. Each player is also given a secret character card, showing their current role. On each players turn, they ask any other player one question about their traits.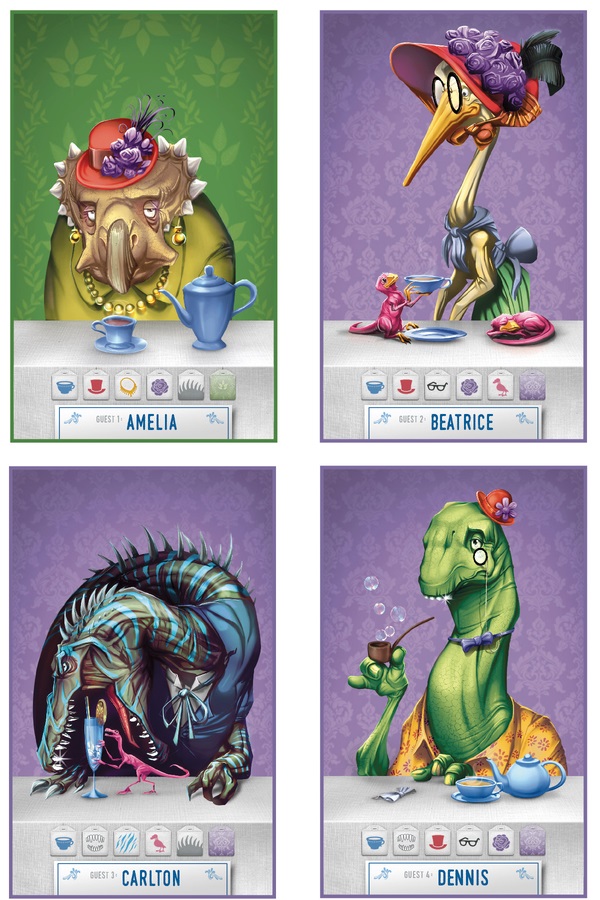 The game provides useful tokens to keep track of which traits each player claims to have. However, it's not always that easy. Some dinosaurs have Quirks. A dinosaur with a Quirk won't always answer truthfully. They might always always lie, always answer "No", or they might alternate between "Yes" and "No", regardless of what the question being asked of them. Quirks add a fun and silly layer to what is already a fun and silly game.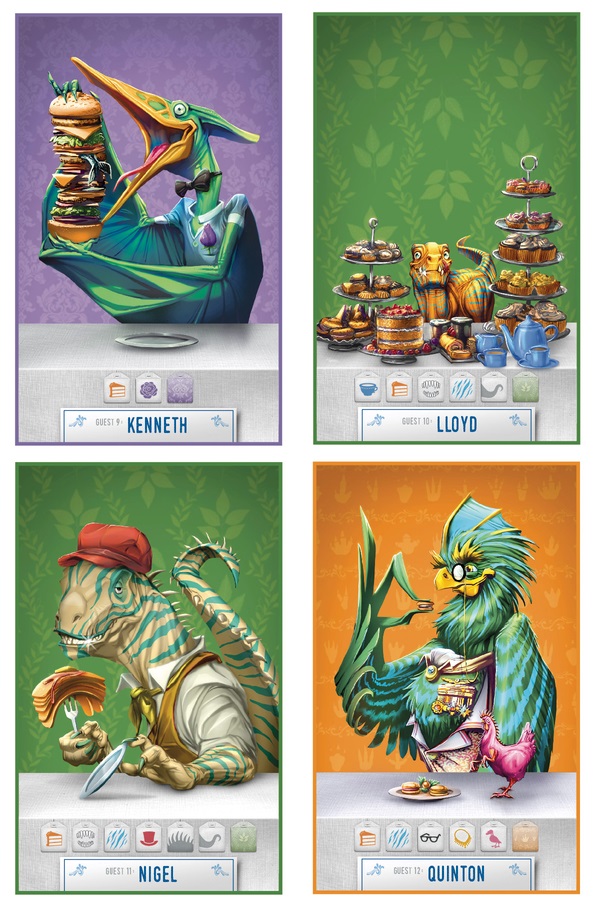 Once a player is sure they have pinpointed who another player is, they might inquire about their name. Guessing correctly earns the guessing player a sugar cube for their tea, and the inquired player draws a new role card. The first player to get 3 sugar cubes perfectly sweetens their tea and is declared the winner!
via Restoration Games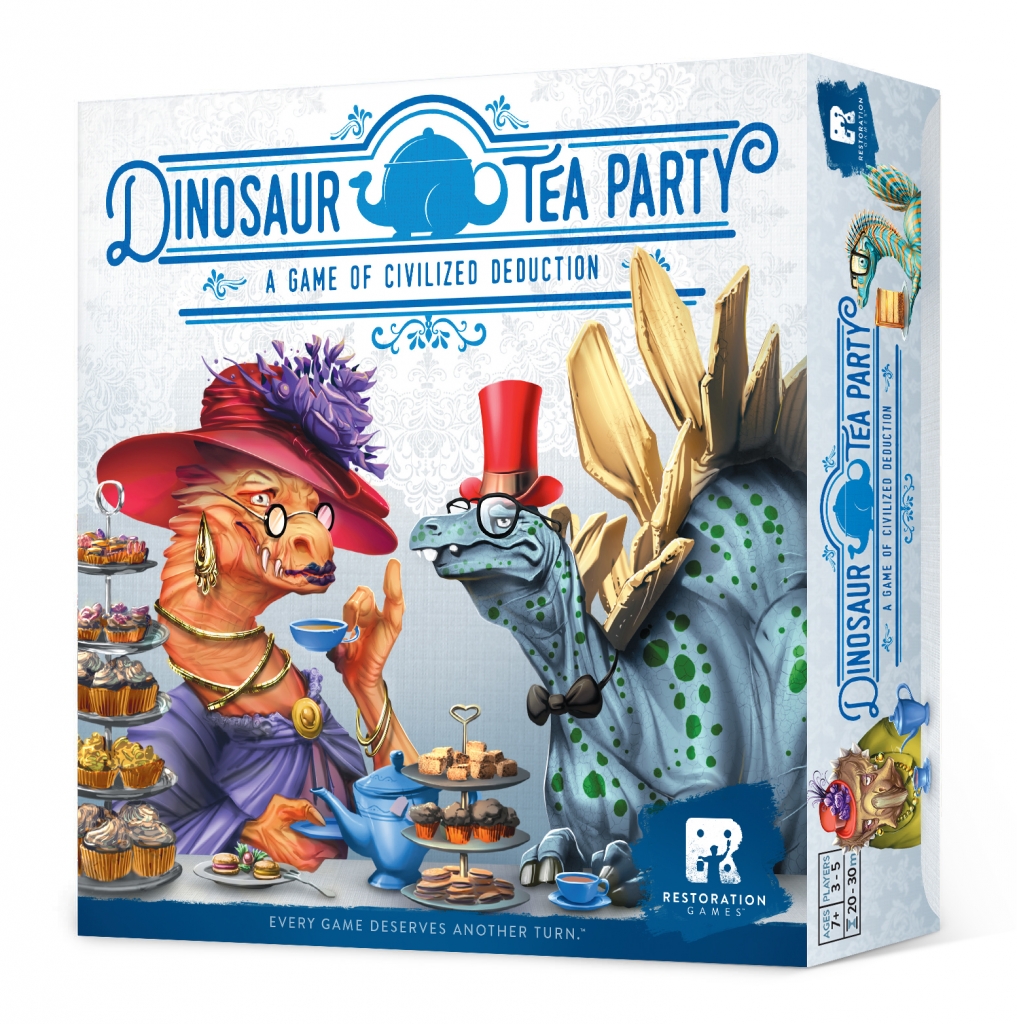 It's the most sought-after invitation of the year: Dinoton Abbey for high tea. Now you're all gussied up in your finery and ready for some tea and chit-chat. One problem: You can't remember anyone's name. Who's that, sporting the fancy brooch with her pet chicken? Is that Jeannine? Beatriz? Oh, dear. If you're not careful, you'll commit a faux pas everyone will be gossiping about.

Charming art, streamlined play, and dinosaurs with British accents make this game irresistible.

Contains:

20 dinosaur tiles
20 dinosaur cards
3 quirk tokens
14 sugar cubes
75 trait tokens
2 tbs proper fun
3 – 5 Players
30 Minutes
Ages 7+
Thanks for watching!