Talon Games, the makers of CAV, bring another batch of amazing miniatures to your tabletop. Fully funded and with a little under a month to go, there's still time to grab some amazing mechs at an incredible deal.
If you've played tabletop mech combat games, odds are good you know CAV. If you haven't, then what a treat for you, because they're on Kickstarter right now with a third batch of big beefy battlebots, and there's never been a better time to get in on the game. What is the game, exactly? Well CAV is all about commanding your Combat Assault Vehicles–the best way I can think to describe it is, imagine Battletech, but everything is more squad based. You have tons of models available to you–the games are bigger and the combat a little more tactical.
Enter CAV Srike Ops: III–CAV Strike Ops is the newest edition of the game designed by Talon Games, bringing CAV's old Reaper engine kicking and screaming into the modern world. LLaunched back in 2016, CAV Strike Ops also brought with it a Kickstarter that made metal mechs plastic. And this latest batch promises to bring more of the classic CAVs into more affordable, lighter, and in general better plastic. Take a look!
via Talon Games
When we say there are a ton of models, we mean it.

And that's just the Core Force. There are many more mechs awaiting you if you back the Kickstarter–so check out the campaign and make a pledge. You can hop in at the Ace or Dropship Pilot Levels ($100 or $125) to secure the Core Force set along with any other individual models released as part of the campaign. They're doing the whole Pledge X amount to get in, then adjust your pledge to reflect the models you want to get as the campaign develops. And so far, there's a lot just around the corner.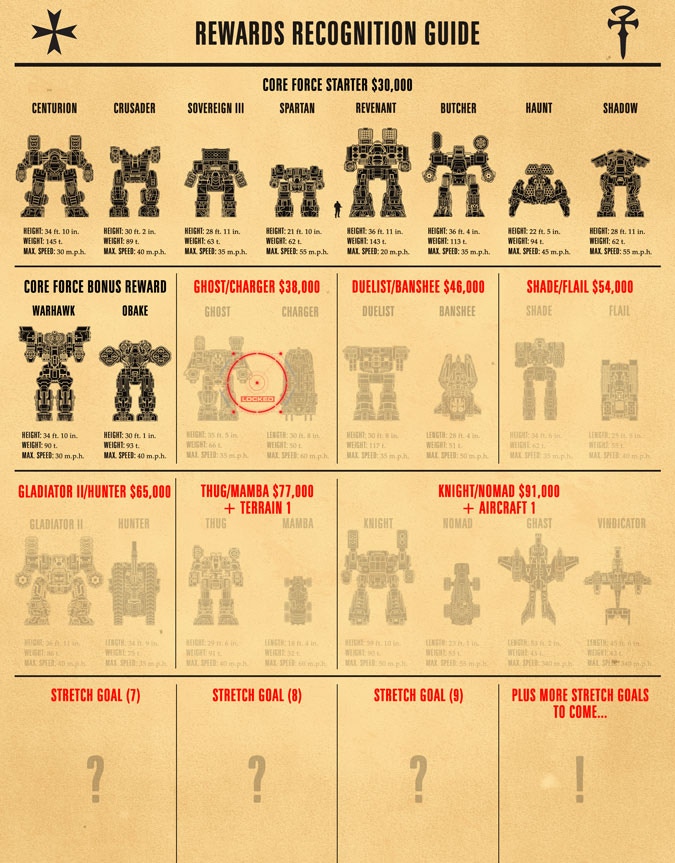 Here's Talon Games themselves to tell you more about the game.
Released in 2016, CAV: Strike Ops is an all-new edition of the classic game of combined arms warfare, CAV by Reaper Miniatures. Developed by Talon Games, CAV: Strike Ops is a tabletop game that requires miniatures and we need your help to bring more of these high-quality plastic figures to the existing line. This is our third Kickstarter to do so and with your continued support we hope to add as many new models as possible!

Thanks to our earlier Kickstarters we have already added over 70 new and updated models to the CAV: Strike Ops line and we are not ready to stop! Our customers are always looking to add to their existing forces but, while plastic is much cheaper than traditional metal figures, the molds to produce them are very, very expensive. Your support helps us get the molds made and in return, we are able to offer our backers first crack at these figures for a fantastic deal!

So you're in luck! With our earlier projects we have only begun to scratch the surface of what's possible. We have many more models that we think deserve to be added to the CAV: Strike Ops line, both new sculpts and classic updated favorites. We'd like to see if you think so, too!
So follow the link below and back this game today!
Roll out pilots!