It's a great year for fans of the animated series. We've gotten the blu-ray release we've been asking for for years, and all of the loot that comes with a new release. This new statue from Sideshow captures the art from the series perfectly, and takes it into another dimension.
Sideshow is kicking off a new DC statue line with this take on Batman – the Animated Series Collection. It will be followed up by Wonder Woman and Superman, both based on their appearances in DC animated series. They also remind me of Darwyn Cooke's work on New Frontier. If you dig the retro aesthetic, you'll definitely want to take a look at the new line.
Bats is leaping off a building to stop the criminals of Gotham in this statue, and he has a few flying friends with him. His costume is true to the animated series with his signature yellow utility belt, black boots and gloves, and a prominent bat symbol on his chest. His portrait has a determined expression with white eyes, and a pointed cowl.
There are two versions available. The Sideshow Exclusive Edition comes with an alternate right hand holding a grappling gun. Pre-orders for the statue will open tomorrow (September 27th) between Noon and 3:00 PM Pacific Time.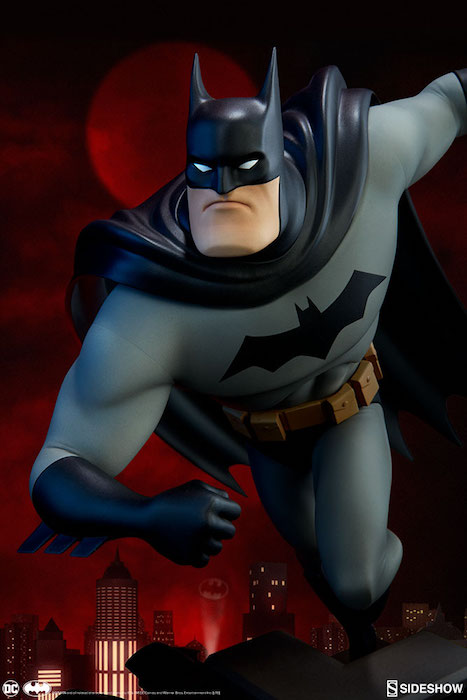 Batman Statue: Animated Series Collection – $415
16″ tall
Resin with sculpted costume based on the animated series
Dynamic pose
Gotham rooftop base with bats
The 

$425

exclusive edition includes an alternate right hand holding a stylized grapple gun