The Bad Moons have the teef to spend on all the flashiest gear – and they flaunt this fact whenever they can.  Today, we're getting a look at their Kultur as well as new upgrades for the Stompa!
We've already seen the Goffs and the Snakebite Clan Rules from Games Workshop. This time we're diving into the Bad Moons and they are all about showboating. Hey, if you've got the teef you might as well spend'em, right!?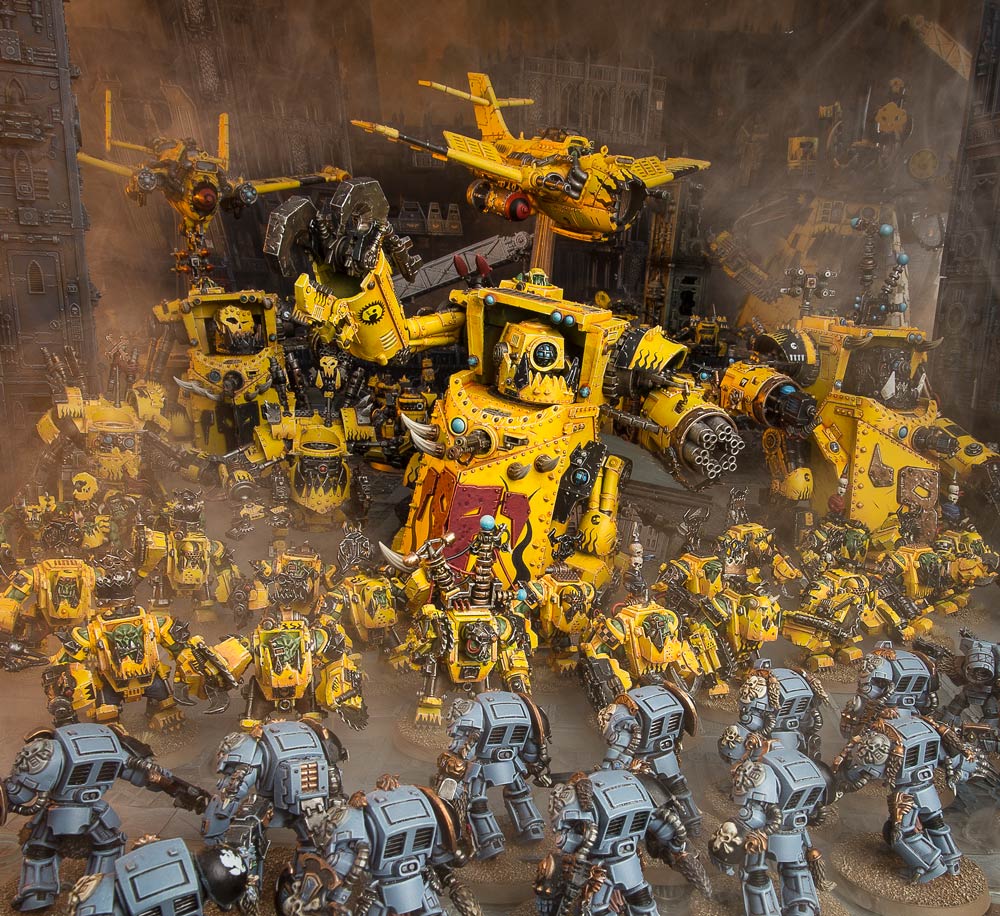 via Warhammer Community
No Ork clan is richer than the Bad Moons – and the Bad Moons never tire of reminding everyone else of that fact. This is due to the simple fact that Bad Moons grow teef (which is what passes for Ork currency) much faster than the Orks of other clans. Of course, what this means is that every other Ork knows that if you're short of a few teef, you just need to smash a Bad Moon in his gob to be rewarded with a shower of currency! This leads every sensible Bad Moon to spend their teef on the biggest, shootiest gunz to deter any would-be attackers.
The Bad Moon Kultur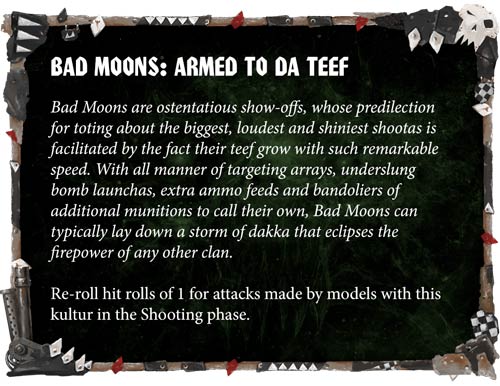 Because of their love of Guns, the Bad Moons have the ability to re-roll hit rolls of 1 in the shooting phase. If you combine that Dakka! Dakka! Dakka! these orks will put out a scary volume of firepower that will make most foes stop dead in the wake!
Now, because they have the teef, Bad Moons theme forces work exceptionally well with some of the larger, more impressive kits. Combine their Armed to Da Teef rules with the new Stompa and you can see the how they work together.
Stompa Time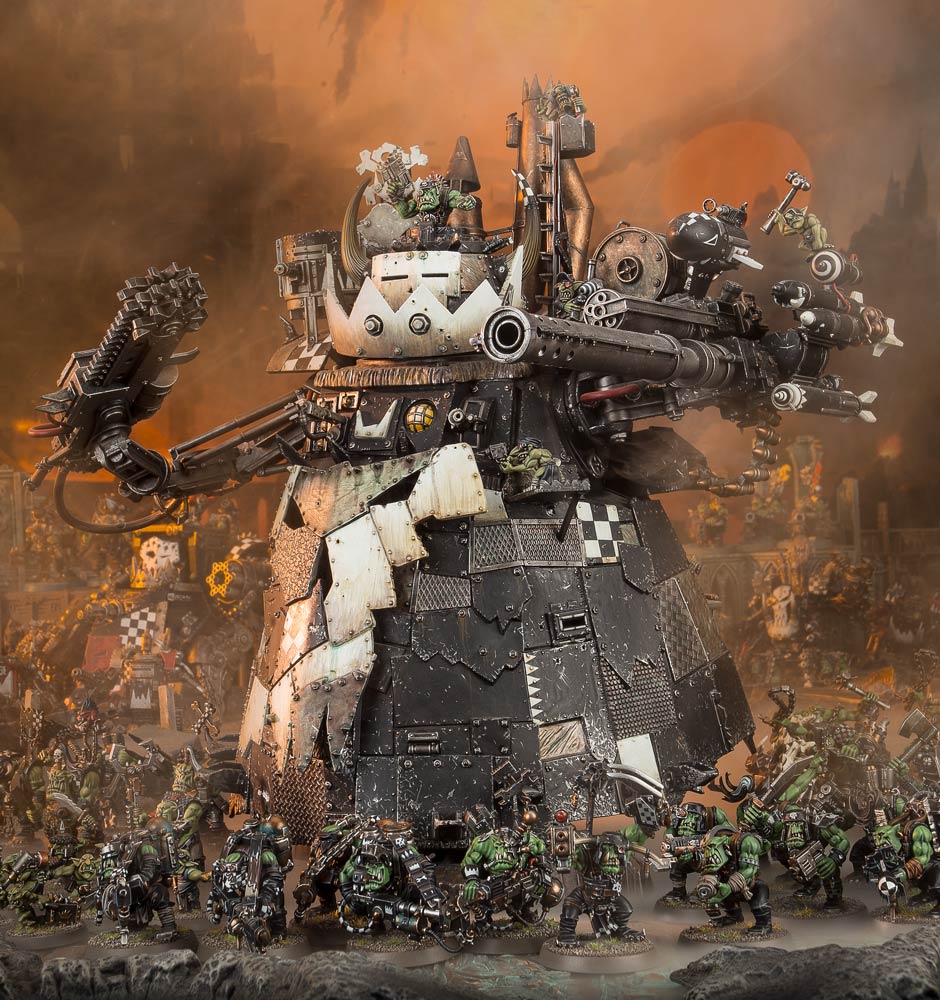 First off the Stompa has had some work done. Still rocking 40 wounds, it now has some extra options and changes that really make this kit work examining in the new Codex.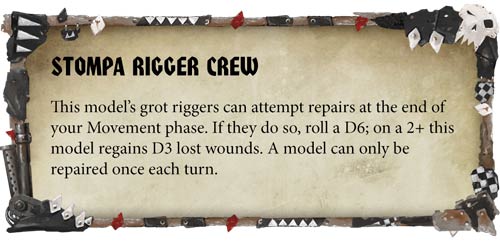 On a 2+, Stompa Rigger Crews give the walking idol of Gork (or is it Mork?) D3 wounds back. You can do that once per turn. That might not sound like much, but over the course of a 6 turn game, that's up to 18 wounds back! That can make the Stompa frustratingly tough to take down. The Stompa even has a new damage tier profile: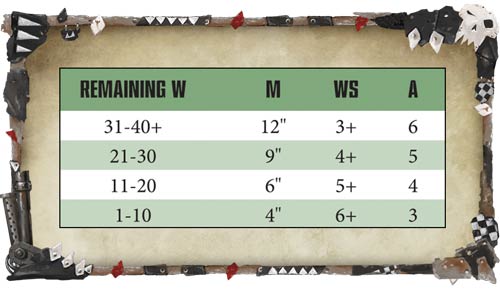 Those extra wounds might just bump you up a tier – how nice would be to go from only getting 4 attacks at WS 5+ to 5 attacks at +4 – with your mighty strength 20 Mega-choppa! Oh and remember all that talk about shooting and Bad Moons? Well the guns got a face-lift, too: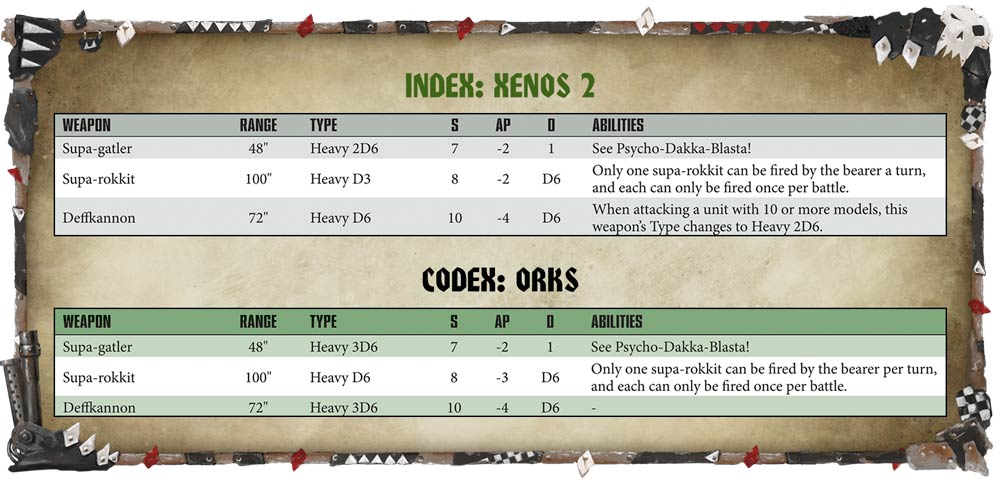 It's More Dakka across the board! That's going to be bad for your enemies and great for making swiss cheese!
The Morkanaut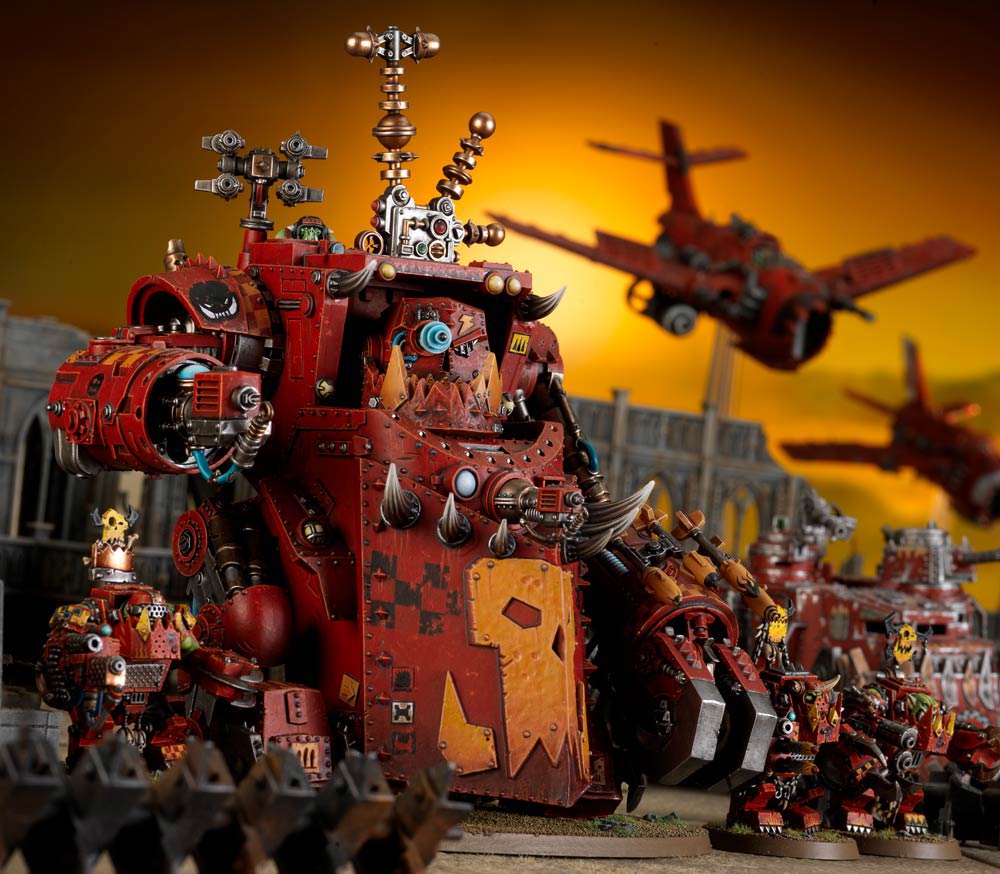 The Stompa's little brother, the Morkanaut, also got some attention. This Orky contraption's Kustom Mega-Kannon is now a Kustom Mega-Zappa. It shoots with a much better profile and has 3d3 shots vs the old D6:

When you're a Bad Moon, you'll get to re-roll those pesky 1s and hopefully avoid those mortal wounds. And don't forget about it's Kustom Force Field which provides a 5+ invulnerable save to itself and units nearby.
Shokkjump Dragsta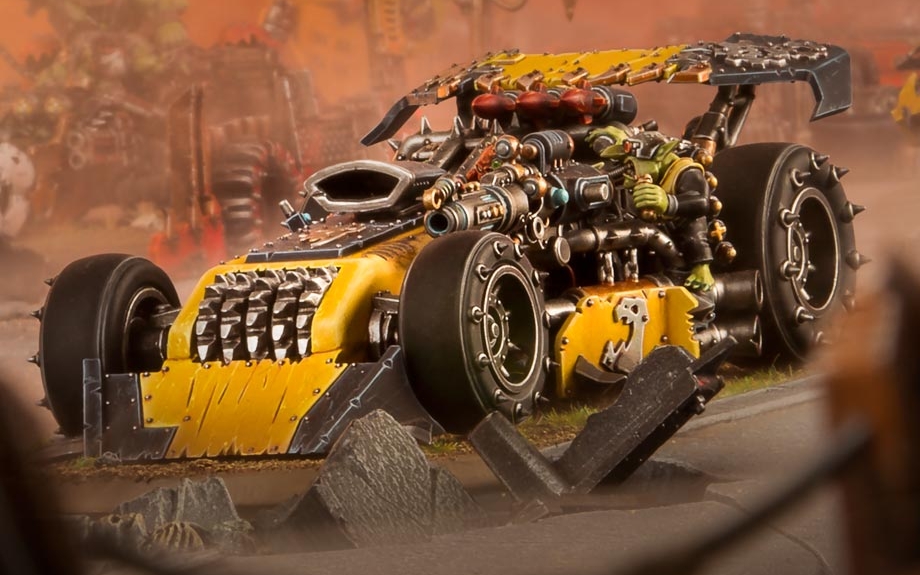 And finally, we can't ignore the new Shokkjump Dragsta. This thing has Bad Moons painted all over it! The Kustom Shokk Rifle is scary accurate but if you're Bad Moons, you've also got a chance to avoid it's negative side effects, too:

If you're the type of player that likes to play against type and want to run the shootiest Ork army ever, then Bad Moons are for you. Load them up with all the Dakka and go forth and WAAAGH!!! it up like any good ork is wont to do!
Bad Moons – We like bullets.