Come and see the forces of the Eyes of the Nine–Tzeentch's Chaos Agents have breached the Nightvault, bringing with them secrets and manipulations that make a control player's wildest dreams come true. Come preview the new Tzeentch warband's rules.
The Eyes of the Nine are a band of foul daemons–or since they're Tzaangors, I guess that should be fowl daemons–who have breached the Nightvault in search of mysterious knowledge and secrets. They are master manipulators, and a Warband that looks to have a real interesting playstyle. Join us as we take a look through the Eyes of the Nine.
via Warhammer Community
The Eyes of the Nine are, first and foremost, a control warband, focused around capturing objectives while maintaining decent ranged damage throughout the game. With a number of fast-moving fighters, and the ability to summon a Blue Horror on any starting hex (including those in your opponent's territory), you'll have an enormous amount of control over the board.
To help you establish this board control, and also to slay your opponents, you'll have a number of mobile warriors who can pin down the enemy before they can get into position to leverage their strengths. You'll want to establish the pace of the game, keeping your opponent reacting to you. And to do that, you'll have the aid of a powerful Magister.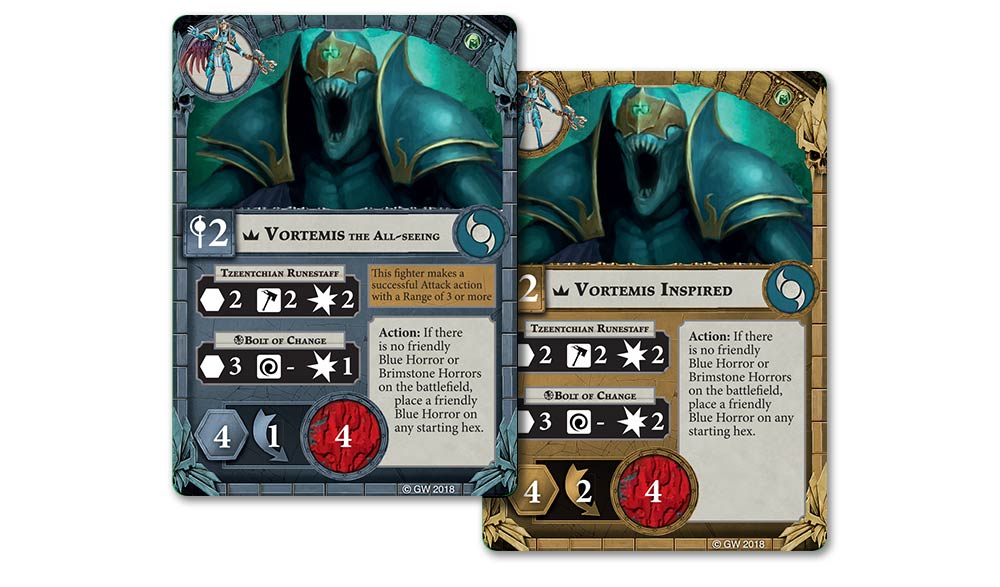 Vortemis the All-seeing is a Magister of Tzeentch and the leader of the Eyes of the Nine. In the game, he's an incredibly versatile fighter, capable of dealing solid damage in close combat, blasting enemies at range (Inspiring himself in the process!) and summoning Blue Horrors. Careful, though – with 4 Wounds and Dodge 1, you'll want to keep him safe from heavy-hitting fighters.
His ability to Summon Blue Horrors is a new mechanic that can help you claim objectives, provide extra support in combat, and best of all, much like their counterparts outside of Underworlds, they become Brimstone Horrors when you kill them.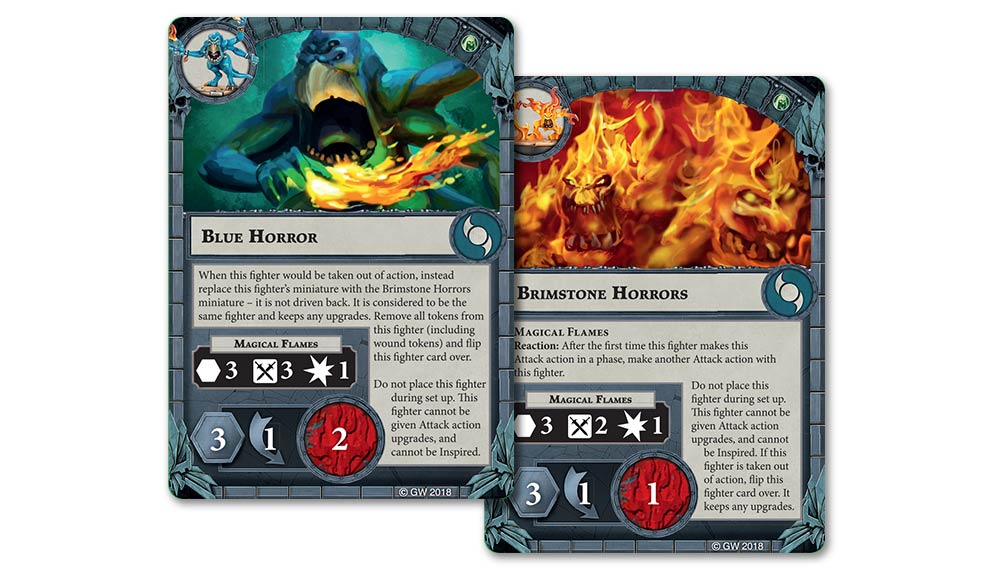 Brimstone Horrors are interesting in that they fight as two for the price of one. That Reaction to make an extra attack does mean you're effectively having two horrors–though they will die if you try to kill them.
But if you're killing them you're not killing K'Charik the Tzaangor…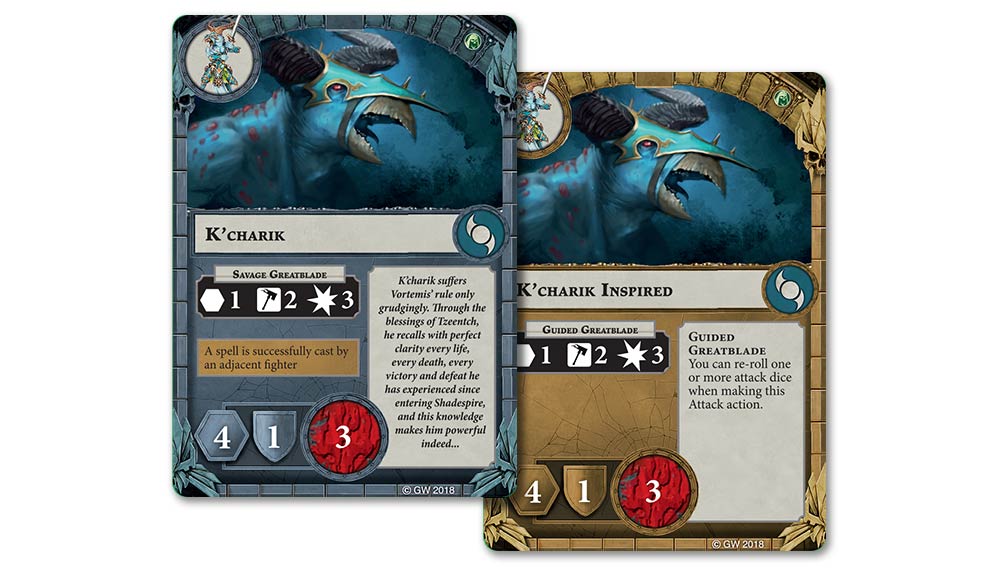 And he will kill you instead, especially with his fast speed and damage of 3. He's not hard to focus down, but, if you don't take care of him, he can wreck your squishies. And while you're trying to kill K'Charik, you're getting blasted by the twin Kairic Acolytes in this Warband, Narvia and Turosh.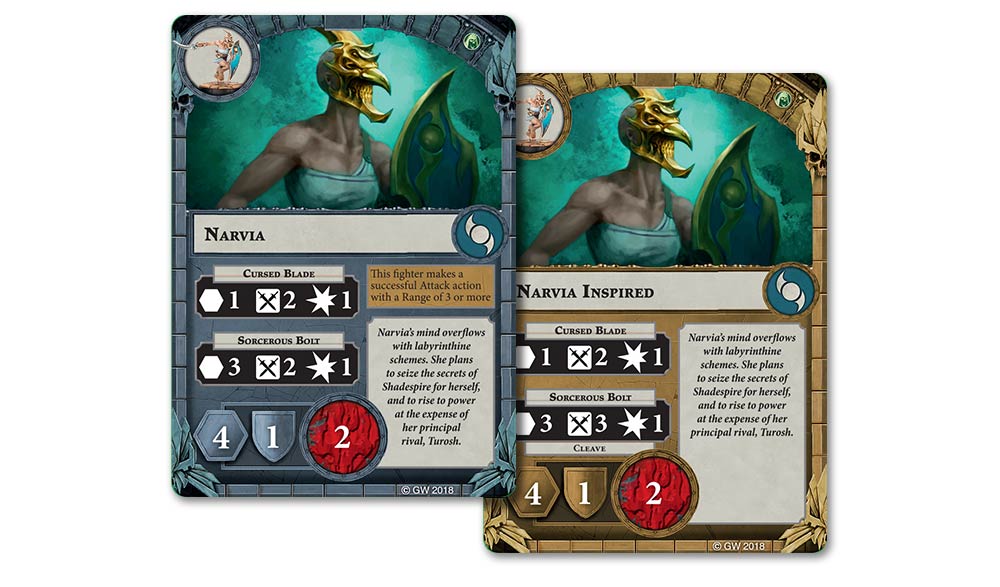 Their Sorcerous Bolts mean they can hang back–and they're maneuverable enough to be hard to pin down. Especially since once they hit, their attacks level up.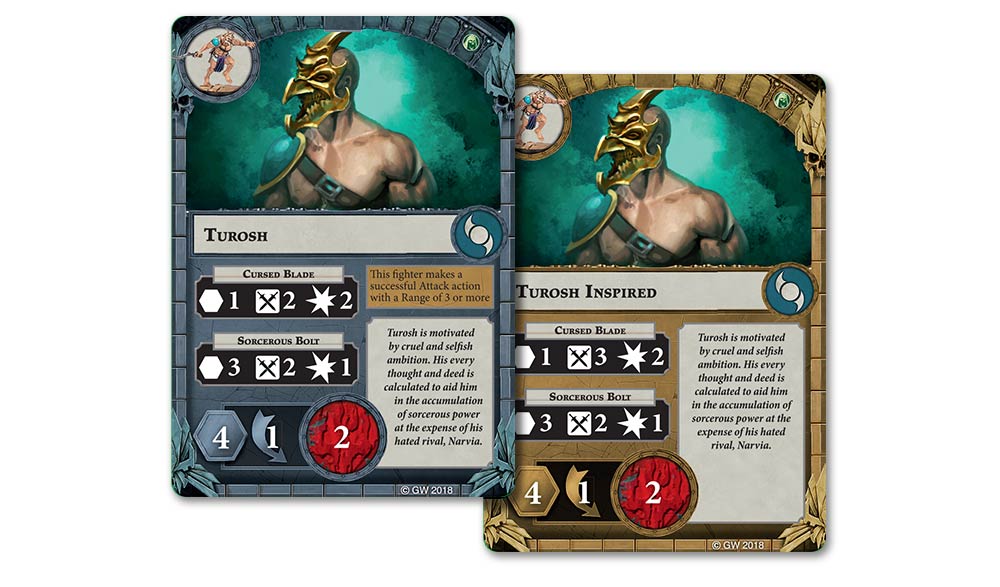 When they land a sorcerous bolt, Narvia gains cleave to her ranged attacks, and Turosh gets an extra die for his melee. And again, they're fast enough that they can hit you where you're not expecting it.
But that's par for the course for Tzeentch. They'll do what you're not expecting–reflected of course in their cards.
You can move your models around pretty freely, ensuring that you're always where you need to be. And if that's not enough for you, there's all the magic at their disposal.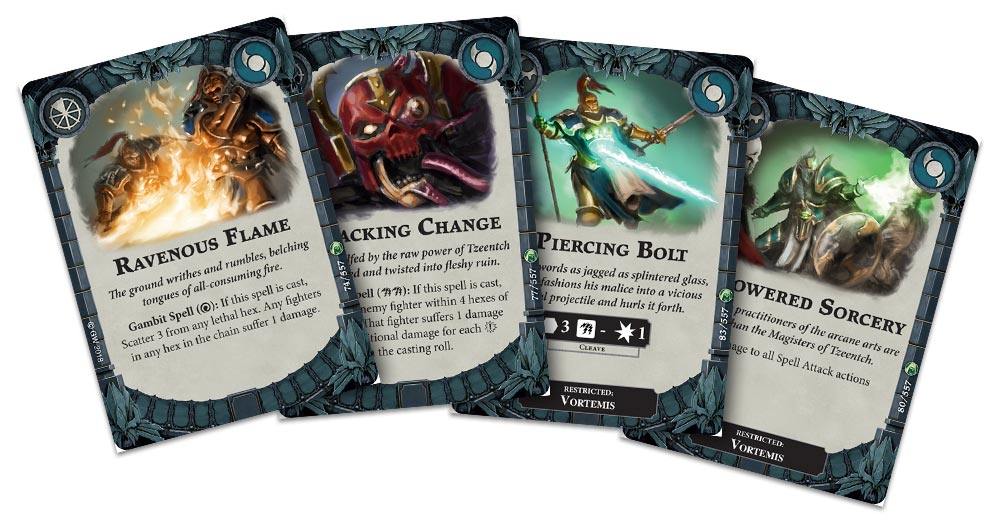 Where the Eyes of the Nine really stand out is in the power step – you'll be able to use your activations to move and soften up enemies before annihilating them with all manner of devastating spells. Choices like Ravenous Flame and Wracking Change are great ways to deal damage, while upgrades like Piercing Bolt and Empowered Sorcery transform Vortemis into an even deadlier ranged fighter.
If you want sorcery, they've got it in spades. So if you're looking for a tricky, control-based Warband the Eyes of the Nine are watching you.
What do you think of these new mechanics? Let us know in the comments!