Watch as Abe and some miniature friends see the sites of France.

For the last two weeks, I've had the pleasure of traveling around France seeing various battlefields, castles, forts and other sites. While I went to commemorate the 100th Anniversary of the Saint Mihiel offensive in WWI I also got to see a lot of other amazing things. Of course, I wasn't alone. I had some good friends but humans and miniatures along for the ride and we took some pictures. Here are a few of the highlights my little friends saw along the way.
We started off at Verdun, where Guardsman Privit got to experience some WWI bared wire.
He and Judge Jorgan also checked out Fort Douaumont.
Of course being a WWI ace himself Lieutenant Heurteaux knew the area well.
Later that night we strolled around the town of Metz and found a GW store.
Father Poniard was rather taken with the doors of Metz Cathedral.
Next stop, the American Monument on Montsec. Heurteaux had to do a flyover of the amazing map.
Wargamers gotta wargame, you don't see a cool map like that and NOT put models on it.
In Strasbourg, Father Poniard loved the Cathedral.
And got some serious Organ envy.
The Bright Wizard Von Horsthiem felt right at home, it seems the old world might be alive after all!
But whats this! Out of an old festering sewer, the Plaguebearer Rotus Pukeguts arose to join us!
On the old walls of the small town of Bergheim he was joined by the ancient Chaos Warrior Henri Bloodborn.
This tower Henri found is called the Witches Tower, and there were real witch trials in Bergheim.
Hower Henri really just wanted a castle of his own, and I caught him starting off in the distance at.
The next day Henri demanded we go up the hill to that castle, Haut-Koenigsbourg, where he enjoyed a stunning view.
Von Horsthiem wasn't about to let Chaos take the castle without a fight, however.
Rotus Pukeguts and Henri teamed for the Glory of the Dark Gods.
While Von Horsthiem tried to enlist the aid of a Dragon he found.
Henri strategized over a model of what the castle had looked like before it was rebuilt.
While Pukeguts tried to spread plague in the kitchens.
Von Horsthiem fought him in the other courtyard.
Before retreating to a higher vantage point.
The three fought high up on the castle walls, with stunning views.
Outnumber  Von Horsthiem found a real-life Empire Great Cannon to help him.
Pukeguts was blown away by the size of the Empire Cannon.
Ultimately Henri claimed the castle as his own. He loved it so much that he never left it, and is still there to this day.  
Next Time: More Castles and Forts, and the minis take on Paris.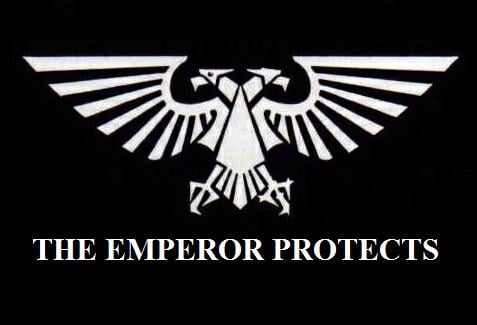 If you've taken your minis to any famous places let us know, or post a pic, down in the comments!