It's  all about Undermountain today–the Dungeon of the Mad Mage has been delayed a week, but with that, come more previews. Here's what we know so far.
Players hoping to begin their Journey to Undermountain at the end of this week will find themselves with an extra week to prepare for their journey, after Halaster Blackcloak, aka the Mad Mage Himself, cursed the printer who would dare provide adventurers with a map to his Dungeon. Announced over the weekend on Twitter, Waterdeep: Dungeon of the Mad Mage has been delayed until November 9th, with wide release expected on November 20th.
Halaster is at it again! Because of a hex he cast upon the printing presses in our world, Waterdeep: Dungeon of the Mad Mage, Waterdeep: Dungeon of the Mad Mage Maps & Miscellany & Waterdeep: Dragon Heist Dice Set will be in game stores on Nov. 9 & every… https://t.co/NXcfTVIo6z pic.twitter.com/BjrUWhcwoF

— Dungeons & Dragons (@Wizards_DnD) October 24, 2018
This means that November 20th (and 9th) will see not one, but two new books released simultaneously, with the November 9th (and 20th) dates still in effect for the Guildmaster's Guide to Ravnica. While we await the eventual opening of the Yawning Portal and a descent into an ignominious fates at one of the myriad dungeon denizens that await within, we still have new previews pouring out. With that in mind, here's a look at every page of the Dungeon of the Mad Mage revealed so far, including the newest ones from D&D Sr. Director Nathan Stewart. We'll start with the newest and work our way back.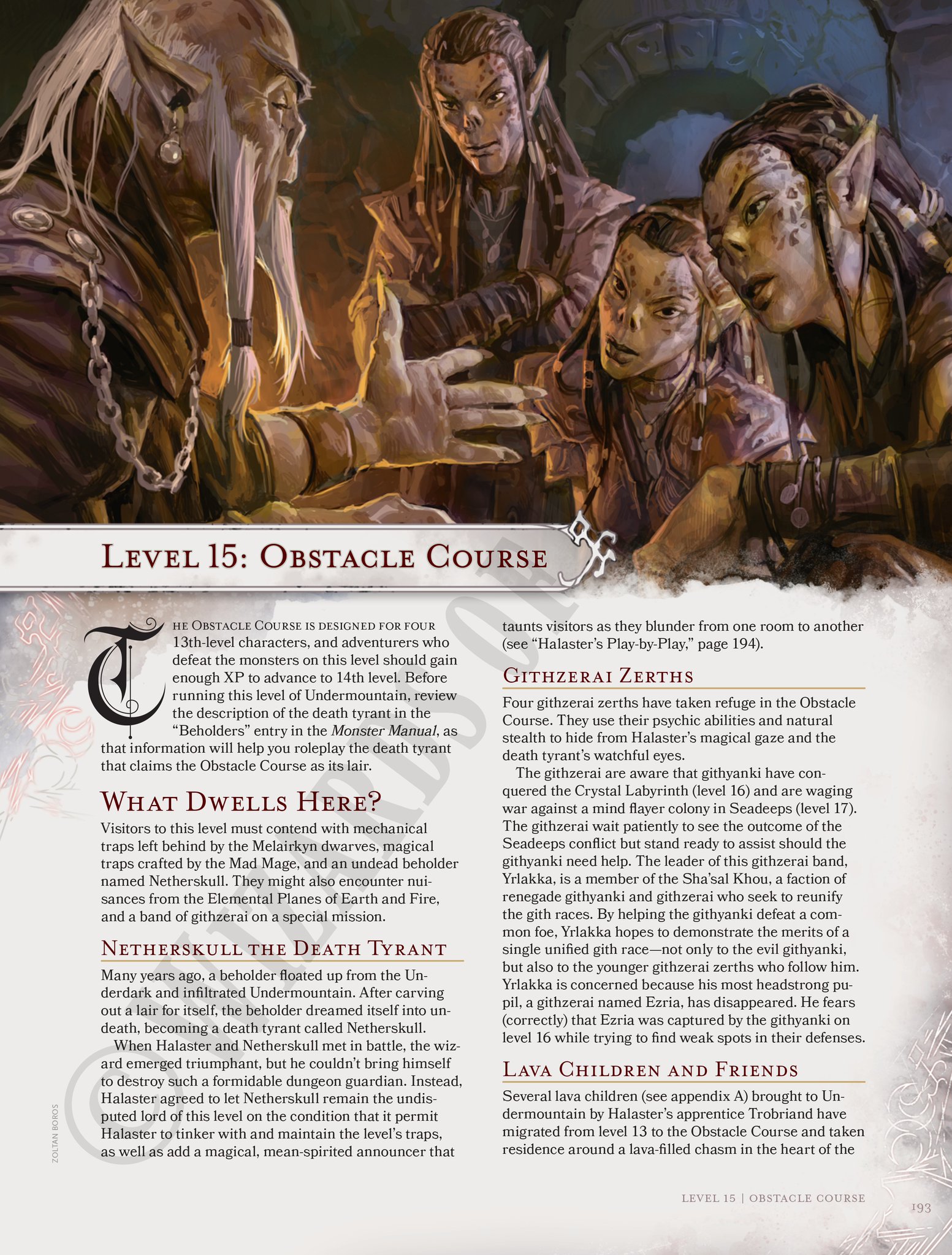 Okay what a page. This single page reveals a lot about the dungeon. We learn that Level 15 is an Obstacle Course that contains a Death Tyrant guardian/overseer, and a play-by-play announcer that monitors the PC's progress through the Obstacle Course that gives this level its name. But we also learn the following:
Level 16 is the Crystal Labyrinth that has been conquered by a roving band of Githyanki who wage war with a Mind Flayer colony
Level 17, called the Seadeeps, is overrun with a colony of Illithids
Level 13 is home to Lava Children
There is a lava-filled chasm in the heart of the Obstacle Course.

All of this is giving off some delicious Legends of the Hidden Temple vibe. Or maybe Ninja Warrior–but with a healthy dose of danger and death worked in to show off the power of Halaster Blackcloak's mad, meanspirited mind.
Next we jump back to the surface (sort of) with a look at the Yawning Portal–and the starting quests that might pull some of your players in.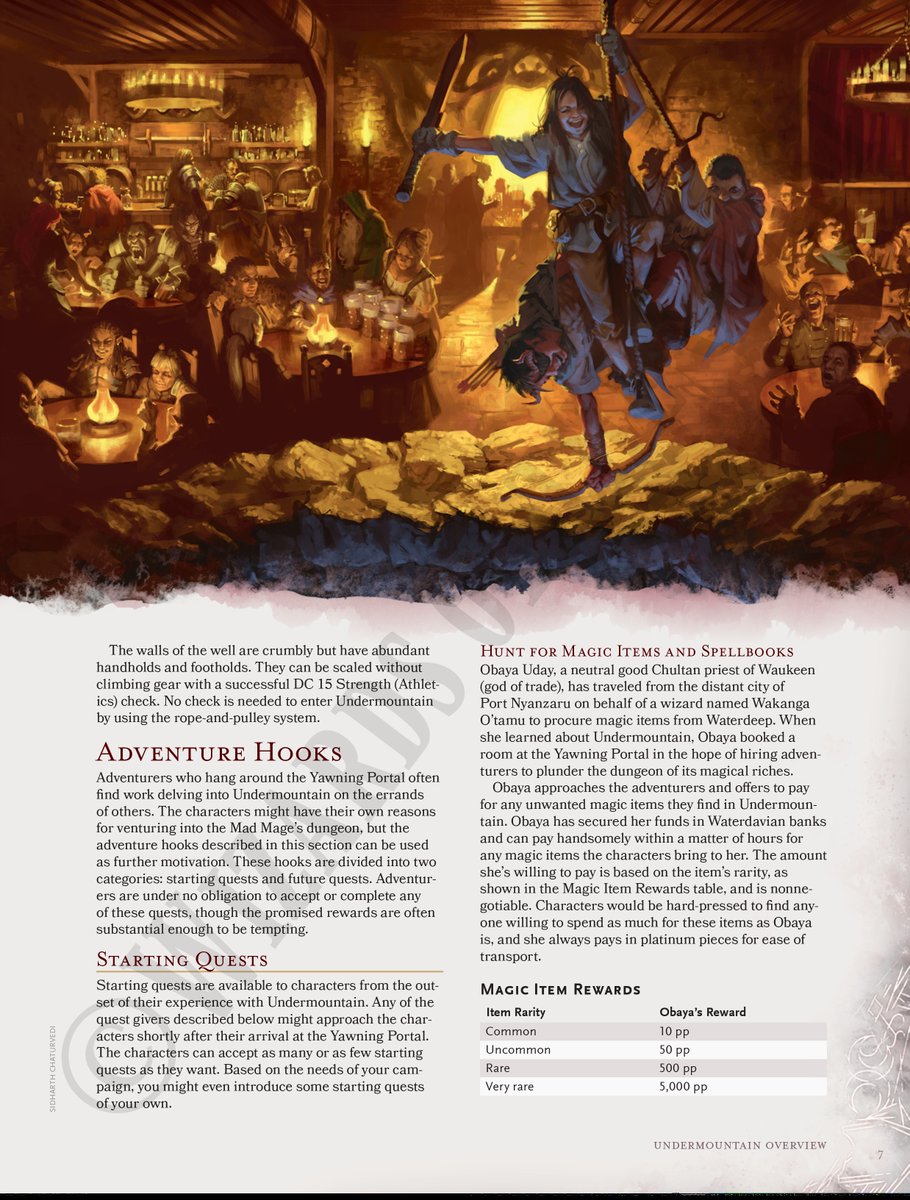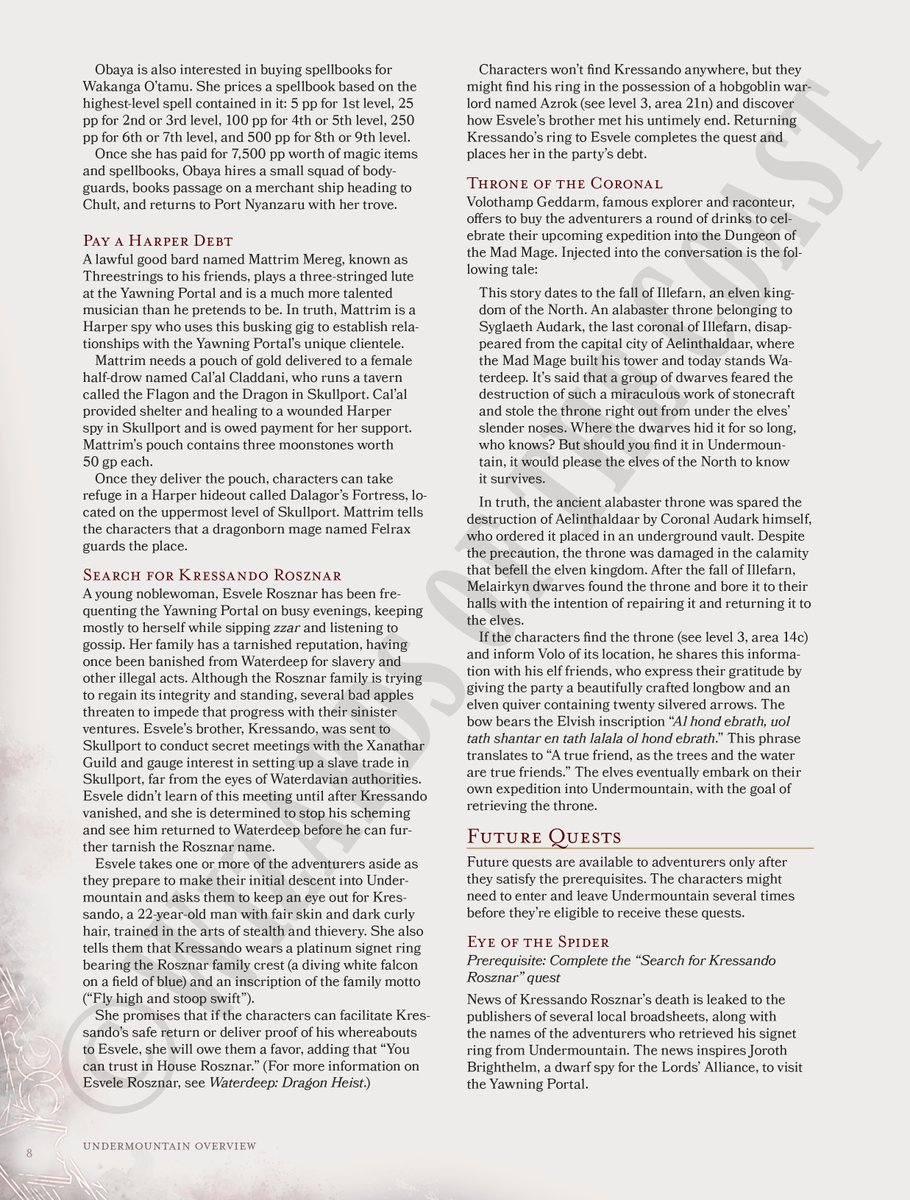 Packed to the brim with a blend of old-and-new school adventuring goodness, with plenty of opportunities for riches, narratives, and sprawling adventure, these quests change and evolve and unlock new options as players venture further inward.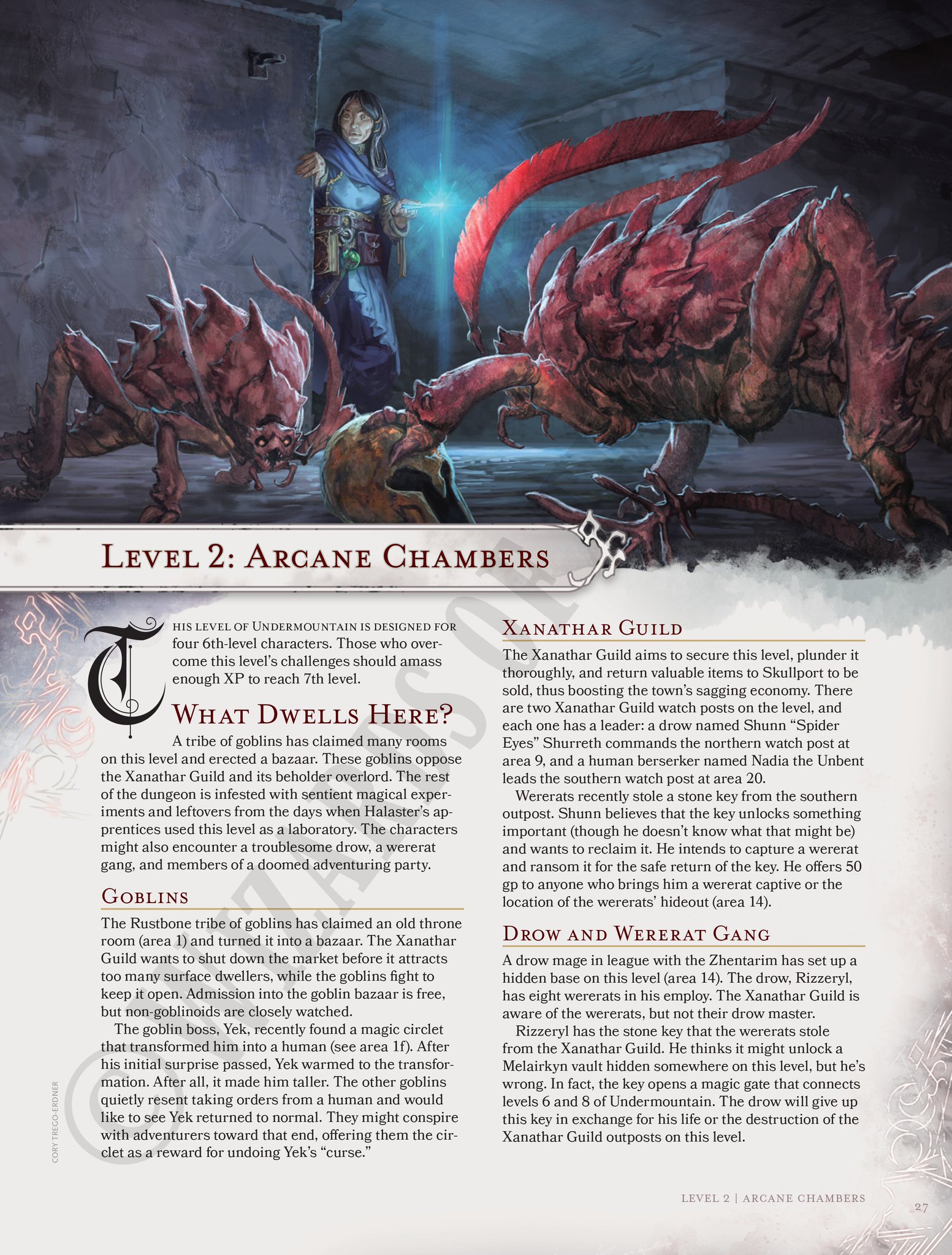 Level 2 is up next, a dungeon overrun with a goblin bazaar and multiple warring underworld factions. A war between the Zhentarim and the Xanathar Guild is brewing, just the perfect opportunity for a band of adventurers to come blundering into.
This level highlights the character of the Dungeon. You'll find more than just monsters here–but a narrative unfolding on each of the levels. They're ecosystems and stories and adventures unto themselves. So even if you're not looking to run a megadungeon, DMs can find a lot of inspiration and tools to create their own adventures.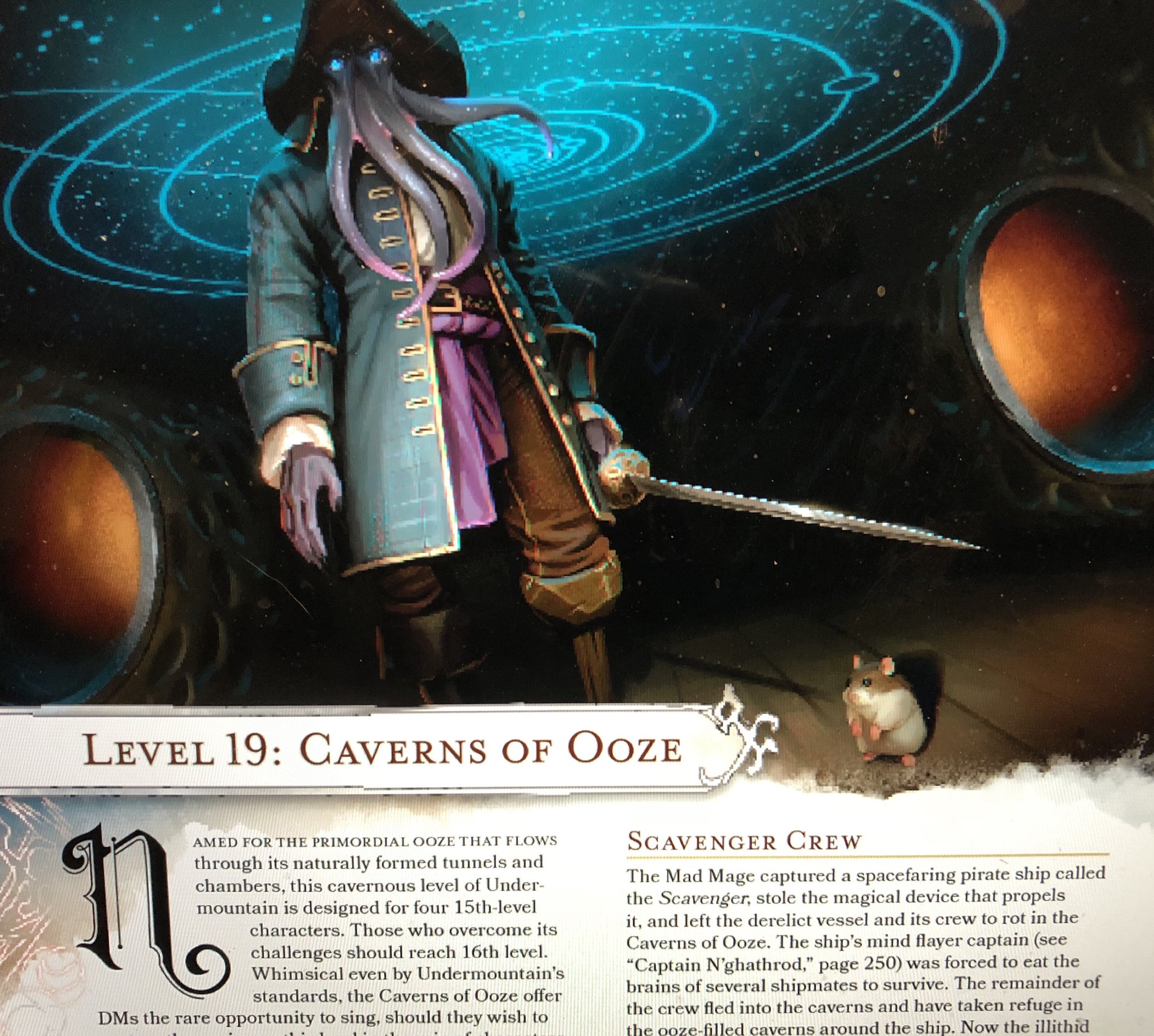 Finally we come up with the Mind Flayer/Spelljammer Captain of Level 19, dwelling amid the Caverns of Ooze. What more could you want than a space pirate octo-faced humanoid with a miniature giant space hamster just sitting right there.
Well you can find out more as November 9th draws closer. In the meantime, start counting rations. Because with a journey that takes characters from level 6 to level 20, Waterdeep: Dungeon of the Mad Mage will challenge even the most seasoned of parties.
Happy Adventuring!