Fantasy Flight Games had a busy week of previews and products – come take a look at what's out now in stores plus some new fiction to get your head into their games.
There is a ton of new fiction out there for fans of Android, KeyForge, and Legend of the Five Rings. Plus a few bits of news for A Game of Thrones: LCG fans. First up, the new release: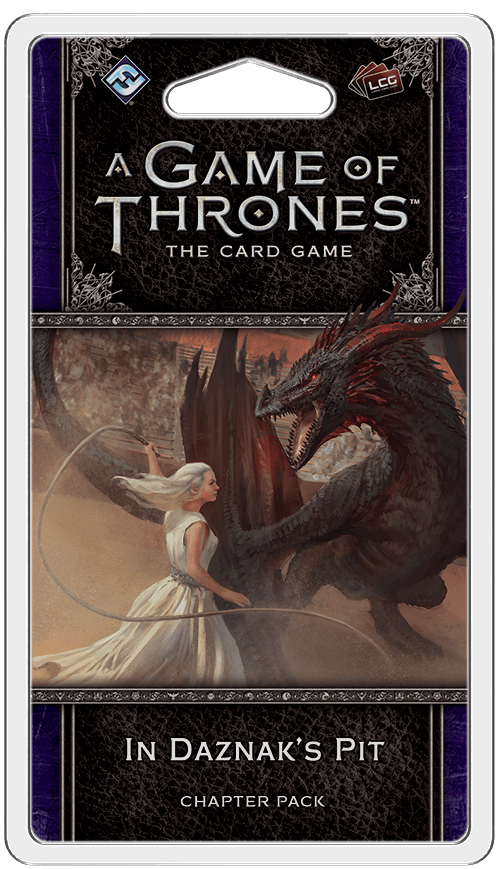 In Daznak's Pit is the fifth Chapter Pack in the Dance of Shadows cycle for A Game of Thrones: The Card Game. Featuring three copies each of twenty new cards, this pack draws you into the world of George R. R. Martin's A Song of Ice and Fire series where the key players in the game of thrones struggle to hold onto power as those they lead conspire against them. In the city of Meereen, Queen Daenerys Targaryen must fight for the loyalty of her people as the Brazen Beasts plot her downfall. In King's Landing, Cersei Lannister must contend with the Faith of the Seven, battling against the power she helped them gain. And at the Wall, Jon Snow assumes the role of Lord Commander of the Night's Watch, but as his brothers question his leadership, a sense of impending doom hangs in the frigid air.

With the reintroduction of the shadows mechanic from A Game of Thrones: The Card Game First Edition, your games become further steeped in mystery as the tension and uncertainty threatens to unhinge your mind. With dangers lurking around every corner, you must either give in to the darkness within your heart or fall before those who do. How much of yourself are you willing to lose in order to win the Iron Throne?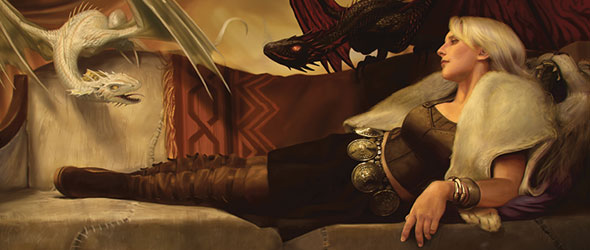 New A Game of Thrones: LCG – FAQ
If you're a competative player, you're definately going to want to take a look at the new FAQ for A Game of Thrones: LCG. Keep in mind there is also an updated restricted list for competative play as well. If you want to read-up on why some of the changes were rolled in, check out the full article from FFG HERE.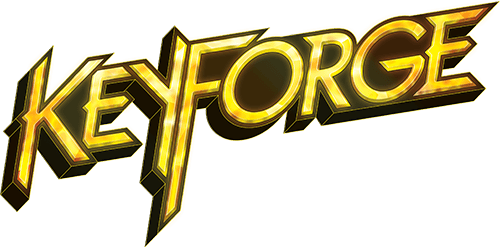 If you're curious about the game world of KeyForge, we don't blame you! It's a completely new game and property from FFG so there is a LOT to discover. If you are interested in breaking into the lore of the game then FFG has you covered. There are now two stories out for free that you can read at your leisure.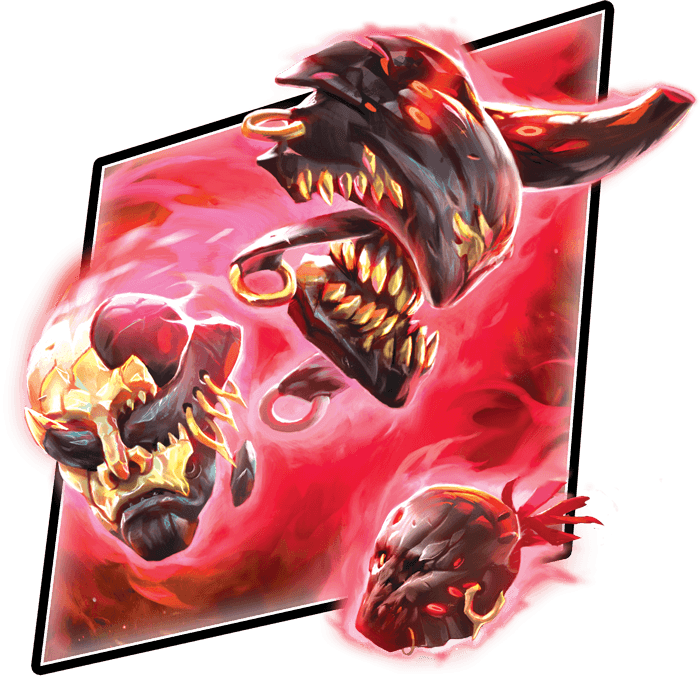 Legend of the Five Rings is also getting some new fiction for your perusal. Follow the investigation of Bayushi Aramoro as he takes a closer look at the mysterious Scorpion clan.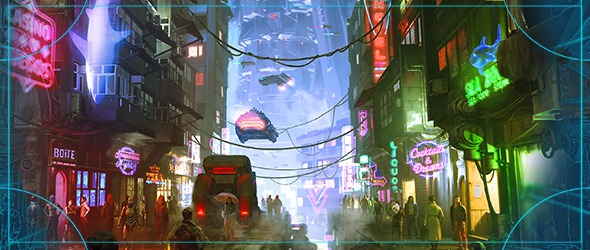 Looking for a Cyberpunk fix? Look no further than the upcoming "Undercity: A Javier Zamora Novella" by Richard Lee Byers. This 96 page novella is set in the exciting Android Universe.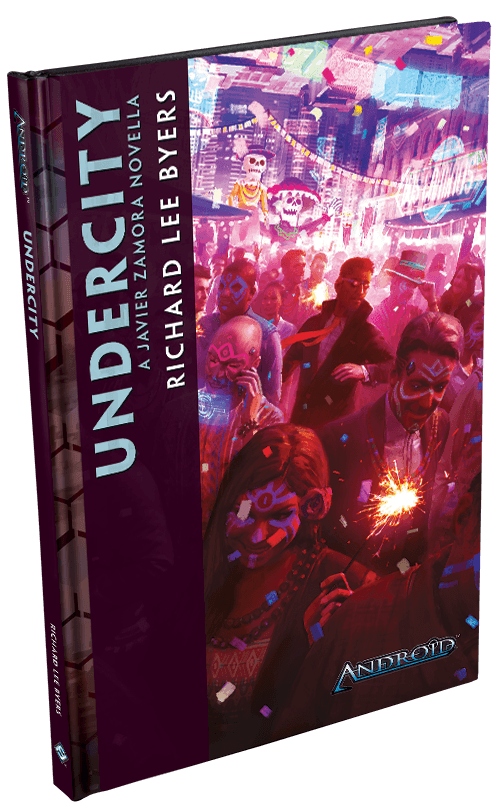 Javier Zamora used to be a real journalist, with all the perks of working for NBN. Now, he vids scandalous, fringe, and downright disgusting content for a less mainstream corner of the Net. His stories draw an audience, at least enough of one to fund his life in the undercity. Or they used to, anyway.

When Zamora stumbles on evidence of a serial killer stalking the undercity, he thinks it might be his ticket back to journalistic respect— or at least a steady revenue stream. But as the investigation draws him into a sordid world of underground cage fights and blackmail scams, the notorious Los Scorpiones gang warns him to drop the story.

Faced with the choice between abandoning the story of his career or antagonizing a dangerous criminal cartel, Zamora must tread carefully if he wants to keep his creds, his life, and maybe even his integrity.

Fantasy Flight Games is proud to present Undercity: A Javier Zamora Novella by Richard Lee Byers! This page-turning adventure explores the dark center of the Android Universe, as Javier Zamora risks life-and-limb to find the perfect story!
And if you're still looking for more story-telling action, then get ready for a new Sourcebook for FFG's Genesys System – Shadow of the Beanstalk has also been announced.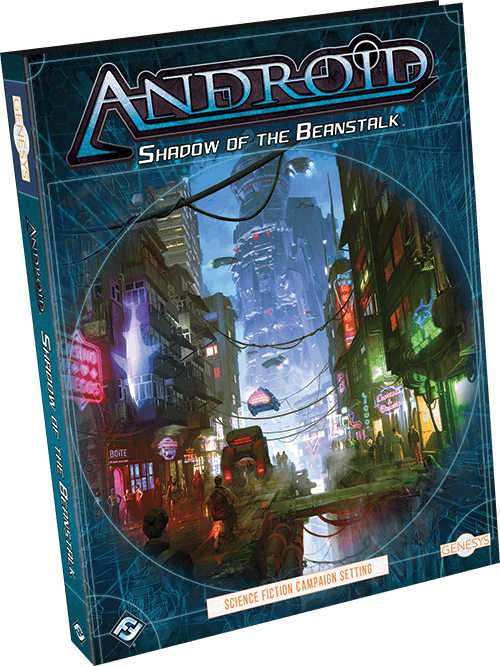 In the not so-distant future, humanity has spread out across the solar system, unlocked the frontiers of cyberspace, and created millions of intelligent androids in its own image. At the heart of this progress stands a ladder leading to the riches of the stars—the massive space elevator called the Beanstalk. And at its base sprawls the biggest, meanest, and most exciting city on Earth: New Angeles.

Fantasy Flight Games is proud to present Shadow of the Beanstalk, an Android Sourcebook for the Genesys Roleplaying System!

Take on the role of cops, con artists, roughnecks, and escaped androids trapped between greedy corporations, corrupt officials, and vicious street gangs. Outwit your foes, uncover their conspiracies, flee their retribution, and maybe you'll survive. Who knows? Maybe you'll even get rich…

Shadow of the Beanstalk is a 256-page sourcebook for use with the Genesys Roleplaying System. In this book, you'll find new rules for character creation, new weapons, equipment, and adversaries, new rules for running the net, information on the Android Universe, and advice for gamemasters running a campaign in the cyberpunk future of Android. All of this accompanied by beautiful art and elegant mechanics that can be used in any setting for the Genesys roleplaying system.
Dive into the worlds that FFG has made!