Goatboy here and finally we got some decent 40k to talk about. Just how much Codex Orks will shake up the game?  LOTZ
We finally got a decent release that should shake up the current meta.  Orks are the other "big" Xenos race that only has allies with themselves.  Like the Necrons – Orks have to do it all with one book and some FW data slates.  Unlike Necrons – the Orks seemed written without the inherent weaknesses the chrome robot zombies have.  Overall the Ork book – while not a hugely vast set of options – does have all the tools it needs to take to compete in the current crop of nonsense we see at the top tables.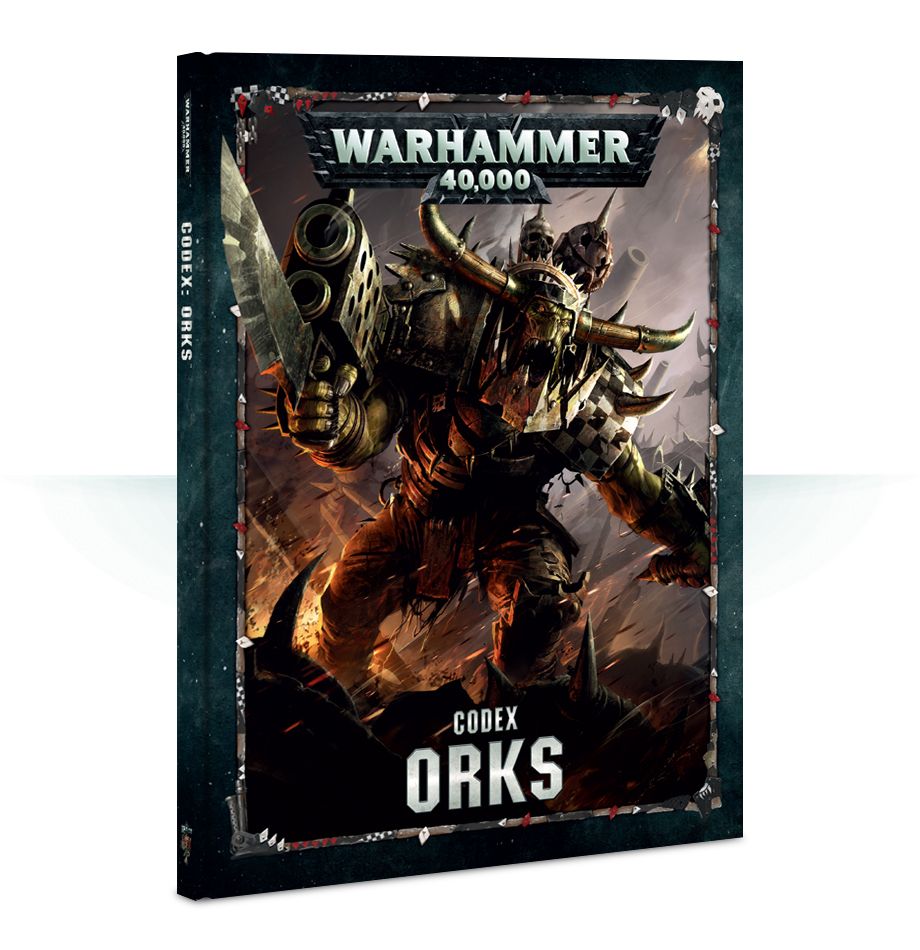 Da Clans
The Ork Kulturs – aka the Clans – are really what enable the Orks to create a very destructive army.  I expect most lists to be 3 Detachments utilizing the best of each set of Kultur rules.  From the extremely fast options available from the Evil Suns and down to the sheer power the Deff Skulls bring to the table top – each Kultur seems like they have some use.  Heck you don't have to mix and match your detachments to create something good – you can easily be one "warboss" leading your Clan to victory.  This is a good example of a book with a plethora of options – instead of just one or two auto builds you can't deviate from to compete.

Da Gud Stuff
Let's look at the good units in the book.  We'll start with the unit that everyone will grow to hate – unless GW decides to tweak it.  The new king of the Artillery is the Mek Gun Traktor Cannon.  Before hand it was designed to knock out flyers.  Now it seems built to kick the crap out of any big unit.  This is the Knight Killer in the book.  It also kills those pesky Primarchs too.  In fact this dang gun is gonna be a real pain in the butt for a ton of armies.  This gun has a 48 inch range, single auto hitting shot, that is Strength 8, -2 AP, and does d6 damage.  If it happens to hit a flying vehicle it gets to roll 2 dice for damage and pick the highest as well as it automatically crashes and burns.  Oh and it isn't just a "Gretchen unit" it looks to be a mixed unit so it means it does get access to the Kultur Traits.  Oh and the whole – each artillery is its own separate unit – is still in the book.  To mix this all together and get the idea on why this gun is nuts is add in the Deff Skulls Clan trait – the whole ability to reroll one hit, one wound, and one damage dice per unit.  So now this gun auto hits, gets a reroll to wound on Str 8, and gets to reroll the damage dice.  The gun cost is so cheap and its pile of annoying rules is going to make this a must have in just about every Ork army.  In fact I see a Detachment of some decent HQ – Weirdboy etc – plus 3+ of these guys.  You can buy them as a single choice of one so you can make a very cheap detachment out of these guys.  Heck 90 Deff Skull Boyz isn't too bad either with all the 6+ inv save and other options.  Get the Deffkilla Wartrak going and you got a nice combo.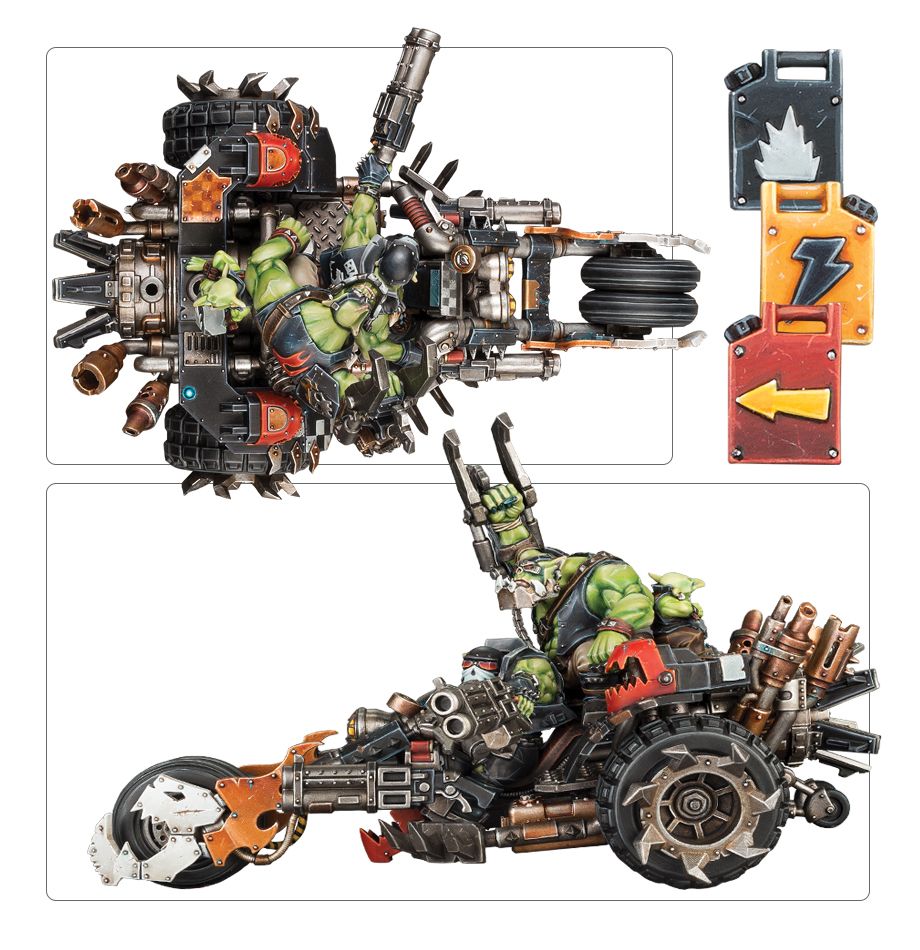 Speaking of the Deffkilla Wartrak – this is very nice unit.  There are a lot of things going for it – combos with Weird Boyz (+2 to Str and Attack mixed with attack after death and other nonsense) – plus just being a beast of a model to deal with.  Heck it even has a good close combat weapon that doesn't mess with his ability to hit.  A ton of armies will use this guy as a mobile beat down unit and once the index Warboss on Bike goes away (or comes back who knows) then this will be a good bonus in an army.  Heck if the Index book stays around you could do a biker gang army full of Warbosses on Bikes, these guys, and some Nob bikers.  Heck I just wrote myself a list article.  Overall I love this model and I plan on getting one, converting one (evil Sammie on converted/looted Land Speeder) for my own nonsense.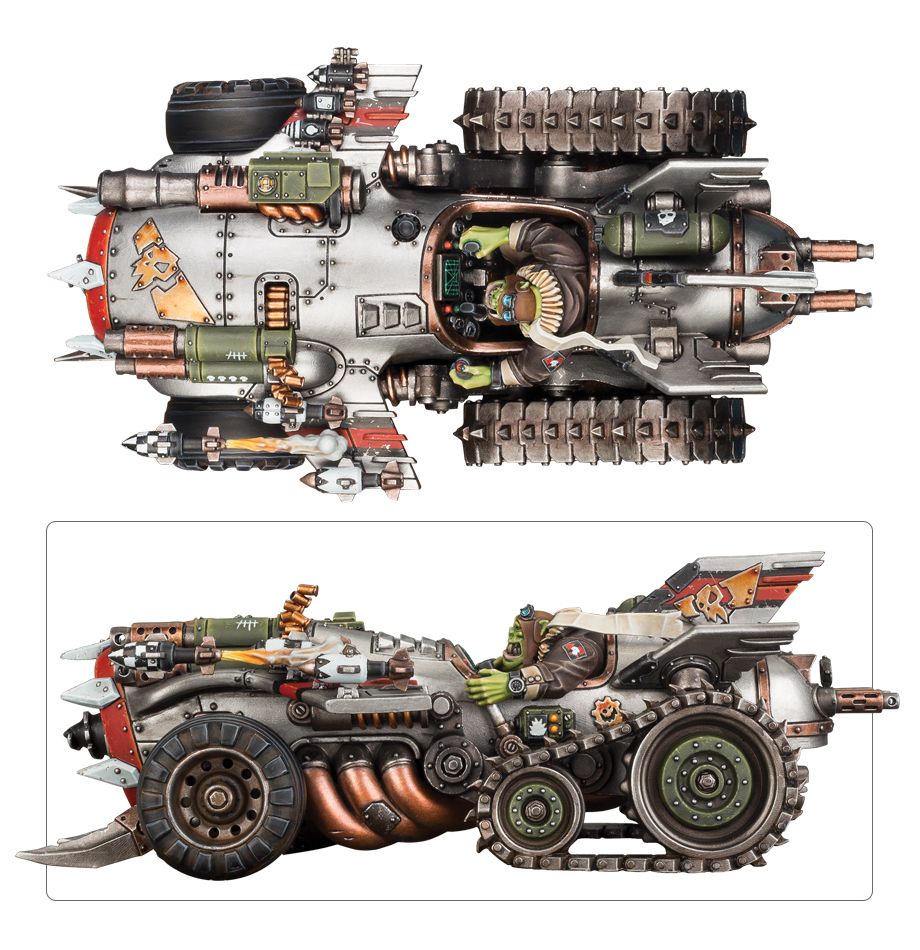 Of the buggies I really like the Shokkjump Dragsta and the Megatrakk Scrapjet.  There is something in both of them as they have extra abilities I like.  The teleporting dragster will be great as you use them to hope around the table, get objectives, and maybe cause some damage.  I would expect this one to stay Evil Suns as the model already has a better hit profile with the +2 to hit rolls with the Shokk Attack gun.  The Megatrakk Scrapjet is also interesting in that a Freebootaz one might be good.  The ability to have a +1 to hit with all those Rokkits could be helpful to take out the pesky Knights and tough monsters/characters.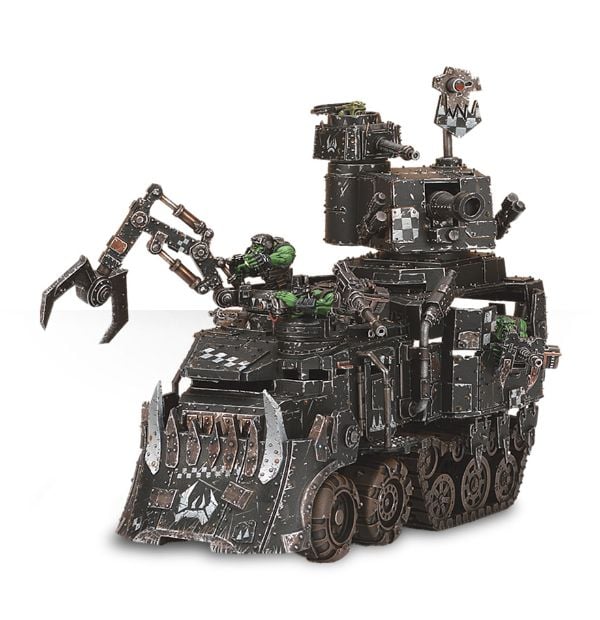 Speaking of Freebootaz you could do a really interesting Gunwagon/Battlewagon army.  They split all the Battle Wagons up into 3 options and the Gunwagon has some interesting rules.  The ability for it to shoot twice with its big Kannon is pretty neat.  Plus it is just a tough tank to remove as it trundles around the table and is annoying.  Heck it also carries a 12 models so you can easily hid some Gretchin in there as they are a really cheap troop choice.
I really want to like Flash Gitz but I need to think more on them.  They are automatically Freebootaz and have an option to shoot twice after firing on a 6. This can be interesting and mixed with the Freebootaz rule they could always be hitting on a 4+ if moving and a 3+ if they were staying still.  Heck they could ride around in a regular Battle Wagon and use its Mobile Fortress ability to hit on 4+ and get protected the entire time.  They shoot a good deal and I just wish their strength was up by one.  Strength 6 seems alright as they will still wound most things on a 5+. Lots of firepower for sure.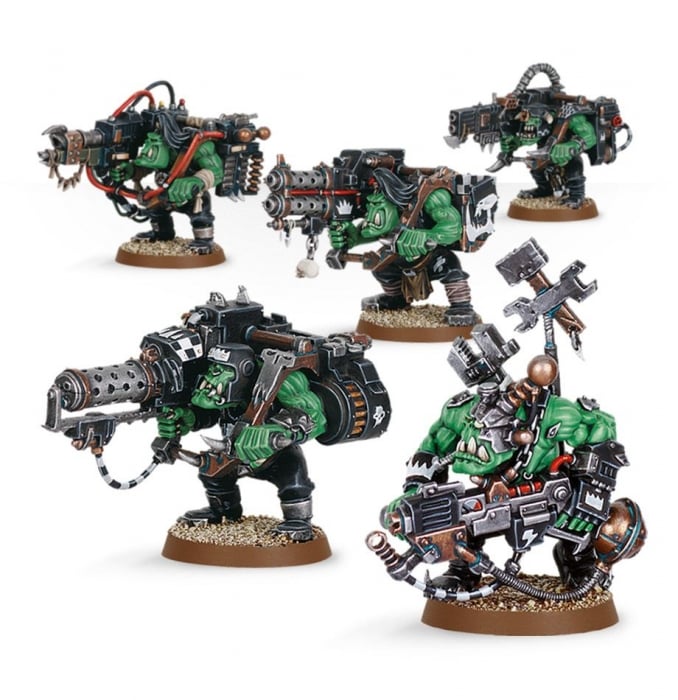 Bad Moon Lootas are the next auto picks for a lot of players armies.  Bad Moons got one of the strongest Clan Stratagems in the ability to shoot twice.  It is only for Infantry so dreams of 20 man biker squads throwing out 120 shots times 2 is something you need to keep in your pants.  Still 15 guys throwing out a lot of shooting, doing some Dakka! Dakka! Dakka! and then doing it all over again will induce some groans from the opponent.

Da Boyz un da Grots
Orks have always had some of the best troop choices in the game – and with all the extra rules they just got better.  First of all – they have a 30 point troop choice.  This is insane as it means they can easily fill out a Brigade if need be – or get a very cheap Battalion choice.  Beyond the power of a cheap troop they also get one of the best troop options in the game.  The lowly Ork boy gets to use a ton of stratagems bashed on their Clan.  Goff Boyz are going to be pretty dang amazing as they get the Dakka on their Sluggas and the Choppa on their chopping attacks in close combat.  The ability to give multiple units of Boyz the Skarboyz ability will be showing up a lot.  I expect a ton of lists to have 90 boyz as their default "bubble wrap/damage sandwich" in their army lot.  Goffs or Deff Skulls seem to be the best place for Choppa/Slugga boyz.  I think the Freebootas shoota boyz might also be amazing as they are the same cost as a basic boy right now.  You start a chain reaction of 4+ hitting shootas and you end up with an opponent rolling a ton of saving throws.  This is one of the few armies where you see troops doing a lot of heavy lifting.  This feels very similar to how Chaos uses their troops (Tzaangos, Cultists, Bloodletters, Plaguebearers) but instead of just being decently costed fodder – the Ork boy is pretty dang amazing.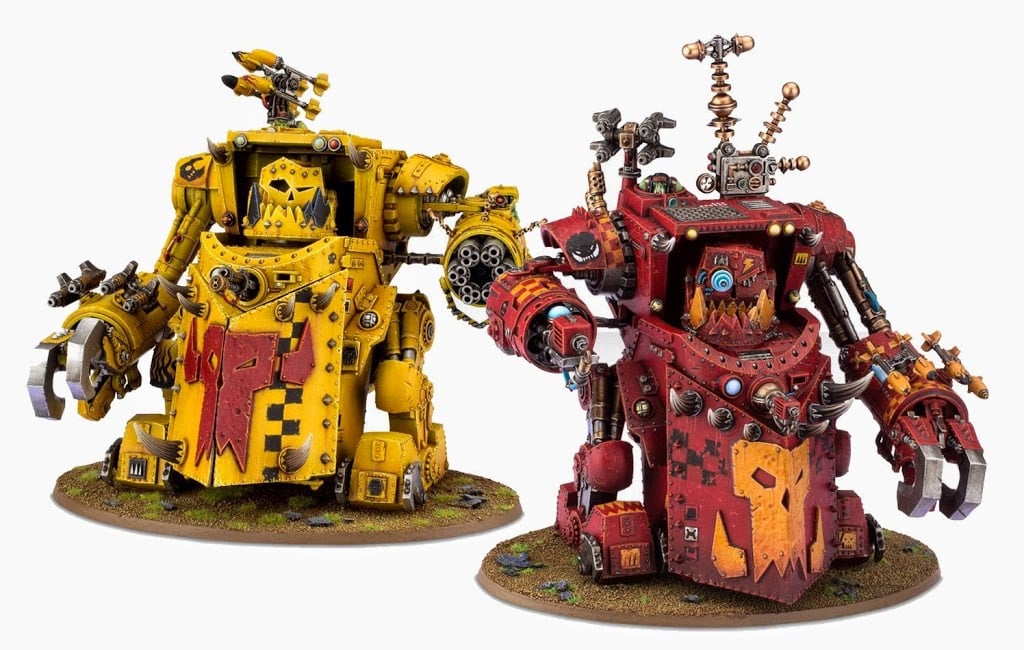 Heck the book even has "Imperial Knight" like stuff in the Gorkanauts and Morkanauts.  I like them both and find them useful as they get access to Clan Kulturs.  Super Fast Gorkanauts crashing into the enemy line sounds fun as well as Freeboota ones chaining off each other in waves of bullet hell.  If you can't tell I really enjoyed this book and find it very revitalizing for my current 40k mood.  I don't know when I can really let lose into the Orks from a build/paint perspective (got a client NecroOrks to do in a few weeks) but it will probably overtake my hobby time once I catch up.
Until next time – Death to the False Emperor and WAAAAGGGH!!!!