Kromlech has been knocking it out of the park with their 28mm-scale terrain pieces right now. Whether sci-fi or fantasy this latest arch adds a lot of character to your tabletop. Come take a look!
Ah yes, the Triumphant Imperial Arch, er, wait the Arch of Triumph which is Imperial. The Arch of the Imperial's Triumph. Whatever it's called, you can find this magnificent, some might even say triumphant Arch available now from Kromlech. Whether looking for something that fits a gothic future or a magic-laden past, this fancy arch will liven up any tabletop.
via Kromlech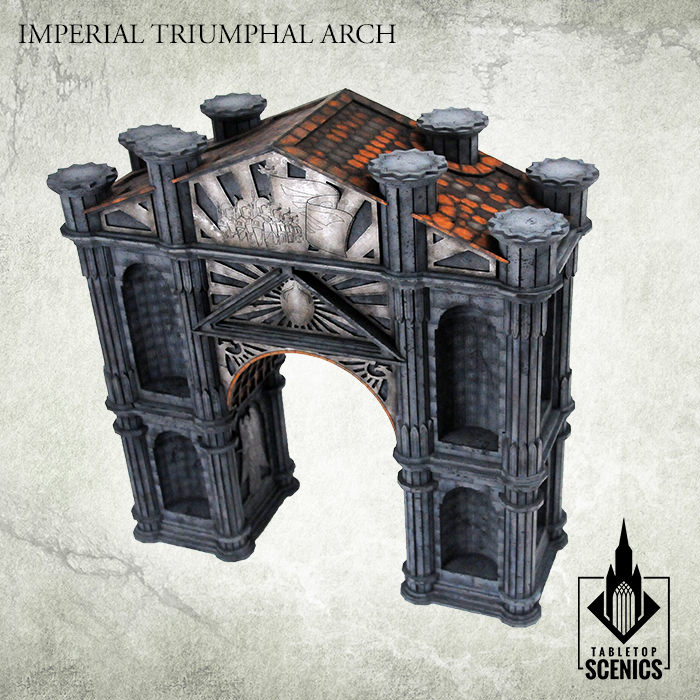 With every victory, the Imperial army returns to planet's capital, celebrating and showing the spoils of war. The culminating point in their march is where Imperial Triumphal Arch is erected.
On its walls are inscribed names of Crusade's heroes – ones who sacrificed their life in the service of Imperium.
Wide enough to accomodate Legionaries tanks, each passing column of soldiers writes their own history – each of them dreaming of commemorating their deeds in this dark galaxy.

Contents of this frames may be used to make one Imperial Triumphal Arch structure. Instruction is fitted to give guidelines and tips on how to assemble the product. Supplied unassembled and unpainted. Designed for 28mm heroic scale.
What a fine Triumph of Imperial Arch-itecture. I'll see myself out.