Pimpcron is so excited he can't stand it. So he's sitting.
Hey ladies and gents. It is I, the world's most metallic comedian. I come to you this week, not as a hilarious blogger and all-around great guy, but as a harbinger of despair. Just like many of you, I am an Ork player and enthusiast. It's not just a hobby or interest, it's a way of life for us Ork players. I barter with teeth, love a good fight, and have been wearing green face paint all of September; much to the dismay of my family and children.
There Was a Promise Made
A certain company made a promise that the entire month of October was going to be renamed as Orktober. The reason given was because there was going to be a proverbial Ork party all month and the insinuation that there would be wall-to-wall Ork releases. In addition, the Ork codex was going to come out which is one of the most anticipated codices of this game. I have been saving money for weeks in preparation and even had my alarm set for midnight on September 30th. I couldn't wait for Orktober! Well, watch in horror as my innocent enthusiasm was crushed by an unstoppable tidal wave of disappointment. Grab some tissues, this is a gut wrencher.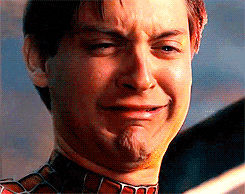 The End of Hope
So as stated, my alarm went off at 12:01 am on October 1st. I leapt out of bed and donned my Ork shirt, green monster slippers, and green jeans. I gleefully pranced to my computer without waking the children and eagerly waited as my dial-up modem connected to the internet. It was 12:10 am when I finally got connected so I knew by then something was certainly posted on their website.
Nothing.
I rubbed my eyes, confounded by the lack of Ork-related merchandise on their New Releases section. I couldn't believe what I was seeing. It was like a Christmas morning and coming out to a present-less tree. I felt betrayed and tried unsuccessfully to hold back tears. Minutes later, my wife came out to find me quietly sobbing in the glow of the computer, tears streaking my green face paint. She told me it was possible that I was taking this too seriously and maybe I should check again in a couple hours. After walking me back to bed and tucking me in, I laid there sleeplessly until dawn.
Luckily I Wasn't Alone
When someone renames an entire month Orktober, it should be FULL OF ORK STUFF! After my wife assured me that expecting Ork-related stuff from GW mere minutes after the strike of midnight might be a little excessive, but she was wrong. When I logged back on the information super highway later that day, I was happy to see that I wasn't the only one outraged. All of my fellow Ork players were screaming online, and gnashing their teeth. I mean, it was some serious gnashing. Gnashing like they were biting invisible cotton candy; lips pulled back like they didn't want to get sticky. I have to be honest when I say that I have not seen that level of gnashing in a while. But I was at home among the screams of injustice. I too was full of confused rage, which is the most potent brand of rage.
The mass hysteria was like a social movement: videos of people burning their Ork armies in protest, others just vlogging while sobbing and screaming "WHY?!" It was a real mess. But honestly GW brought this Watergate-level of scandal on themselves. They should know by now that we Warhammer players are a fragile and combustible group. When we hear the promise of Orktober, they better come out of the gate swinging with new releases, videos, painting guides, and supplements. Us players are easily spooked and even more easily enraged by the slightest perceived slight by our father figure GW.
Orktober Riots. October 1st, 2018 [colorized]
Let's Make This a Teachable Moment
With all of the whining and furious gnashing in its various forms, Games Workshop should finally understand they sway this game has on our lives. When the sun rose on Orktober 1st and we didn't get what we wanted, we acted like it was a stock market crash. Ya know, it almost makes sense why GW closed it's social accounts years ago due to a toxic and over-zealous fanbase. But on the other hand that is a sign of success, that you've made such a beloved game that it just drives people crazy with anticipation.
I'm sure all of this is coming off as Fanboyism, but honestly most of what they have been doing in recent years has been a great new era for them in opinion. So maybe after all of these years they finally won me over, but even if they haven't it's not hard to see that all of us freaking out over nothing. Calm down, sit down, and hold complaints until November 1st if you weren't satisfied. Sheesh.
So is the whining justified or not?
Hey friends! Want to become a Pimpcronian?
Come join my Dynasty on Patreon if you enjoy my work. I promise I will love you forever.
Special thanks to Casey L., Andy B., Colin M., Caleb Y., Brendan, and Mandy  for joining yours truly on Patreon!