This fig is based in Wolverine's appearance in Peter Milligan's 5 Ronin. The story takes him to feudal Japan, where he walks the path of a masterless samurai determined to fine the Damiyo that caused his brother's demise.
He comes dressed in traditional samurai clothing – including a dramatic red scarf – made of fabric, and comes well armed with two katana swords as well as his signature adamantium claws. It has Mezco's One:12 Collective body that has 28 points of articulation, and a posable stand, so you can create great displays.
This fig ships starting later this month – the waitlist is open now.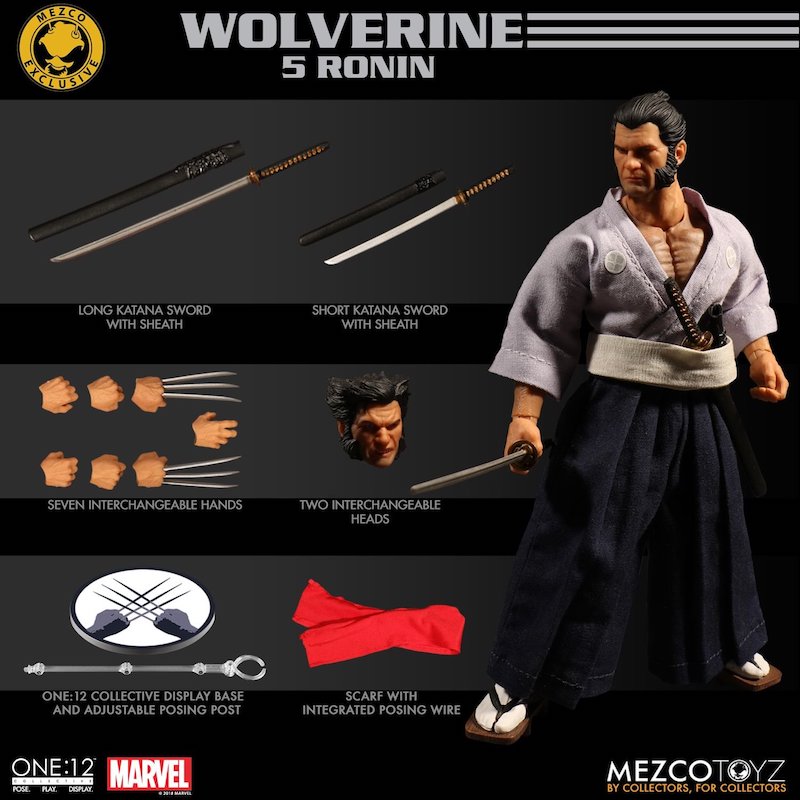 Wolverine: 5 Ronin from Mezco – $85.00
One:12 Collective body with over 28 points of articulation
2 head portraits
Hand painted authentic detailing
Approximately 17cm tall
7 interchangeable hands

1 pair of fists
1 pair of clawed fists
1 pair of sword holding hands
1 posing right hand
Costume & Accessories
Kamishimo with kimono, hakama, jacket and waist belt
Scarf with integrated posing wire
Geta style shoes
1 long katana sword with sheath
1 short katana sword with sheath
1 display base with logo with adjustable display post