The enemies of Blackstone Fortress are varied and deadly–but a little know-how can see them brought to their knees. Today we've got a look at how your explorers can take on the enemies of Blackstone Fortress.
Exploring the Blackstone Fortress can be a deadly prospect. Not only do you have to square off against the forces of Chaos–who turn up everywhere you look, and if you don't see them that means you're probably riddled with traitors–you must also fight against the other various hostile creatures in the Fortress. There's the Spindle Drones, who get deadlier the longer you fight them, and of course the ravenous Ur-ghul who infest the ever-shifting corridors of the Blackstone Fortress. Fortunately though, GW has provided a helpful look at how these foes work–and how your explorers might take down these deadly threats.
via Warhammer Community
First things first though, let's take a look at how combat works in Blackstone Fortress. To begin with, you need to understand how you'll come across the enemy. Most of these are random encounters. If you've ever played a Final Fantasy game, you know what to expect. First you're wandering around the world map (or plying through an exploration round) drawing cards that can include different choices your explorers have to make–or a combat encounter. When you come across a combat card, you'll make a random map (indicated on the card) and populate it with the hostiles shown on your Hostiles card.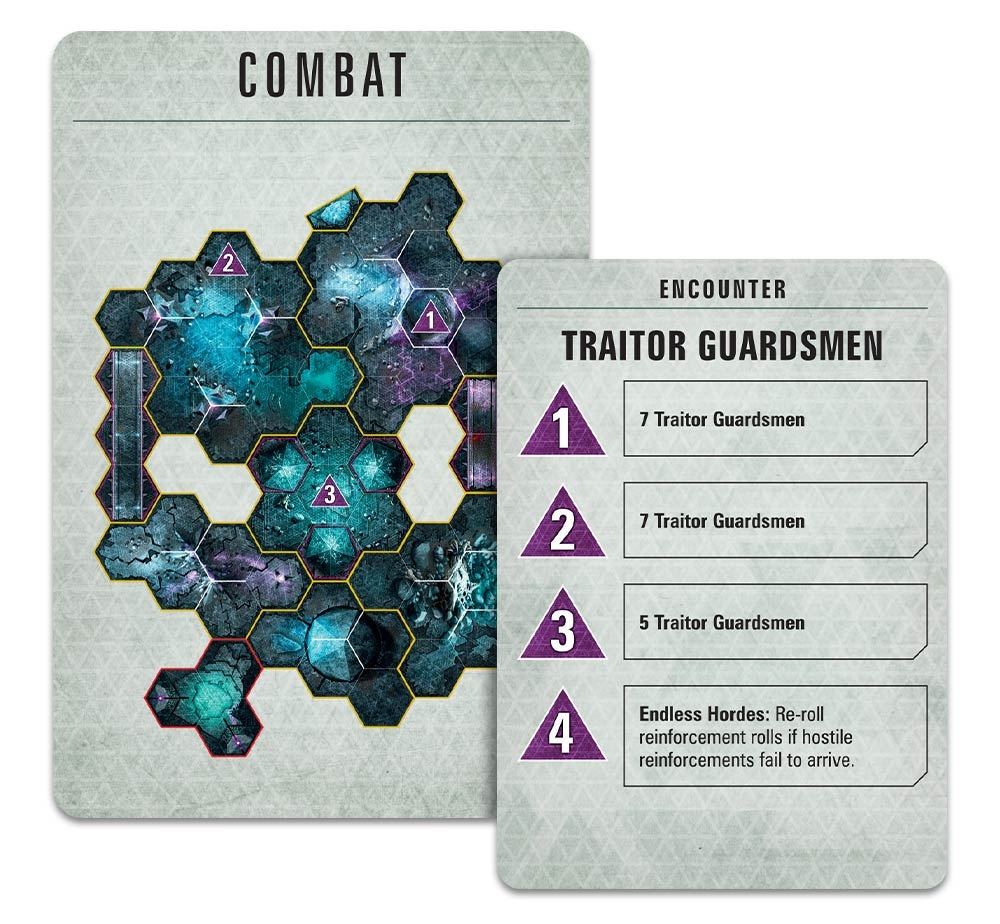 If you've seen inside the box, you know that the game is made up of modular, double-sided tiles, so each map is different, and each encounter will be made up of a mix of enemies that may get reinforcements if you don't kill them quick enough. And, as you might expect in a game that touts itself as supporting solo play as well as co-op, each enemy has a list of behaviors that can govern it, absent a "GM."
Bear all that in mind as we look at the various enemies and how they can threaten you.
Ur-ghuls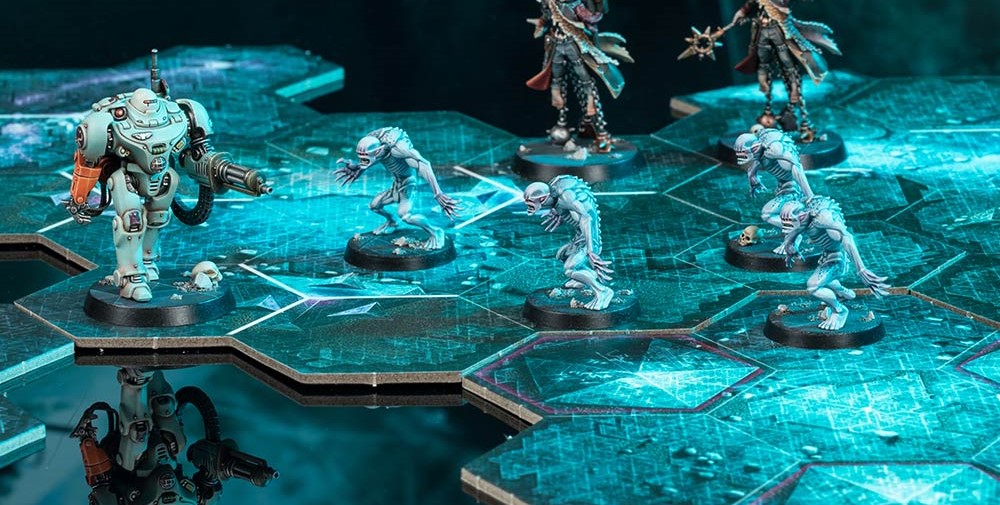 Natives of the webway, Ur-Ghuls are rapacious predators who hunt by scent, thriving in the pitch darkness found in Commorragh's deepest reaches and beyond. Nobody knows why the Blackstone Fortress is infested with Ur-Ghuls, but their deadliness and brutality is beyond doubt.

Caution is key when battling Ur-Ghuls. While you might be tempted to get stuck in, you'll want to hang back and force the Ur-Ghuls to come to you – thinning their numbers with some well-placed ranged attacks will pay dividends when they finally reach you! Make sure to keep a durable fighter like UR-025 at the front of your party to draw in any stragglers and soak up their attacks.
Spindle Drones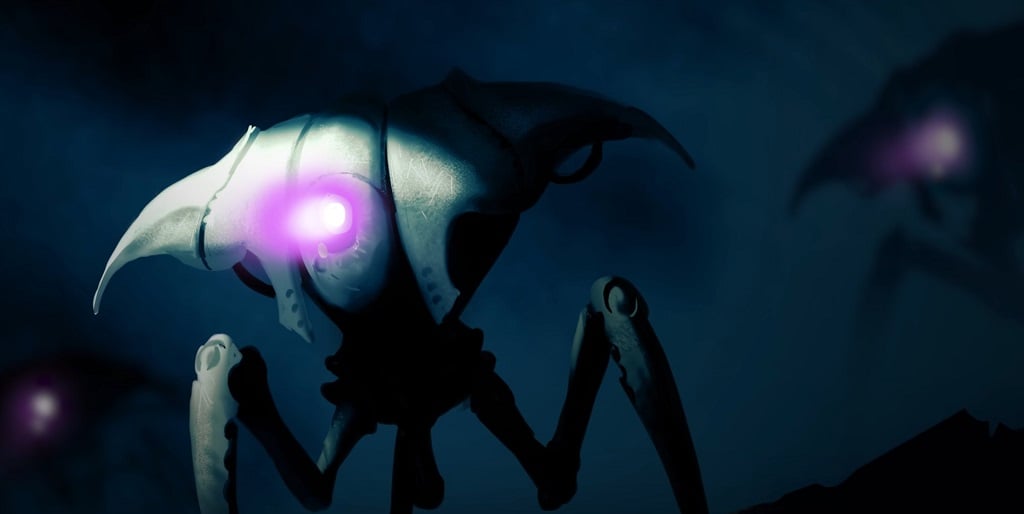 Spindle Drones appear to be native to the Blackstone Fortress, acting as guardians and stewards of the ancient star-citadel. While initially fairly easy to dispatch, Spindle Drones escalate in power and aggression in response to some kind of alert system triggered by the destruction of their companions.

Spindle Drones are flexible foes capable of engaging threats at any range with equal effectiveness. Early on in an encounter, they're no great threat, but each time one dies, or one rolls to raise the alert on its behaviour table, they'll get a little bit deadlier.
Rogue Psykers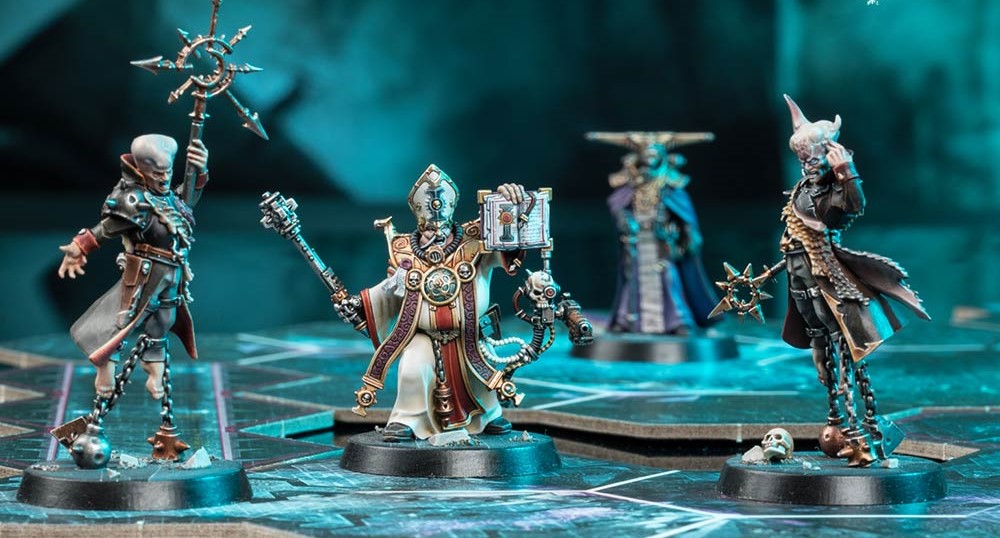 To be a psyker in the 41st Millennium is a horrible curse, marked by your genes to ever be prey for both the Daemons of the warp and the forces of the Inquisition. While some psykers are officially sanctioned by the Imperium, many seek refuge with Chaos, voluntarily turning to witchcraft and serving alongside warbands like the one found on the Blackstone Fortress.

If you find yourself in a combat encounter with one or more Rogue Psykers, taking them out should be a priority. Getting line of sight with a long-ranged explorer like the Amallyn Shadowguide or Dahyak Grekh is key – the longer you leave them alive, the more damage they can do.
Obsidius Mallex

Brought to the Blackstone Fortress in a freak warp-translation accident, the Black Legion warlord known as Obsidius Mallex now seeks mastery over the ancient weapon. Racing against the explorers to unlock the secrets of the Blackstone Fortress, he will happily crush anyone who gets in his way

There's no simple way to deal with Obsidius Mallex, and fighting him will test your skills to the absolute limit. Stripped of any defensive protections in close combat, you'll want to keep your distance, only moving in to engage in close combat if no better alternative is available. If you really, really don't want to get hit, try to use the battlefield itself to prevent him from getting line of sight on you.