As editions come and go so too do rules. Sometimes its good when a rule is done away with, other times we miss them.
40K has seen a lot of change over the years. Throughout its eight Editions rules have come and gone. From minor changes, to major ones the game we play today is very different from what we played even a few years ago. 8th Edition has seen some of the largest changes, and many many rules from prior editions are gone; USRs, vehicle facings, armor values, and units breaking just to name a few. Any players who have played through more than one edition (or these days one BIG FAQ) probably has at least one rule they miss. Today I want to talk about the rule I miss most, and why.
Templates
Yep, that's right, the rule (or mechanic I guess) I miss most is the old template system. For those newer players, the basics of the system were this. Many weapons, most of the ones with random shots these days, in particular those that represented some kind of flamer or blast weapon, used a template rather than making normal hit rolls. There were several types and sizes of templates, but the player would place the template where they wished, then make a role to see where it actually landed (flamers mostly skipped this step). At that points models under the template were hit.
What Templates Did: Thinking and Realism

I always felt templates did a lot for the game. For one they forced players to think through the game more, especially movement and model placement. players who rushed massive packed groups of troops forward risked taking more hits from template weapons. This was, to me, always a nice touch of realism in the game. A tightly packed horde should suffer more from large blasts then a spread out force. It also forced players to think about placement, rather than just pushing stuff around willy nilly, unless they were willing to take more losses.
What Templates Did: Army Character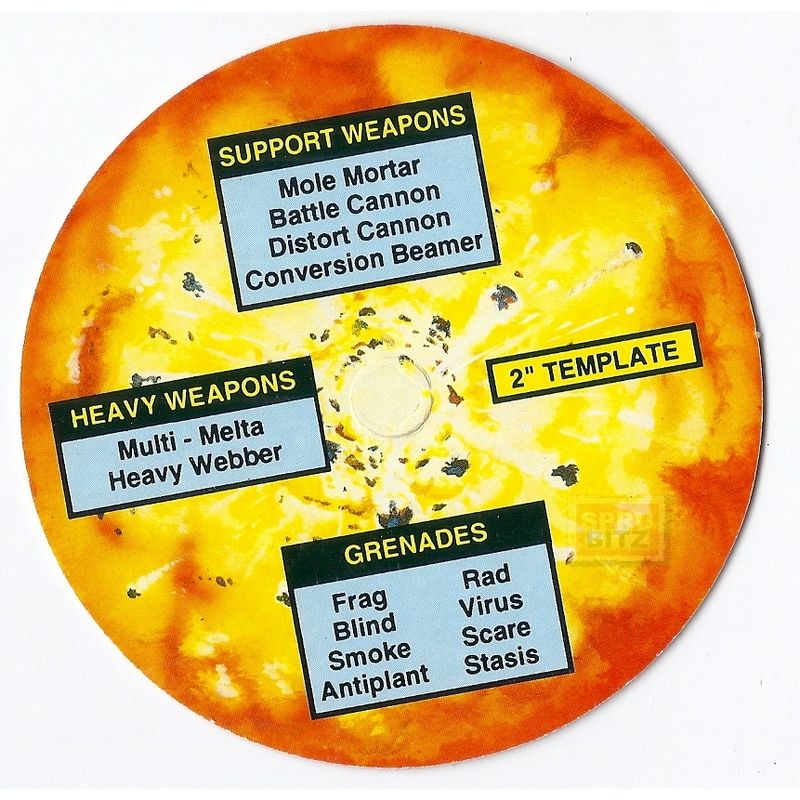 Templates also helped establish army character and uniqueness. Because the scatter mechanic either ignored Ballistic Skill, or was only minorly effected by it, units with low BS loved templates. This actually made a lot of sense. Highly skilled units, like Space Marines, would make less use of large destructive explosives weapons, going more for precision. Army like the IG, however would use more large explosives, they are all about saturating an area with fire and ignoring possible collateral damage.  Thus they loved template weapons. The fact that they got a lot of out them, and could make up for poor BS, naturally led to gravitate towards them. That's no longer true.
What Templates Did: Allowing the Unexpected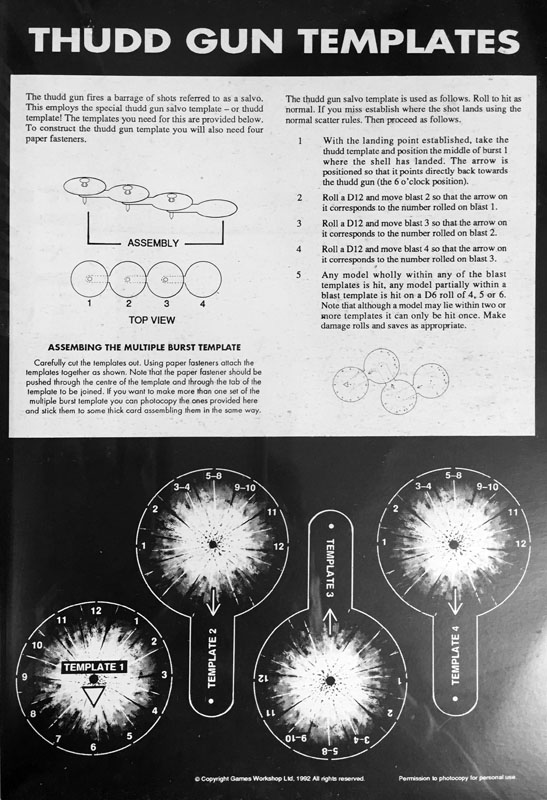 In modern 40K there few truly unexpected things happen.   I've already talked about this at length, but the gist is that most of the time in 8th, randomness comes down to X will or won't happen. There are very few chances for a random thing to happen. Templates were a great way of bringing the unexpected into a game. You could be aiming at one unit, and hit a totally different unit causing a whole chain of events. You could even hit your own units with it. This forced some great choices, do you shoot the enemy unit that is close to one of yours? You need to kill it, but do you risk hitting you own unit? It added a wonderful layer of thinking and complexity to the game.
What Templates Did: The Feeling of Power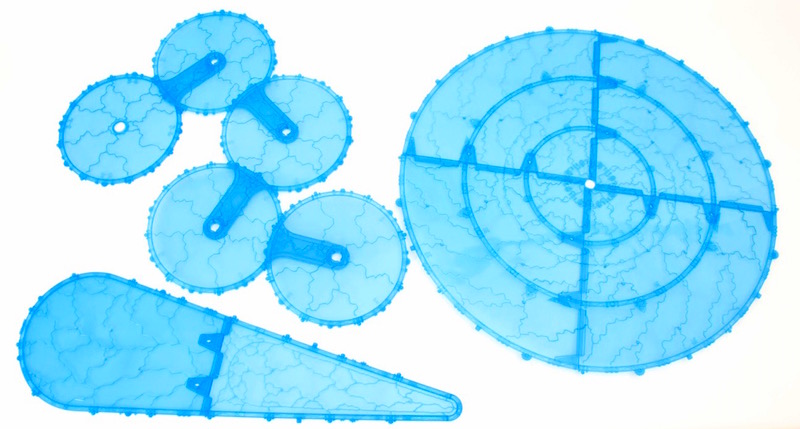 Perhaps the most important thing templates did was add a great feeling to the game. Shooting templates was fun. I've never seen people grin as much as when they pulled out a big template for a perfect shot. They acted as a great visualization of the game and made these big weapons feel like they had weight. Like they should! Firing a massive cannon should feel different than firing a lasgun. Giant explosive shells shouldn't vanish because they missed by a few centimeters. Templates made these weapons feel special and imbued them with a feeling of power and… coolness.
We All Miss Something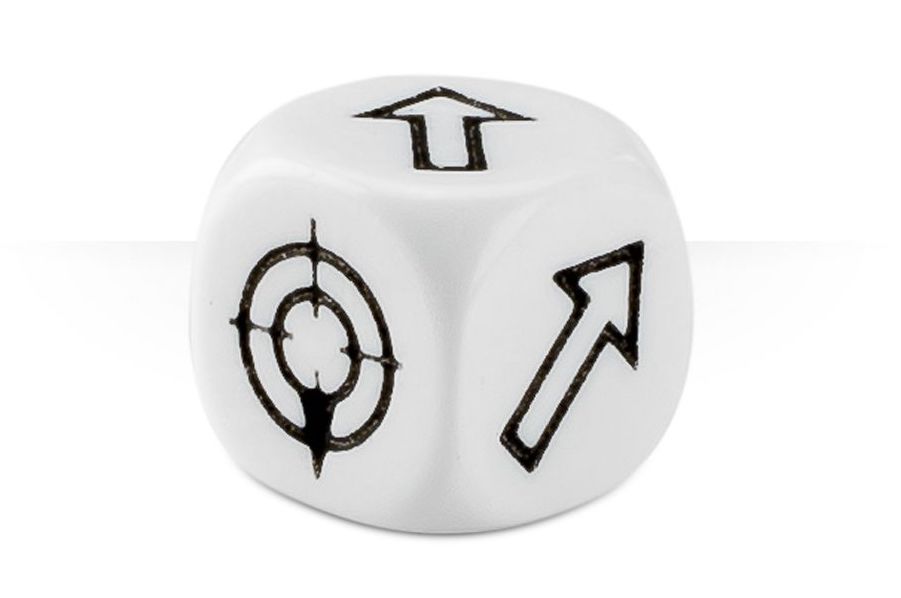 There is more I could say in templates but that covers the basics for me. I know plenty of people had their issues with them, they slowed the game down, they led to arguments, the forced you to spend time spreading all your units out, a template killed your whole army once, etc.. There was most likely room to simplify their rules, get rid of scatter dice and put numbers on the template to show which way it might scatter or remove partial hits to name two. But I think removing them entirely has left the game poorer. Of course, that's just my opinion here, I know we all have our pet rule we miss. So I raise my cup to the lost rules of yesterday, and the hope that someday the rules-wheel will turn and bring them back again.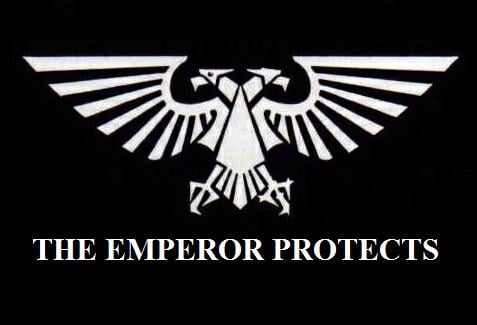 Let us know what rule you miss most, down in the comments!